Agnihotra Helps Children with HIV/AIDS
May Satsang 2017 | Volume 45 #1 | New Era 74
Agnihotra Helps Children with HIV/AIDS
We are so delighted with this news! Agnihotra is helping children with AIDS.
Agnihotra is a Vedic fire method that not only heals the atmosphere and our environment but also has very beneficial effects on human health.
Dr. Ulrich Berk, President of the German Association of Homa Therapy, introduced Agnihotra at the Amma Mane center of Ananta Bharatha, a nonprofit organization in Mysore (South India) which is helping HIV positive children, most of whom are orphans.
Dr. Berk wrote:
"In a pilot study the effect of Agnihotra on these children was observed for over one year. They stayed at the Amma Mane center, got healthy vegetarian food, practiced daily yoga and either performed or sat for daily sunrise and sunset Agnihotra. The results were so positive in improving these children's health that we are now preparing to carry out further studies of Agnihotra as a simple, inexpensive and holistic means to prevent, treat HIV/AIDS infection and help those suffering from it restore their health and significantly transform their lives for the better."
Please share the great news!
[Satsang plans to make the full pilot study report available after its formal publication.-Ed.]
Centre of Light 2017 Campaign Begins!
Dear Global Homa Family,
Many of you are aware of the Centre of Light project that is underway here at
Ecovillage Bhrugu Aranya, Poland. On May 17 th, 2015 we broke ground on the site
where this large centre is being built, and after having completed the foundations
and basement, we are now raising funds for the next phase which will include the
skeletal structure and roof. After that we can give natural clay building workshops to
finish the shell and interior walls.
The Centre of Light is a project that began under the guidance of Shree Vasant, in
order to better fulfill the purpose of Bhrugu Aranya, one of the three Points of Light on
the planet. At such a site where Vedic healing fires have been maintained for over
twenty years, the rarefied atmosphere is super-charged. We have created an oasis
where the healing atmosphere is tangible, and in these difficult times more and more
people are finding solace and deep healing here.
Because of the tenacity and strong sense of purpose from our group of community
members over the years, Bhrugu Aranya has become a vibrant, living example of
sustainable Homa Organic culture and a magnet and inspiration for visitors from all
over the world.
All of us at Ecovillage Bhrugu Aranya regard ourselves as stewards of this sacred
land, and feel honored to have the opportunity to bring Shree Vasant's vision to
fruition.
Until now, we have managed to serve the needs of the visiting global community with
just one log main house, a two-room guest cabin and several caravans. However,
requests for healing, training in Homa Therapy, visits and retreats have quadrupled.
The Centre of Light will allow us to better serve the growing number of people that
are coming here. It will provide a safe haven, as well as a venue for healers, artists
and Light workers to share their gifts for all.
A major shift on all levels is occurring on our beloved planet and this shift is
accelerating dramatically. These times have been foretold by many cultures across
many ages. They are times of rapid change and upheaval, but also of great renewal
and movement toward the Light. The Centre of Light will be a place of refuge where
people can come and learn how to survive the coming times, where they can learn
how to move toward a sustainable way of living on Earth.
You will be able to experience:
The unique atmosphere and healing effects of Agnihotra  and Homa Therapy
Homa Organic Gardening, Beekeeping and Sustainable Agriculture
Self-Development Workshops
 Living in an Ecovillage and being a part of an intentional Homa community
 Yoga and Meditation for health and stress relief
Identifying and collecting herbs and wild edible plants, for healing and nutrition
Fire & Sound Healing with Crystal Bowls
Organic Vegetarian & Vegan Food for wellness and rejuvenation
Creative Arts for Self-expression
Mandala Art Therapy
Music Workshops – Medicine for the Soul
Classes in Traditional Crafts & Skills
Plus a myriad of interesting workshops given by international leaders in sustainability
and Mind, Body, and Spirit work.
We are now asking you, our global community of family and friends, for much-
needed donations to continue the work. Contractors are due to start the next phase
by the end of July. We are deeply grateful for all the generous donations that have
helped us reach this point, and now we need to raise 90,000 USD to be able to
achieve our next goal.
We deeply appreciate your help to fulfill this vision. Please click here to donate to our Centre of Light cause.

With gratitude and love,
Parvati, Jarek, Ulrich, Barry, Rory, Asia, Jacob, Katy, Suwindi, Maria, Jessica
https://agnihotra.pl/en/news-events/campaign/?v=9b7d173b068d
Any amount is welcome!
FOR THOSE IN THE U.S. who would like to make tax-deductible contributions:
Donations from the U.S. (or from U.S. bank accounts) may be made by check, money order, or online by PayPal, using a credit card or PayPal card. Donations are tax-deductible as allowed by U.S. law. www.agnihotra.org. Please note,"FOR COL POLAND" when donating online.
Checks and money orders should be made payable to Fivefold Path, Inc. and may be mailed to:  Fivefold Path, Inc.
278 N. White Oak Drive.
Madison, VA 22727 U.S.A.
Please note "For COL POLAND" on your check or money order.
Watch a short documentary about our Ecovillage
We will be sending out an Ecovillage newsletter with updates.
We will also be posting our progress on our on our Ecovillage Bhrugu Aranya Facebook Page.
Ecovillage Bhrugu Aranya
Wysoka 151
34-240 Jordanow, Poland
Tel: (48) 502-347-898
info@homatherapypoland.org
THANK YOU!
Two Special Remembrances in May
Ed.
May 17th marks the birthday of PARAMA SADGURU SHREE GAJANAN MAHARAJ (1918-1987)
of Akalkot, India, who resuscitated the ancient knowledge of Agnihotra and the Fivefold Path for modern times.
From I Wish I Had Known, by Fran Rosen-Sawyer (now Parvati Rosen-Bizberg):
"Shree is KALKI AVATAR. The word AVATAR means the descent of Divine Power on earth to fulfill an allotted task from Almighty Father. KALKA means pollution; hence, KALKI AVATAR means Divine Messenger for the destruction of pollution. SADGURU means PERFECT MASTER. PARAMA SADGURU means highest among the PERFECT MASTERS.
"Shree's lineage reflects a glorious spiritual heritage. His mother Sonamata was a great YOGINI. (YOGINI is the feminine term for YOGI.) Shree's father Shivananda Swami was a renowned NADA BRAHMA YOGI….Shree's grandfather Tatyaji Maharaj was a saint who possessed great intuitive knowledge of medicine and astrology….
"On Christmas day, December 25th, 1941 Shree's allotted task was revealed by the Will of Almighty Father…Shree was further informed that the time for unfolding was yet to be…. In 1944 Shree vowed, 'I will resuscitate the Vedas.'
"Parama Sadguru once said:
'Whatever Almighty has willed to be done through our instrument shall be done. Our
whole life is totally dedicated to Him. He who revealed to us our allotted task shall grant us
the necessary strength to fulfill it.
'It is not for us to advise people to follow any particular individual.
'If it is the will of the Almighty to convey to the world any message through us He will do so.
We are merely His slaves.
'We are not votaries of any religious denomination. Whether it is the Bible or the Koran or        the doctrines of Hindus we will convey the message with equal yearning.
'We have asked people not to call us GURU. Many have imposed Guruhood on us. Many           have experienced superhuman powers with us. Many have witnessed miracles. We are mere witness of, not the doers of these things.
'We surrendered totally to the Almighty and He started utilizing our body as His instrument.
Each one has to tread his path of Self-realization.'"
Parama Sadguru Shree Gajanan Maharaj left the mortal coil on December 6, 1987. In reference to the lineage after He left the Body, Shree stated that after Us, comes Vedas; after Us, comes the Fire. There is no lineage. The Fire is of utmost importance.
May 13th marks the birthday of Shree Vasant V. Paranjpe, who left the body on December 30,
2008, at Maheshwar, India.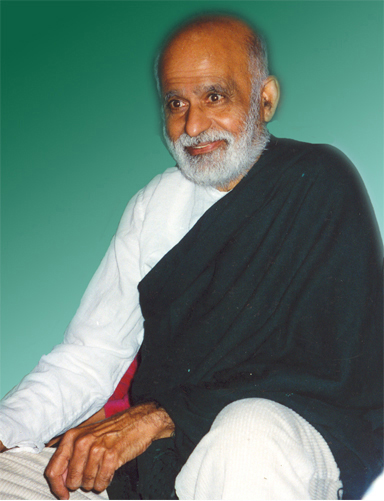 Words could never convey the impact of His life on countless people around the world to whom He carried the message of Agnihotra and Fivefold Path. In His mission, He circled the globe year after year, serving with unwavering devotion, utmost humility, astonishing energy and boundless love. He was instrumental in transforming the lives of people from all walks of life.
He so scrupulously avoided personal attention throughout His life of service, and never sought to collect followers. (For years, He declined to have His photo in this newsletter, which He Himself founded.) In total humility, He guided people to focus on the message of Yajnya, Daan, Tapa, Karma, Swadhyaya–not the messenger.
Following are some highlights from Shree Vasant's life of service:
In 1970, Parama Sadguru Shree Gajanan Maharaj of Akalkot, India, who resuscitated Agnihotra and the Fivefold Path of Vedas in modern times, commanded Shree Vasant:
"Our words which lead to BLISS, convey them to all the people."
Thus began Shree Vasant's thirty-eight years of travel and teaching, of Grace and total surrender to the Divine.
In 1972 He began teaching in the U.S. In 1973 He became the founder president of Fivefold Path, Inc., a nonprofit organization established in Madison, Virginia. In that same year, Shree Gajanan Maharaj commanded Shree Vasant to start this Satsang newsletter.
On September 22, 1973, Shree Vasant inaugurated the Parama Dham Fire Temple in Madison,
Virginia, the first Fire Temple in the world established under Shree Gajanan Maharaj's dispensation of ancient science of atmospheric purification for the New Age.
In 1974 Shree Vasant carried the message to Europe. Over the years, His mission also took Him to South America, Australia, Africa and Asia. He was instrumental in bringing Agnihotra and Fivefold Path to thousands of people all over the planet.
In today's world He pioneered the use of Homa Therapy in agriculture, psychotherapy, alternative medicine, self-development and healing the environment. Under His guidance, Homa farms and centers such as Ecovillage Bhrugu Aranya in Poland, Om Shree Dham farm in Australia, and Tapovan in India, came forth.
He is the author of Grace Alone, Light Towards Divine Path, Ten Commandments of Parama Sadguru and Homa Therapy, Our Last Chance. His books have been translated into many languages.
Over forty years ago, many of His talks and writings warned of the environmental degradation and deterioration that has come to pass in virtually all parts of the globe today, in the forms of atmospheric pollution, nuclear radiation hazards, water pollution, soil fatigue, noise pollution and more. But along with these warnings, He offered a solution that people all over the world could use to heal themselves and their environment–Agnihotra and Fivefold Path.
Glimpses of Shree Vasant's life can be found in Messenger of the Sacred Fire, the Extraordinary Life and Works of Shree Vasant Paranjpe by Parvati Rosen-Bizberg. In it, a number of people from various countries have shared their experiences with Shree Vasant and the spread of Agnihotra around the planet. But perhaps the greater story
of His life is just beginning to unfold, as people the world over continue His mission.
In February, 2012, another important milestone was achieved: Homa Therapy Teachers' Certification training. The certification program is a means of accurately preserving and conveying the Vedic knowledge given by Parama Sadguru Shree Gajanan Maharaj and taught worldwide by Shree Vasant Paranjpe. Through the program, Homa Therapy teachers can be more thoroughly and consistently trained, so that a uniform message of the teachings
of Homa Therapy goes out to the world. This also promotes unity among Homa Therapy teachers.
The first Homa Therapy Teachers' Certification course was given in Tapovan, India in February, 2012. Second and third courses were given at Ecovillage Bhrugu Aranya, Poland, in September, 2012 and in the spring of 2015. The training in Poland is noteworthy in that several trainees were young adults and/or second generation Agnihotris–the wave of the future.
Some years ago, Shree Vasant suggested that a Homa farm be established near the Maryland/Pennsylvania border. In the autumn of 2013, the Baltimore Homa Community realized that dream by purchasing and establishing Ancient Oaks, a 28-acre farm
northwest of Baltimore. The farm sells produce via a community supported agriculture (CSA) program.
In 2016, Agnihotra made its way to Harvard University, and was presented at a conference on "The Spirit of Sustainable Agriculture," by Dr. Appachanda Thimmaiah.
Another important goal was reached on March 25, 2017 at Tapovan Homa farm, where they
celebrated the completion of 16 years of continuous Om Tryambakam Homa.
For the past ten years, a small group of dedicated people from various countries has held Shree Vasant's vision of completing a series of seven Maha Somayags on the banks of the Narmada River in Maheshwar, Madhya Pradesh, India, for the healing of our
planet. February 12th, 2017 marked the successful completion of the Aptoryam, the seventh and final Somayag in this series. This series of seven Somayags was performed strictly according to Vedas, and the purifying effect of each of these Somayags lasts for several decades. These events were attended by people from all over the world, who can attest to their powerful and transforming effects. (For more information, please visit somayag.org.)
Step by step, Agnihotra moves toward a wider audience. More scientific research on Agnihotra has been, and is being, conducted.  Internet and social media allow us to disseminate information on Agnihotra more quickly than ever before. Following are some resources for Agnihotra, Homa Therapy and Fivefold Path information:
Homa Therapy International
Agnihotra and Homa Therapy Web Portal
www.homatherapy.org
This comprehensive site features articles on Agnihotra, Homa Therapy, Somayag, scientific validation, Homa communities, climate engineering, activations and cleansings, plus news and blogs from around the world. Links to websites of Homa centers in a number of
different countries are also featured. Sunrise/sunset timings for Agnihotra can be obtained here as well. The site also offers an extensive archive of back issues of Satsang.
Homa Organic Farming
Evergreen Revolution
www.homafarming.com
In addition to basic information on Homa Organic Farming, this site includes such topics as scientific validation, radioactivity, Resonance Points, applications, farmers' testimonies, the farmer's friends (cows, bees and earthworms), soil and water, and pests and diseases. It also highlights the Noah's Ark Project. This is a special system of Homa Organic Farming wherein
a group of farmers can work together using a Resonance Point on contiguous farms. The model can be useful for organic farmers or those who wish to go organic.
Homa Health
www.homahealth.com
This site gives articles on Homa Therapy, along with Agnihotra Ash medicines, healing testimonies, and an Agnihotra Timetable request form. A listing of many ailments and diseases is given, making it easy to locate information pertaining to a particular health issue.
Other related sites include:
http://www.agnihotra.org
http://www.agnihotra.com.au
http://www.homatherapypoland.org
http://www.fivefoldpathmission.org
http://www.homa1.com
http://www.homatherapie.de
http://www.homatherapy.nl
http://www.baltohomacommunity.org
http://www.homapsychotherapy.com
http://www.homa-hof-heiligenberg.de
It is impossible to truly sum up the spread of Agnihotra, Fivefold Path and Homa Therapy today. We may read about events and milestones on the aforementioned websites, but there is no way to chronicle the work that goes on quietly, behind the scenes, all over the world, or the great changes that take place within the hearts and minds of Agnihotris and Fivefold Path practitioners around the globe.
A precious heritage has been entrusted to all of us who have been taught Agnihotra, the Fivefold Path and Homa Therapy. We can honor this gift by striving to manifest these teachings more fully in our lives, and by sharing this knowledge with others.
Somayag–Part III
The Somayag Committee, Bruce Johnson and Ed.
(For Part II, please see the March/April issue of Satsang.)
A Review of the First Six Somayags, continued
Jyotiruktha was the fourth Somayag in the series of seven. Its purpose was primarily for food. It was performed from 2nd – 7th of February, 2011.
Although each Somayag has a unique emphasis, the purposes of the Somayags are interrelated. For example The Jyotirukta Somayag is for food, but this also includes atmosphere and water.
This event again lifted the energy field. Some measurements of subtle energies were undertaken by different scientists over the years and the consensus was that, each year, the energy rose to new heights and maintained that level until the next Somayag.
Work continued on the kitchen complex, which included a wood-fired oven, and also on the accommodation facilities.

The fifth Somayag in this series was the very powerful 17-day Vajapeya Somayag, performed from November 24th to December 10th in 2012. its primary purpose was for peace of mind.
As far as we know, the Vajapeya Somayag had not been performed anywhere on the
planet for more than 50 years.
The Yajaman for this Somayag was Deekshit Achal Apte. His father, Haribau Apte, was Yajaman for the previous four Somayags held in this series.
It provided the large quantum of high vibrational healing energy needed to balance out the
critical destructive phase being experienced all over the world at this time.
This Somayag differed from previous Somayags in several ways. First was the format. One
could say that this Somayag was actually three Somayags in one. It also included some
activities which were not part of the previous Somayags.
In one of the special activities, seventeen arrows are shot, each starting from the point where the previous arrow has landed. The point where the last arrow lands marks the finish line of the chariot race that follows.
A number of bullock carts assemble just outside the Somayag shala, and all the
participants are invited to climb onto them and join in the "race," which makes a loop around the Goshala grounds and ends in back of the Somayag shala. The Yajaman returns to the Somayag shala after 'winning' the chariot race.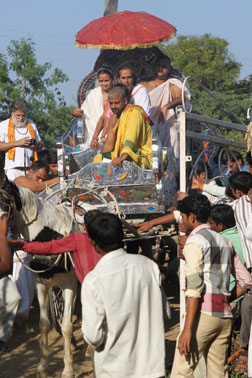 Just outside the Yajnya shala, a gaily decorated tower, approximately thirty feet in
height, was erected. After the race, the winner/Yajaman stands at the top of this tower
and greets his subjects.
Photos: Girish Patil
To be continued.
More from The Orion Transmissions on Somayag
February 3, 2010
Yes. Yes. Sublime energy vortex created here. Lines of energy are emanating from this vortex on the sacred land by the River Narmada. These lines intersect around the globe.
Much power has been released here. It will facilitate not only the goal of UNITY, BROTHERHOOD, SISTERHOOD and the universal goal of PEACE,  but it will transform each and every being who attended this event with intention.
With intention. It is important that you state your intention and that you stay focused upon it. Catalytic events like this SOMAYAG  on sacred ground cannot "happen" without sincere intent by the human element! So you, each of you, have an active-not inactive-role to play in manifesting the intention. This year there was an overwhelming call for UNITY. As the great Master had spoken, UNITY is the result.
Continue, all of you, to manifest UNITY. This is the energy required now to effect MASS HEALING on a world scale. Yes. And it is time for it.
For more information:
http://www.oriontransmissions.com
Homa And Bees
The Homa-Hof Heiligenberg Team

At Homa-Hof Heiligenberg (Southern Germany), which is maintained by the nonprofit association Verein für Homa-Therapie, the effects of Homa fire on the atmosphere, soil, plants and living beings have been researched since 1988. Special attention was given to bees.
The fundamental Homa-fire is Agnihotra. It is performed daily at sunrise and sunset and has enormous positive effects.
How Agnihotra Helps Bees
Through Agnihotra all areas of beekeeping are given support:
• Bees: Agnihotra strengthens and harmonizes bees; they become resistant to disease and unfavourable environmental influences.
• Plants: Bees need healthy plants to produce good honey. Through Agnihotra, plant development is stimulated; air and soil are purified and the plants become vigorous. Moreover, the bees absorb the nourishing ingredients through the nectar.
• Beekeeper: Agnihotra reduces stress and guides the beekeeper towards a calm and peaceful frame of mind. This is fundamentally a prerequisite to recognize the needs of the bees and to act upon them.
How Does Beekeeping with Homa Work?
Bees are kept as a living organism in a natural way, as far as this is possible. We pay attention so that bees never suffer any need and always leave them enough honey to also cope well with a possible food gap.
After many years of observation, the following treatment has proven ideal at Homa-Hof:
The most regular possible performance of Agnihotra is the fundamental prerequisite. Every now and then we also perform Agnihotra in the bee house; as a rule, we trust the radial effect of the little fire of about 1.5 km.
With every Agnihotra, a highly effective ash is obtained that can be used medicinally and as fortification. It is alkaline, rich in minerals, highly energizing, has bacteriostatic, fungicidal properties and much more.
After working with the bees we sprinkle Agnihotra ash on top of the frames and on the landing edge.
Instead of using a smoker, we spray Agnihotra ash water when we work with bees. Both Agnihotra ash and Agnihotra ash water strengthen the bees and calm them.
When we feed the bees extra for wintertime, we add Agnihotra ash and several tea herbs to the winter food.
Bees and Honey
The honey harvest at Homa-Hof is very rich, often also extraordinarily large although we let the bees keep enough of their own honey. The excellent active ingredients produced by Agnihotra are again found in the honey which is confirmed by the taste. From our experience, Homa honey clearly differs from all other honeys; the taste is intense, although soft and gentle. It is hard to describe. Also, the propolis yield is raised in value.
Bees and Varroa
In general, Varroa mites cause a lot of damage to bees. Agnihotra is a universal remedy; it does not kill anything, but harmonizes the environment. The immune system of the bees is strengthened and thus outbreaks of Varroa and virus diseases are resisted. Apart from the Agnihotra ash, we also use essential oils or oxalic acid, but we have been able to reduce this over the years. In this way the Varroa problem is minimized to a tolerable level, and we have hardly any bee losses in winter.
We don't see the Varroa mite as an enemy, but as a challenge to bring the beekeepers back to the right attitude towards the bees and to include nature as well as all her living creatures. It is pointed out in ancient Vedic scriptures that we should bear this in mind in all animal stock maintenance, to keep living creatures in a happy condition. This clearly has an effect on the quality and quantity of the produce. We can confirm this (also in experiences with goats).
Can Homa Prevent the Dying Out of Bees?
From our experience, yes. When more people continue to practice Agnihotra, the environment, including bees, is strengthened and purified so much that everything can return to a state of harmony. An increased occurrence of damage indicates an imbalance. Nearly 30 years of research at Homa-Hof Heiligenberg shows that damages and diseases in plants and animals are almost absent when Homa fires are being performed. Agnihotra is an all-embracing remedy that has the potential to give us and the environment a return to a healthy and harmonious state. In the space of the German-speaking population there are about ten thousand practitioners, supporting in this way our Earth and all that lives therein.
Sources and further information:
Homa-Hof – Verein für Homa-Therapie e.V., Oberhaslach 6, D-88633 Heiligenberg, www.agnihotra-online.com
Horst und Birgitt Heigl, "Agnihotra-Ursprung, Praxis und Anwendungen", 4th edition, Heiligenberg 2016, www.heigl-verlag.de
Healing with Homa Therapy
Elizabeth Quijique
Guayaquil, Ecuador, South America
On January 4th, 10 days ago, I had a stroke, which affected the left side of my body. I was restricted fully. I spent some days without being able to move. I had paralysis and a lot of pain. My family had to take complete care of me.
I have three children–Valentina, Gregory and Ronald. I am mother and father for them. So I said to myself, "I have to get up; I have to do it for them." Thanks to the phone call and invitation of Don Patricio Feijoo to join a Homa Therapy meeting, I got encouraged and got up. I tried to dress myself and then the pain started, but I said, "I have to walk, I have to go there."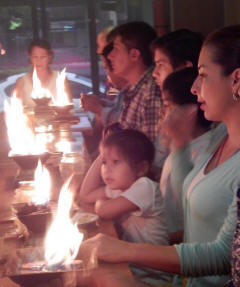 My mother, who had come to help me, asked me what I was doing. Then I told her that I wanted to go to Homa Therapy. I insisted in going there, because even Arcoxia did not take away my pain.
Then they helped me and I arrived in Urdesa to talk with you [Homa Therapy teachers Abel Hernandez and Aleta Macan] and you gave me a little bit of the Agnihotra ash. I was sitting on the sofa and the pain started to disappear.
I said, "Wow! The pain is disappearing and I only took a little Agnihotra ash with water!" After that I could walk by myself.
Then I reasoned, "This is better than Diclofenac," which I had to inject when I could not take the pain any more. However, that would take away the pain for an hour or two and then it came back. But the Agnihotra ash removed it, and if it returned, I took more Agnihotra ash and I was fine. I went there with a lot of pain and I returned home without pain.
You see, I'm here warming my hands on top of the extinguished Agnihotra fire. I felt pain and put my warm hands right there and the pain disappeared. However, I still find it a little difficult to pick up things.
People see me and think I have nothing. Today, the doctor told me, "But you do not have a stroke." Then, when she checked me and saw the exams, she said, "Yes, you have paralysis. It's a cerebral stroke." The exams done at the Pan-American Clinic also showed these results.
So my family now says to me, "Go, go. We do not know what you're doing at the Homa Therapy, but it takes your pain away."
At first, the doctor told me that I was irresponsible, that I should be hospitalized and intubated. But then she also said, "We do not understand what you're doing, but go on with that."
After this group Agnihotra today, I feel better and now I have no pain.
From Shree Vasant's Teachings
On Training the Mind
To learn to develop clear mind, one need not have great knowledge. If one is focused, one is open to solutions and very clear answers. Then one thing is to put all focus into each activity and quiet the mind with Mantra. If, while cooking, one is thinking, "Well, I will be going via bus to Hamburg, then I have to email my grandmother," etc., surely the food will burn or you will forget what you are doing.
Some efforts require skill, so make every effort to learn that skill if you think it will be necessary for you in life. It is also good to be able to do more than one thing. For example, everyone eats, so it is good to learn some basic cooking skills.
Concentrate fully on each activity as you perform your task. You will find your mind being pulled from one thought to the next. At the exact moment you find the mind drifting, immediately pull it back with Mantra and again focus on the task at hand. Thus your work becomes a type of meditation. This is one awareness technique.
Fivefold Path for Happy Living
1. Yajnya
HOMA Therapy is the science of purification of the atmosphere through the agency of FIRE. AGNIHOTRA HOMA (YAJNYA) is the basic HOMA. It is tuned to the biorhythm of sunrise/sunset and gives nutrients to the plant kingdom, removes diseases in a certain area and removes tension on the mind. This is the basic process in the science of medicine, agriculture, climate engineering and interplanetary communication.
2. Daan
Sharing of your assets in a spirit of humility. This corrects imbalance in financial matters and creates non-attachment to worldly possessions.
3. Tapa
Self-discipline of body and mind. This is conducive to a change in attitudes of mind and body. It results in a harmonious state of mind.
4. Karma
"You reap as you sow." Always practicing good Karma (actions) diminishes the burden of negative Karma and one begins to invest in his own future. This means that what you do today will bring its fruits. Sowing seeds of love and kindness will bless my garden with plenty of love. Do Karma for self purification.
5. Swadhyaya
Practice Swadhyaya (Self-study) for liberation. Who am I? Why am I here? My work on this planet is to learn to react with total LOVE with each opportunity given to me.
This is the Fivefold Path for happy living on the planet. By practicing the Fivefold Path you become better members of your society, group, religion, community, etc.
Publisher: Fivefold Path Inc.
Parama Dham (House of Almighty Father), 278 N. White Oak Dr., Madison, VA 22727 USA
Editor: Lisa Powers
Published seven times yearly.
Please direct all Satsang correspondence to the Editor.
Opinions expressed by contributors are not necessarily those of Satsang.
ISSN 0735-1321