Agnihotra in Australia
Satsang November/December 2016 | Volume 44 #5 | New Era 73
Agnihotra in Australia
Lee and Frits Ringma
March 2016 North New South Wales and Queensland
In March this year Lee and Ana Ringma took to the road to share the
graceful healing and blessed relief that Agnihotra and Homa Therapy
brings into people's lives. We drove up the New South Wales coast starting from Om
Shree Dham in the Hunter Valley NSW, giving Agnihotra workshops all the
way up to Brisbane Queensland across to Toowoomba and then down the New
England Highway. Highlights were well-attended workshops in Wingam, Byron
Bay area, Toowoomba and Armidale.
In Brisbane, a spontaneous workshop took place at Ricky and Salima's
place. Their 11-year-old daughter Maitri loved Agnihotra so much that she
now has her own pyramid and practices the Fire alongside her parents.
The family have recently moved to Arizona, U.S., and are performing
Agnihotra there. It is fascinating to see how things flow on. For example, at
the workshop there was a Scottish visitor who has since taken Agnihotra back to
Scotland.
A flow on from the Wingam workshop was having a stall at Enviro Fair Taree, as well as 2 well-received radio interviews.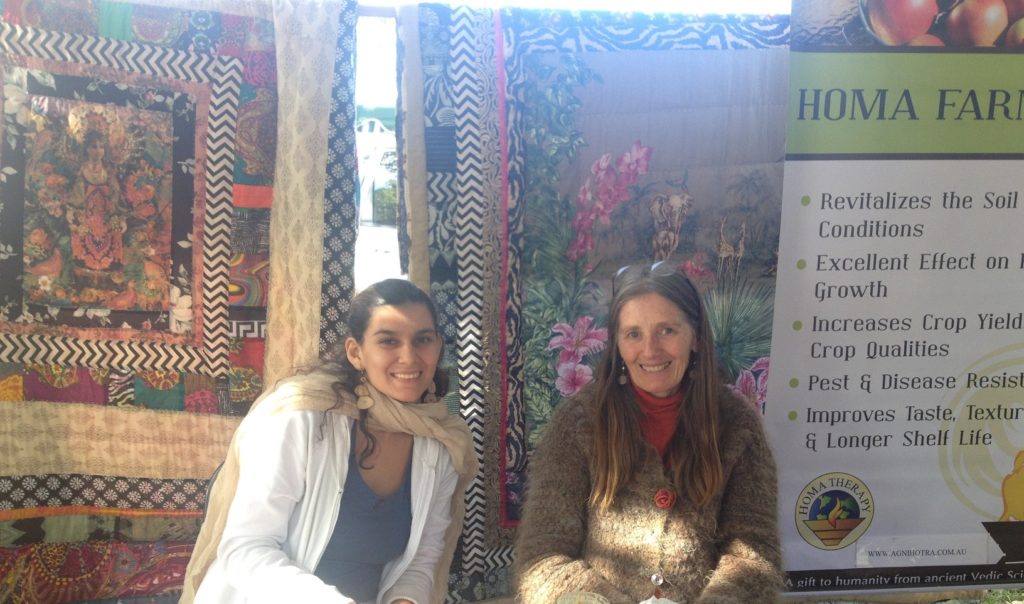 While in the Byron area conducting workshops we stayed in Mullumbimby in the home of Agnihotri Oni Blecher, who kindly offered us her home while she was away. Every morning Ana and I would perform Agnihotra outside in the garden. A Japanese family lived upstairs. The reality is that they left Japan to protect their child from radioactivity from Fukushima; i.e., they are environmental refugees. Fascinated by Agnihotra, they requested Agnihotra ash as an antidote for radioactivity.
There was a well-attended workshop in Toowoomba, hosted by Jannelle Brae, Natural Therapist, where 15 new people took up Agnihotra. Janelle has been performing Agnihotra for several years and is excited for Toowoomba that many people in the area have taken up Agnihotra.
A young woman travelled all the way from Brisbane to attend, and has been
performing Agnihotra with great benefit. Here is her testimonial:
"I can definitely say that I am developing a much more intimate connection with nature, myself and the people around me because of Agnihotra. It amazes me that a small practice that doesn't take
long (and that we can easily fit into our routines) has such profound benefits on so many levels. I believe it is a practice that a lot of people will gravitate towards as the awareness spreads. I am deeply grateful for being introduced to Agnihotra."–Mai Hawthorne
Another testimony reads:
"Agnihotra has changed my life in such amazing ways. Firstly I noticed my sense of wellbeing and calmness changed within the first 24 hours of performing Agnihotra. I managed to continue with my Agnihotra as much as I physically could (not twice a day every day – but close). I noticed my entire family seemed calmer and more grounded than usual.
"One week later my husband, who used beer to relax after his stressful days every day 7 days a week, tells me that he's taking a break from drinking for awhile! I was astounded. Six months on, my husband decided to give up smoking cigarettes, and now after 3 months stopping (after 25 years of smoking) – he proudly claims he is a non-smoker. 
We live in the bush and all of the humans, animals and even the land seemed to have a 'content glow' about them. It feels so beautiful. I also noticed the potted plants that I was using the ash on, were absolutely booming with green leaves and shining like never before. They look sooo happy !
"….When performing Agnihotra I feel a deepened spirit -earth connection and am ever so grateful for the benefits that my family and land receive." Anonymous, QLD
The Homa Therapy Retreat was lovingly organized by Tina Gough, Energetic Healer and longtime Agnihotri. It was hosted by 'The Sanctuary,' a bush sanctuary and healing retreat. Delicious organic vegetarian food was provided. The owner attended the workshop and took up Agnihotra to support nature as well as his own spiritual practices. Several organic
farmers also took up Agnihotra to support their farming practices. A highlight was Agnihotra sunrise with steaming breath in the tipi, followed by Om Tryambakam Homa in the retreat hall with crystal bowl sound healing. It was a beautiful transformative experience for all.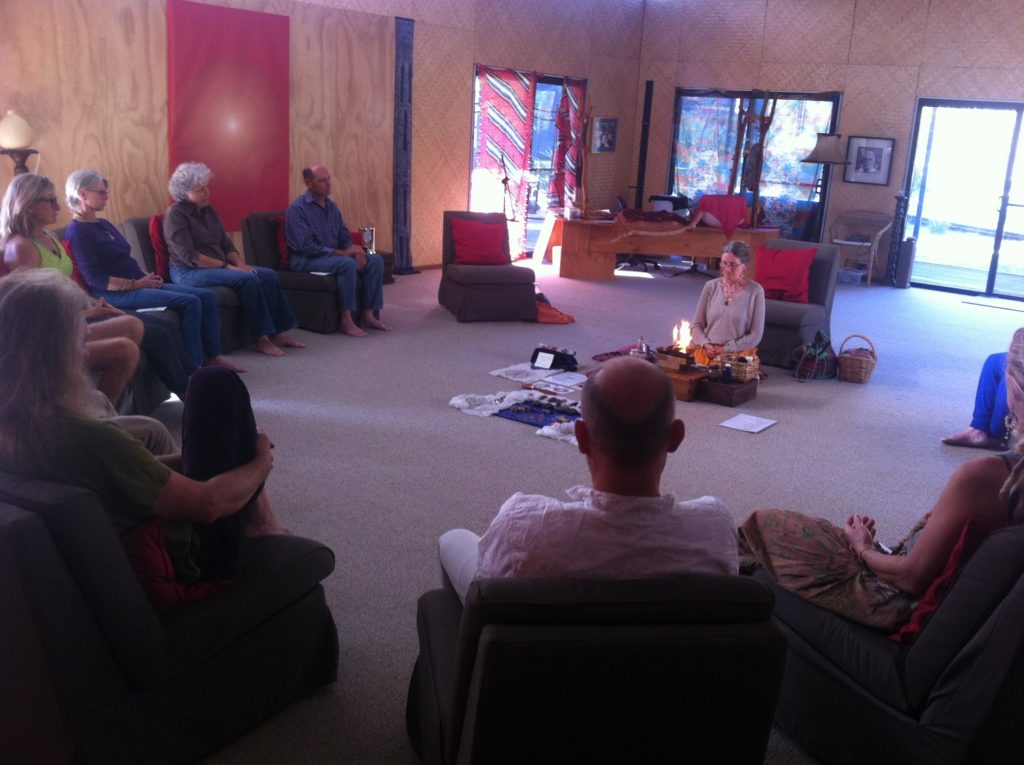 July 2016 South Coast and Victoria
Frits and Lee travelled a 3500 Km round trip down the beautiful South Coast to Victoria, conducting Agnihotra workshops along the way. Their daughter, Ana Ringma, and visitor from Peru Tania Gutierrez, kept the Fires going at Om Shree Dham, looked after the cows, maintained cow dung cake production and looked after the veggie gardens. This enabled Frits
and Lee to do Agnihotra outreach work to bring the healing balm of Agnihotra to many and to nature.
Departing from Om Shree Dham, the first stop was at Narooma Ecotel where we did the next morning sunrise Agnihotra. To our surprise, 5 people braved the cold in the early morning to attend and 4 of them took up Agnihotra! Narooma Ecotel is an enterprise set up by Stina Kerans and partner. Their passion is to create living structures that nurture community and environment- www.ecotel.com.au, www.sunvillages.com.au.
From Narooma we drove on to the Bega Valley to dedicated Agnihotris, Rikai and Mark Blondel.  Their plans are to build a yoga/meditation retreat in Homa atmosphere with Homa veggies on the menu. As well as a workshop with their circle of friends, we had a special Fire and sound healing session down at the bubbling creek on their land. Frits performed the Homas, Lee played the crystal bowl and Mark went into a reverie of ancient tongues.
Our next stop was Lakes Entrance at the home of long time Agnihotri, Cass Roadknight. Two women took up Agnihotra in the area, one a practitioner of Orthobionomy.
The first workshop in Melbourne was organized by Zoran and Gordana in Northern Territory, Dandenong. Mostly members of the Serbian community attended. They also attended the Homa Farming Day at Marko's luscious organic farm in Drouin. Marko is Zoron's son. Several members of this community are planning to develop an organic farm, both in Australia and in Serbia, supported by Homa farming principles. They are acutely aware of the deterioration of both food quality and supply and deeply know that growing one's own organic food as a community is necessary now. They also wish to bring the healing balm of Agnihotra to heal the war scars in their motherland.
Some of the activities at the Homa Farming day included:
• Introduction to patting out cow dung for Agnihotra cow dung cakes.
Most people chose to do this with bare hands, knowing the healing
properties of organic cow dung. In the Vedas it states that cow dung
is not only clean, it is antiseptic and medicinal! For example, in
World War I in Europe, cow dung poultices effectively healed
gangrenous wounds. We noted that the cow dung collected contained
grain seed due to supplement feeding, making the cow dung
unfortunately not ideal for Agnihotra.
• Learning Om Tryambakam Homa. Agnihotra brings in the flood of prana creating a vital biosphere, while OmTryambakam Homa is utilized in Homa farming to add more
nutritional fragrance and heightened vibration to the atmosphere. [Agnihotra establishes the basic healing cycle; other healing fires we teach, such as Om Tryambakam Homa and Vyahruti, strengthen that cycle, and are never a substitute for Agnihotra.-Ed.]

• Homa methods of planting seed. The
planted seed was watered with ash water running over
the right hand. The hand of a regular Agnihotri carries a
heightened healing energy. The seed is first soaked in cow's urine
which has anti-fungal and fortifying properties. In the absence of
cow's urine, we soaked the seed in ash water. When planting, we dug a
hole deeper than required , placed Agnihotra ash in the bottom,
sprinkled soil on top on which nestled the seed, then covered with
soil. This encourages the roots to anchor deeply, strengthening the
plant as it seeks out the nutritional and pranic content of the ash.
• Group sunset Agnihotra, imbuing the farm with its fragrance and
prana.
Leonie's experience:
"What Agnihotra brings to me, and it has done many times in the past , is
a heightened awareness in my consciousness to situations that are not serving me, people etc. It allows my intuition to flourish without question and brings me into alignment with my true self. Anything that does not support my highest self is revealed and has no choice but to drop away.
"…..So many people enjoyed the workshop and have just come out of a meeting with Melody , Carl and a local lady who owns a vegan restaurant and we are going to continue mindfulness
gatherings and start off with Agnihotra. Very special. Leonie, Anglesea,Vic
Sonia makes Ayurvedic skincare and plans to incorporate Agnihotra ash in
some of her products to impart greater vitality. Both Sonia and her 22-year-old son Jade  are now practicing Agnihotra together.
Sonia writes:
"Jade and I have been experiencing a lot of purification [since
the workshop and resuming Agnihotra]. I've completely given up coffee,
having not had one since just before your stay. I can see how easy it is
to drop unhelpful habits via the daily practice. I have also been
quite unwell with a terrible cough and a lot of mucus that was lodged in my
lungs is finally leaving.I do feel very much like we are undergoing quite the
transformation of my health, which was very much in need as I've had such low
energy for so long." Sonia Lloyd, Surrey Hills Vic.
Ralph and Sushie regularly organize Agnihotra gatherings in their home
and at various sites in the Warburton area. Sushie's experience:
"….Lee and Frits from Om Shree Dham came to stay with us for 3
nights to run workshops in the Warburton region. There were regular fires
at dawn and sunset and even some special Homas in the early hours of the
morning. During this time I noticed the change in the atmosphere
and actually perceived mantras implanted in the air around our
home, like an energy that was held in the particles of our surrounds. It
was proof to me of the power of the Homas and mantras.
"We also noticed that the birds who usually feed at our place were feeding
very peacefully together. Normally they squabble and squawk and there is
definitely a pecking order. But this time, with both sunrise and sunset
Agnihotra consistently taking place, even the pecking order seemed to
vanish as the different species were enjoying a feed together!
"Also, when I went out to the garden to pick some mandarins from our
heavily-laden tree, I noticed an energy coming out of the leaves, as if
it was beaming out Love. It seemed as if the tree was saying thank you
for our efforts to help nature heal. Our younger plants were growing very
straight and every plant appeared to be very alive and charged with life
force.
"As a result, we are even more convinced that Agnihotra is powerful in
rejuvenating the environment, as well as very nurturing to all life
forms. Thank you very much for the dedication to spreading this
knowledge." Sushie and Ralph Ballard, Warburton, Vic
Scenes from Om Shree Dham Homa Farm, Australia
Staying at Om Shree Dham
Throughout the year we have people staying at Om Shree Dham to experience Homa Therapy lifestyle. Homas are performed throughout the day and there are many opportunities to participate in Homa Organic farming through helping in the garden. We are building a Retreat and Education Centre and hands-on help is most welcome.
Tania's Experiences at Om Shree Dham

Tania came over from Peru to have a deepened experience with Homa
Therapy. She stayed for about 2 months.
"I came to Om Shree Dham because I wanted to improve my spirituality and to practice Homa farming. I am a Forestry Engineer and I like everything  related to agricultural science and nature. My mother does Agnihotra in Peru and sometimes I accompanied her, but I did not make it a regular practice.
"The experience at Om Shree Dham gave me more than I expected. Practicing Homa Therapy and my experience at Om Shree Dham not only deepened my spirituality, it also improved my health, gave me more knowledge related to agriculture and improved my prosperity. I feel very grateful for Homa Therapy and for the Ringma family because they made me feel like it was my home.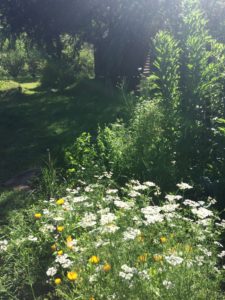 "I stayed for more than two months here. During this time I helped with the farm work, for example, feeding the cows, making cow dung patties for the Homas and working with the vegetable gardens and fruit trees. All this work was complemented with Homa Therapy practices. I did the sunrise and sunset fire, one hour Om Tryambakam daily, the Gayatri, etc. All these activities helped me in a holistic way, the good actions producing good karma in my soul and my body. I am very grateful to God for bringing me here, for permitting me to know the Ringmas and for the good times here on the farm and in Australia. Homa Therapy has helped me a lot." 
Healing a Macadamia Tree
Our macadamia tree was attacked by a plague of some kind of mining insect that was sucking the sap out of the new shoots. Under the mulch we saw a mass of tiny insect eggs. To remedy the situation, Agnihotra ash was sprinkled around the base of the tree and watered in. Then a paste was made of Agnihotra ash, cow's ghee and clay and smeared over the trunk from the base upwards and on any affected branches;  also the cut off ravaged tips were smeared with the mix. The tree, a couple of months later, was completely free of the insect plague, had abundant new shoots despite it being winter, and was outstanding in its shiny, radiant foliage.
For more information on Om Shree Dham, please visit http://www.agnihotra.com.au.
Email: omshreedham@agnihotra.com.au
From the Orion Transmissions
received by Parvati Rosen-Bizberg
Wysoka, Poland
November 9, 2016 (The following message came to me the day after the U.S. elections. As we all awoke, shocked at the results, these powerful words were given in the voice of Shree Vasant, whom Orion often refer to as the Master.)
When all around there is chaos, when political powers are extremists and the messages they propel are tinged with hate, you must be strong within yourselves.
We have been telling all along, there are no solutions in the political realm.
You must unite and strengthen your resolve to create and defend options for your children and for the future of humankind.
Seek to form groups which are designed to be safety zones, buffers against the bitterness in the world. Prayer groups, music groups, groups for the creative arts, groups of parents, and groups for children.
Do not allow divisive politics to divide you from your brothers and sisters in the Light—whatever be their race, religion or cultural background.
Refuse to react in the ways these divisive politicians expect and program you to react. If you realize that you are being programmed by these divisive powers to react in a negative way, then suddenly you come to know to refuse to be manipulated by the negative forces in existence now.
SEEK TO RESPOND WITH LOVE.
Sometimes to respond with love may be as simple as to walk away from conflict rather than become embroiled in it, thus endangering your most vital and valuable weapon of peace—your own peace of mind. Guard your peace of mind with your life. Your life depends upon it.
In this life, walk with love and absolute integrity. Be true to yourselves in all your affairs.
Each of you has the capacity to become a beacon of Light in your lives. The world needs more beacons of Light, all shining in the darkness of these most trying times.
Do not become disheartened.
Become One.
Become True.
Become that which you were born for.
Be aware of the darkness. Good. That will make it clearer and easier to identify the Light. Move toward Light in all you do.
Blessings of love and grace always with you all.
OM TAT SAT.
November 13, 2016 ORION on Community
Yes, yes. Now, more than ever, there is need for community. Isolation will not serve the whole. Isolation leads to desolation. Community restores human beings' sense of the greater whole. It stretches and redefines one's definition and scope of family.
It is a time of great return to one's deepest, most abiding roots, coupled with one's capacity to spread one's wings to envelop humanity as a whole.
November 16, 2016 Orion on Times of Change
Yes, yes. We are embarking upon a new, highly chiseled, deliberate era during which the 'chips will fall where they may,' to borrow a colloquial expression of your times. Indeed, there are a great many more unknowns. Whereas previous leaders of governing bodies were more predictable, for better or worse, the new politics across the world seems to embody the element of surprise, of inconsistency and of unpredictability.
It is time for human beings to take control of their lives, pull back from dependence upon a system which is now being pushed and pulled, stretched beyond its limits and unsecured, rather than secured.
Those of you depending upon the system to assist you in your journeys, whether it be in the financial sense or the healthcare system, whether it is reliance upon the legal system or reliance upon the 'justice and equality for all' myth—find alternatives!
There are a few areas which are going to receive great benefits, but that remains to be seen. However, some good will come out of these highly restrained government officials.
We predict a likely overthrow of the government in P. This seems imminent, unless the course changes. Again, with the unpredictability of the extremist governments, it is difficult to predict. Only trends can be seen.   
These are very difficult times for many people on your planet. It is again a portal for the release of souls ready to be released.
November 28, 2016 On Unity, Not Division
Yes, yes. In every country, there is the sense of escalation, but not toward war. War is the common fear. There is an escalation toward chaos, as politicians more brazen commit obvious crimes with no compunction and no abiding consequences.
There is a sense of lawlessness. This is when the people unite. They form a tribe within and amongst themselves. When the people begin to unite as ONE and extend their arms across the great waters to embrace others in need, humanity comes closer to fulfilling its mission on this planet.
When governments go awry, the people shall UNITE.
Refuse to be divided by the colour of your skin or the faith which you follow.
Refuse to rise against each other.
Change the program.
Go within more to achieve a peaceful state of consciousness.
And carry that peace to others all around you.
You need not spout spiritual vignettes or preach sermons.
Just be still and listen more to your fellow men and women.
On Our Precious Resource – Our Children
And, by all means, become as still as you are able—to listen attentively to the children.
They are leaders of the future, being groomed for their roles in time. Their hearts remain open, despite the chaos their tender souls observe in the world outside. Help them to kindle and maintain that Light within, until it becomes so clear, so strong, that nothing can extinguish it.
Consider every moment with your own beloved children to be a blessing bestowed upon you by Almighty.
Be the mirror for your children, so that who you are at your highest vibration becomes reflected back to them, as they seek to find their own ways to rise.
Take care how you expend and extend your energies.
Guard your personal space, no matter how small it may seem.
Go within daily.
Meditate more deeply.
This is the time when TRUTH will be revealed.
Shadows become visible.
Walk in Light.
OM TAT SAT OM.
For further information:
www.oriontransmissions.com
Healing with Homa Therapy
Zoran
Torn Achilles tendon heals
In June 2014, I tore my Achilles tendon. Three months later, I was at a
doctor's appointment concerning medication for my high blood pressure.
When he saw how I was walking, he sent me to do an MRI scan. My Achilles
tendon was torn 3cm. The doctor gave me a referral to have an operation done,
because as he tried to explain, it would be impossible for the tendon to naturally
re-attach to where it had been torn.
I decided to use natural methods such as comfrey balm, which I
applied until January 2015, when I learned about the Agnihotra and
Monika Koch's recipes (Homa Therapy , The Ancient Science of Healing.)
After a few weeks of practicing Agnihotra and applying a balm made from
the Agnihotra ash and ghee, I very quickly noticed an improvement and
felt like the tendon was re-attaching. My right leg has since resumed
normal functioning.
Cat's character changes from remote to friendly
When I began doing Agnihotra in our backyard, we had a cat and dog. The
cat never allowed anyone to pat her, but as soon as I began to set up for the
fire, the cat would approach and remain close until I finished. We noticed
that the cat had become more mellow and would allow us to pat her, and
that it was almost as though she was asking us to perform Agnihotra.
Gordana
Frankston, Victoria, Australia
Crush wound heals quickly and pain healed immediately
Recently the car door was accidentally slammed shut on my right hand,
crushing my middle finger. In a moment, the blood began to seep out. I
rested my finger against a bottle of frozen water and used a band-aid to
stem the blood flow. When I arrived home and took the band-aid off, I
applied the Agnihotra ash on it and replaced the band-aid. Immediately all
pain left and in two days I could remove the band-aid. It healed
unbelievably quickly.
From Shree Vasant's Teachings
On Being Used as an Instrument
You are just being used as an instrument to help others. So if there is a "conductor" of the orchestra, why do you concern yourself with what is played next? Even in great orchestras changes are made. The orchestra members must be aware and listen and watch for their commands. Then they only have to take care of their instruments and keep them exactly attuned and ready. Then, no matter what composition is called for, they are ready, instrument in hand, to create harmony all together.
On One-Pointed Attention
To learn to develop clear mind, one need not have great knowledge. If one is focused, one is open to solutions and very clear answers. Then, one thing is to put all focus into each activity and quiet the mind with Mantra. If, while cooking, one is thinking, "Well, I will be going via bus to Hamburg. Then I have to email my grandmother," etc., surely the food will burn or you will forget what you are doing.
Some efforts require skill, so make every effort to learn that skill if you think it will be necessary for you in life. It is also good to be able to do more than one thing. For example, everyone eats, so it is good to learn some basic cooking skills.
Concentrate fully on each activity as you perform your task. You will find your mind being pulled from one thought to the next. At the exact moment you find the mind drifting, immediately pull it back with Mantra and again focus on the task at hand. Thus your work becomes a type of meditation. This is one awareness technique.
On Purity of Thought
Thoughts are seeds we put into the atmosphere. If your thoughts are of love, then you help to purify the atmosphere.
On the Law of Karma
The seeds of truth have been planted. You reap what you sow. If you are part of sowing seeds of love, that is what you will reap.
Agnihotra Gives Protection
All houses in which Agnihotra is performed regularly will be blessed. No harm will come.
Fivefold Path for Happy Living
1. Yajnya
HOMA Therapy is the science of purification of the atmosphere through the agency of FIRE. AGNIHOTRA HOMA (YAJNYA) is the basic HOMA. It is tuned to the biorhythm of sunrise/sunset and gives nutrients to the plant kingdom, removes diseases in a certain area and removes tension on the mind. This is the basic process in the science of medicine, agriculture, climate engineering and interplanetary communication.
2. Daan
Sharing of your assets in a spirit of humility. This corrects imbalance in financial matters and creates non-attachment to worldly possessions.
3. Tapa
Self-discipline of body and mind. This is conducive to a change in attitudes of mind and body. It results in a harmonious state of mind.
4. Karma
"You reap as you sow." Always practicing good Karma (actions) diminishes the burden of negative Karma and one begins to invest in his own future. This means that what you do today will bring its fruits. Sowing seeds of love and kindness will bless my garden with plenty of love. Do Karma for self purification.
5. Swadhyaya
Practice Swadhyaya (Self-study) for liberation. Who am I? Why am I here? My work on this planet is to learn to react with total LOVE with each opportunity given to me.
This is the Fivefold Path for happy living on the planet. By practicing the Fivefold Path you become better members of your society, group, religion, community, etc.
Publisher: Fivefold Path Inc.
Parama Dham (House of Almighty Father), 278 N. White Oak Dr., Madison, VA 22727 USA
Editor: Lisa Powers
Published seven times yearly.
Please direct all Satsang correspondence to the Editor.
Opinions expressed by contributors are not necessarily those of Satsang.
ISSN 0735-1321