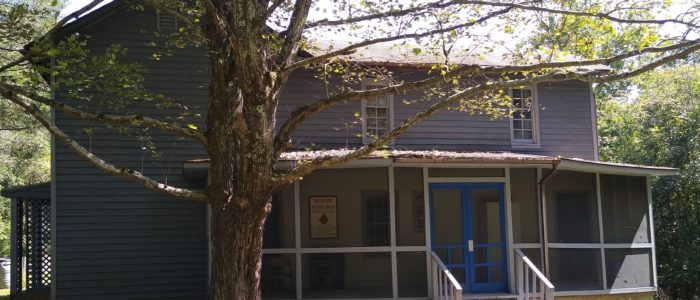 Parama Dham Visitors Policy
July/August 2021 Satsang | Volume 49 #3 | New Era 78
Parama Dham Visitors Policy
The Parama Dham Fire Temple in Madison, Virginia, U.S.A. was inaugurated by Shree Vasant in 1973. It was the first Fire Temple in the world established under Parama Sadguru Shree Gajanan Maharaj's dispensation of resuscitation of the ancient science of atmospheric purification for the New Age. The name Parama Dham, which means House of Almighty Father, was chosen by Maharaj Shree.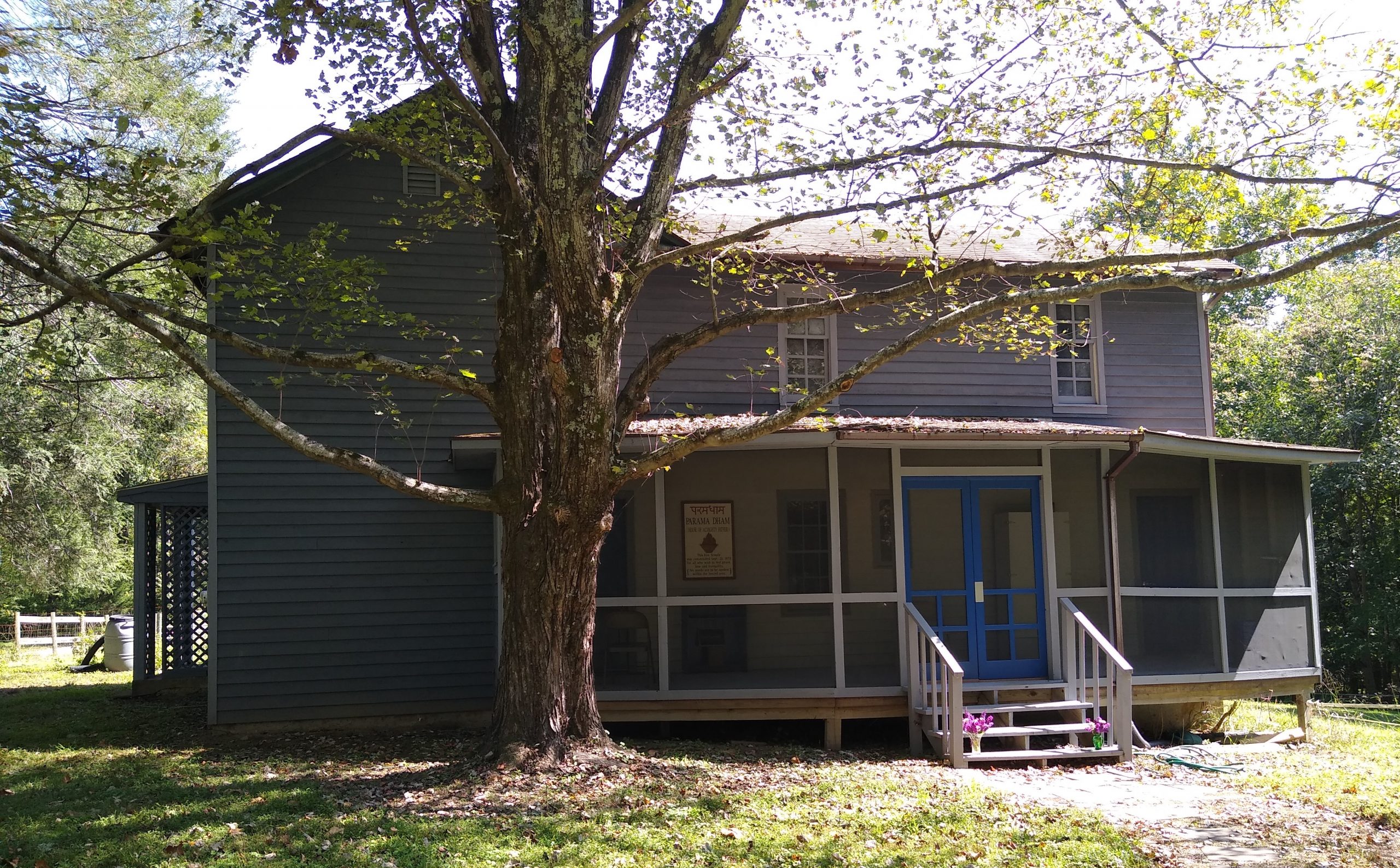 The Parama Dham Fire Temple
In a Fire Temple, there is no priest and nothing is worshipped. Agnihotra atmospheric purification technique is performed there twice daily at sunrise and sunset. A fixed set of mantras is chanted after Agnihotra. With the exception of the mantras, silence is observed in the Fire Temple at all times. The atmosphere becomes supercharged with healing energies.
In a separate room from the main temple room, 4 hours of Om Tryambakam Homa are performed daily. On no moon and full moon days, more hours of Om Tryambakam Homa are done there.
Due to COVID-19, Parama Dham was closed to visitors for nearly a year. However, as some public restrictions have been lifted, we have begun receiving visitors on a limited basis. To ensure the safety of visitors and those who maintain the temple, the following policy is now in effect:
—ADVANCE NOTICE is required for all visits. The building is kept locked, to ensure that visitors give advance notice and are informed of the temple's policies. Please call Richard Powers at 540-407-0273 or Lisa Powers at 540-948-4945 for more information or to plan a visit.
There is no accommodation at Parama Dham. A variety of motels, bed and breakfast and Airbnb options can be found within 30 minutes of the temple.
—VISITORS MUST BATHE AND WEAR CLEAN CLOTHES to sit in Parama Dham. If someone comes who hasn't bathed, they may sit on the porch and we will leave the door open at Agnihotra time. Bathing arrangements off the property can be made for visitors coming from a distance, with advance notice. There are no restroom facilities at Parama Dham.
–Due to COVID-19, we will observe the local regulations regarding wearing masks inside the building. These regulations may change.  Masks and hand sanitizer are available on the porch.
—Visitors should social distance inside the building. Please do not move the cushions and chairs.
—SILENCE is to be kept at all times inside Parama Dham and on the property (except for specific Mantras and Sanskrit verses.)
—If you wish to perform fires in Parama Dham, prior permission is required. Certain disciplines must be observed.
–Please NO CELL PHONES in the building or on the property.
–Please REMOVE YOUR SHOES and leave them on the porch before entering the building.
–In Temple Room, please do not touch the cushion directly in front of the pyramid, or anyone who is performing the fires.
—WOMEN IN MONTHLY PERIOD ARE NOT PERMITTED IN PARAMA DHAM OR ON THE PROPERTY, due to the effects of subtle energies. (For more information on this, please see the article below.)
Thank you.
When Not to Perform Agnihotra
(from Homa Therapy Teacher Certification information)
Vedic knowledge states that a purified energy field is created around Homa fires. This energy field can be influenced by the energy fields of people who are near the fire.  To preserve the purity of this subtle energy field of the Agnihotra fire, we don't perform Agnihotra (or other Homa fires) and don't come close to it when our own energy field is disturbed – as in the case of high fever or some bleeding.
If we cut ourselves, we stay away for as long as blood is flowing. With Agnihotra ash (and/or turmeric) we can usually stop the bleeding quickly so that we are again able to perform Homa fires.
For energetic reasons, the same discipline is followed by women during their monthly cycle. During menstruation, women are surrounded by an energy that travels downward in a spiral shape towards the earth. Agnihotra creates an energy which flows upwards towards the atmosphere, also in spiral form. Both are cleansing energies and both are important, but they work in different ways and, to an extent, they nullify each other. Therefore, as long as there is bleeding, women should refrain from performing Agnihotra or other Homas and from sitting near them. In this way women will also protect their cycle.  Likewise, when a woman has just given birth she should not perform Agnihotra until the bleeding has completely stopped.
Many ancient cultures knew about the impact of subtle energies on the atmosphere. Thus, many disciplines and customs which required refraining from doing certain activities at certain times were quite common. Only recently has modern science started to investigate these subtle energies. Agnihotra is the science of purification of the atmosphere, a science of subtle energies, and as such it is governed by universal laws.
Agnihotra Zoom Meetings
Ed.
The work of spreading and teaching Agnihotra goes on despite the coronavirus. For over a year, Fivefold Path, Inc. has held monthly Zoom meetings conducted by Certified Homa Therapy Teachers, to teach and discuss Agnihotra.
The meetings start with a slide show of in-depth information on Agnihotra. A question-and-answer session follows, along with a chance for attendees to briefly share their Agnihotra experiences. If the group is small, questions may be taken during the slide show instead.
We encourage longtime Agnihotra practitioners, as well as newcomers, to join us. Even experienced Agnihotris have told us that they learned new things from the meetings. Besides, we'd like to meet you!
If you would like to join any of these meetings, please email lisacpowers@gmail.com, so that you can receive an invitation.
We ask that you please NOT post your invitation on any public forums, to avoid zoombombing during the meeting.
We look forward to meeting with you!
Agnihotra First Impressions
Margaret Taylor and Irina Dukhon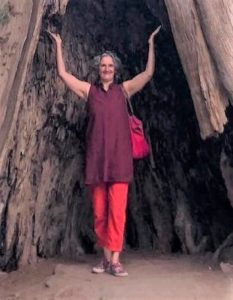 Margaret Taylor
I involve myself in any new yogic process with respect, openness and curiosity, particularly when I discover it is a teaching from the Vedas. 
The powers of social media tools have been both a blessing and a curse, but a sharing in a WhatsApp group of the Agnihotra process sparked something deep inside me. As I watched this YouTube video tears welled in my eyes and my immediate thought was that I needed to learn this practice to help heal this injured planet in any small way possible. Earth is crying out to us, sending us messages, yet few are hearing the call. Using the power of the mighty Google machine I came across the Agnihotra center in Madison, Virginia. Contact information was sent without hesitation and within the week we were arranging a visit to volunteer and learn the Agnihotra process.
Texas to Virginia is a long drive, but we took our time and soaked in the beauty of the US. There is much to see with every state having something to offer the traveler. Virginia is a particularly green and beautiful state. As our travels neared an end, we moved from the main roads toward the Parama Dham Fire Temple, where a certain peace descends. The silence is deafening. The trees and greenery are vibrant with multitudes of butterflies enjoying the sweet nectar of the summer flowers. A quick inspection showed there was work to do in the garden, but it was going to be fulfilling.
Experience in intense yogic practices in the past and with Agnihotra homework done, we quickly picked up this new process. There is a lot to learn and coordinate, but it was not long before we were comfortable with the steps. The mantra was familiar and beautiful to chant almost immediately and I can already feel it becoming part of me. Agnihotra is a simple, quick process, but it still takes a commitment and this is something people struggle with today. For its full effects, the practice needs to be done twice a day, at sunrise and sunset, and there are always pulls on your time, particularly at sunset. [NOTE: Agnihotra will have effects whenever it is performed correctly. The maximum effect can be achieved by doing it daily at sunrise and sunset. However, many people around the world, due to work schedules or other responsibilities, can't do Agnihotra twice daily, but do it whenever they can. One need not commit to doing Agnihotra twice daily in order to begin.  It's like taking a vitamin that is supposed to be taken twice daily–you'll get best results if it's taken twice a day, but it will still have its effects whenever it is taken.–Ed.]. Generally speaking, the sunrise pull is more of a get-out-of-bed-quick issue. I'm looking forward to allowing this process to deepen into my being as it becomes a regular addition to my daily practices. Sunrise practice is already part of me and the sunset practice will be a beautiful way to end the day.
While the Agnihotra process was wonderful, the Parama Dham Fire Temple, established in 1973, verged on overwhelming. Immediately on entry you can feel this space. The energies shifted with every visit and no two visits were the same. The temple is a place of silence and Vedic fires. The silence seems to vibrate from the walls and go deep inside you, allowing you to sit in silence and stillness for a considerable time. There were times that my body continued to vibrate after leaving the temple and I only slept for a few hours in the evening yet felt invigorated and full of energy. It also feels like a place for healing, dropping any resistances, pains and discomfort. This place is certainly special. I felt empty every time I left–a good emptiness, a silent yet wholesome emptiness, like I was walking on air.
I'm looking forward to making Agnihotra a regular part of my life and raising the Prana of everywhere I visit and carry out this process. I hope to return to the Temple and sit again; meanwhile, I will continue to work on my own beautiful temple; the body and mind are our wonderful tools, and Agnihotra will nourish them well.
Irina Dukhon
California
Margaret and I found out about Agnihotra by chance, and decided we needed to learn it. This Madison hamlet is incredible, and I must begin by speaking about the Parama Dham fire temple. To me, it felt like being enveloped in gentle healing energy. The moment I enter and sit down, the body becomes still, and there is a loving presence that seems to listen to me. I felt a deep sense of balancing and relaxation that left me fulfilled. This is not to mention the significant improvement of the condition of my skin.
The actual process of Agnihotra leaves me joyful. So simple and yet so sweet. What a blessing it has been to be exposed to and to practice the science of Agnihotra. Thank you!
From the Orion Transmissions
Received by Parvati Rosen Bizberg
Poland
April 2, 2020 On Our World
(This is a recovered message which is quite applicable today.)
When there is a forest fire, we do not sit and discuss the source of the fire—whether man-
made, whether a deliberate action or one stemming from climate change. It is now time to
face the tragedy befallen the entire world now, standing together in UNITY to overcome
the frightful virus that is spreading across the globe.
Developing systems, improving treatments, increasing protection for those in greatest
danger of exposure—these are the demands of the time.
Yet it is on the soul level where greatest change is being called for. And it is on this soul
level, individually and globally, that true recovery can take place. And it is not a recovery of
the old, but a recovery of the future waiting in the wings. This is it.
August 12, 2020 On Holding Near to the Light
Yes, yes. Though the prognosis for this beloved planet Earth appears to be negatively
aspected and doomed, if you will, to tragic consequence—this effort will be derailed. We
say 'effort' as it seems to be a concerted effort of powers that are in control, to control not
only the population but the basic land mass itself. This will be stopped. Light will prevail.
Those who would seek to control the population with fear, inciting riots and creating
mischief that is life-threatening at the least, will be stripped of the false powers they have
manifested—in time, in time.
Focus on the Light. Create these arks of fire with absolute intent to heal, to transform
these sensitive energies into powerful deterrents which will repel darkness. We see Light
will prevail upon the Earth.
This does not indicate we are not aware of the darkness—even in Nature herself there is
darkness. In order that Light may manifest, darkness is necessary.
This is a deep cleansing of this planet now. We have told—volcanoes, earthquakes,
tornadoes, hurricanes, diseases with no cures, violence in the cities of the world. Yes, this
is escalating now.
Hold near to the Light. Maintain practices for healing the atmosphere, body, mind and
spirit. Be inclusive.
Seek to expand your consciousness, deepen your inner awareness, your inner
awareness. Return to Nature to nurture and to heal, as She will heal you.
Do onto others as you wish them to do unto you.
And beloved Planet Earth Light Keepers, now is the time! As the old saying goes, "Let
your Light shine." If ever in life there was a time for Light, it is now.
Live in harmony. One direction. One force of Love in the Universe.
And, above all, stay sober! Do not squander your grace-given gifts on a mind-altering
reality which will weaken not only your resolve, but the very fiber of your beings.
Walk in Light.
We are with you.
We are,
ORION.
For further information:
www.oriontransmissions.com
Healing with Homa Therapy
Yang Li Chang
Guayaquil, Ecuador, South America
I am 24 years old. About 10 years ago, I learned about Homa Therapy through a friend of my mother's, who brought me to Dr. Jaime Montufar's office. I began to investigate what Homa Therapy is. He taught me and showed me the benefits of this Homa Therapy and other alternatives.
Then, I came to Dr. Montufar's farm where I helped for 2 years, using Homa agricultural techniques, all organic with the Homa method. To see the effect on the doctor's farm was quite shocking to me. For example, the plantains are larger, the guavas are sweetest, etc.
During this time, I also helped him at the Medical Homa Center El Buen Pastor [The Good Shepherd–Ed.].

What they teach us in school with conventional medicine is that certain diseases have to be treated with certain medications, injections, etc. What I saw with Homa Therapy completely changed my paradigms. Working with Homa alongside the doctor with patients suffering from cancer, leukemia, diabetes, etc. and seeing great results without the need for conventional drugs, changed my beliefs and opened the door to the great surprises of a blissful life.
For me, everything has changed–the doors are open, the possibilities for other alternatives have been opened. Now I am on another plane, another consciousness, another level. I am very grateful for all the teachings received through Dr .Jaime Montufar.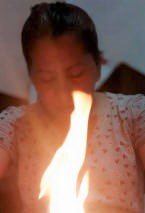 Delia Morillo Lozano
Guayaquil, Ecuador, South America
I am 42 years old. I got to know Homa Therapy through Naturopath Viviana Esteves from the OM VIDA Holistic Therapy Center, which she runs with her husband, Naturopath Mario Andrés Angulo.
Before doing Agnihotra, my life was in chaos. Mrs. Viviana was guiding me on how to practice Agnihotra at home. I was a person with financial problems, which have been improving little by little, as well as the problems in my house with my mother-in-law and with the father of my children.
I was an angry and bitter person. I had no strength to continue fighting for my dreams, nor for the dreams of my children to have a better life. The fires of Homa Therapy give me strength and energy. Now, I feel peace and calm.
Sometimes it was difficult for me to get up so early, because I sleep late. Now, I am on my feet at 5.30 A.M. every day to do my Agnihotra. I know that at some point I will also teach this technique to my family members. They can experience and see the miracles that are happening through the Homa healing fires, which fill us with energy, optimism, wisdom and health. and the rest comes as an addition.
But the miracle that I wanted so much and that has come true, and that I asked for with so much faith, was that my son could join an important educational company, which is hard to enter. Thanks to the Divine Will and the Homa Fires, my son was accepted into that school and they have already started their classes; at the same time they provide work. I keep thinking of my son in front of the Homa fire, so that everything will go well for him and that he might get excellent grades.
This opportunity to learn Homa Therapy has been very helpful for the whole family. It has lowered the conflicts with the relatives and I personally continue to learn and assimilate lessons.
Another testimony is that my mother had a vaginal infection and by taking the Agnihotra ash with water and washing herself with this ash water, her itching had disappeared.
My children I also drink the water with the Agnihotra ash. One of my sons has allergies, but they have decreased a lot.
I am very appreciative of Naturopath Viviana for her advice and her guidance. I continue to practice the Homa fires daily and the peace and tranquility expand more and more. I have had only 8 months with Homa Therapy, but many things have changed so much for the better in this time.
From Shree Vasant's Teachings
Deliver Us From Evil
Oh Mind, remain untouched by evil. Mind is the instrument of bondage. The same mind can be forged into an instrument of liberation. Let us not entertain evil thought about anyone. This is the highest moral law. Forgive, forgive, forgive. "Judge ye not, lest ye be judged."
Let not any evil desire surface in your mind. Let no sinful thought ever find a path across your mind.
Contemplate the holy all the time. Thou art perfect and this perfection can be achieved in this very life. Mind is the instrument to achieve this. There is no other way except to train the mind to love thy neighbor at all times, under all circumstances.
To lead a moral life so that people should call you a gentleman is not the aim. The holiness has to touch the inner core of mind. You lead a life of "Love thy neighbor" because it is your duty to do so, because it is in your best interest to do so.
Release Resentments
Remove the obstacle. Remove all hatred from the mind. Be free. We should not carry around the burden of anger and resentment. Resentment is like clogging the system. Then there is no way any kind of peace of mind can be achieved. So at the same time we are doing the fire we have to release these resentments. So focus on the fire and just release any of this burden from the mind. Concentrate on that.
On Service
Offer to help others any chance you get. Don't worry whether your help will prove to be  adequate or not for another. Your responsibility is to serve. So, you do that. Where is the question of adequacy? You offer yourself to be of service to others. Finished. Serve, serve, serve. That is the way.
On Desire
As with all obsessions, compulsions the stem is desire–desire for some gratification. so constantly be thinking, "How can I help? How can I serve?" with every breath you take. Then automatically you come to know where your services are most required.
You cannot have any expectations whatsoever. You have to realize that whatever happens you take your mind with you. You cannot leave it. And along with the mind come all of its past impressions and desires. The only way to overcome these pulls of desires is to sublimate this mind and the only way to sublimate the mind is to perform YAJNYA, do your disciplines, meditation and the Mantra. Then and only then Grace takes over.
Forgiveness, Humility, Service
We must all have no expectations. Do service. "Thy will be done." Once you have no expectations the other person senses this and the barriers, one by one, come down. Then we are truly able to serve all people, even those who have harmed us in some manner. Forgiveness. Humility. Service.
Fivefold Path for Happy Living
1. Yajnya
HOMA Therapy is the science of purification of the atmosphere through the agency of FIRE. AGNIHOTRA HOMA (YAJNYA) is the basic HOMA. It is tuned to the biorhythm of sunrise/sunset and gives nutrients to the plant kingdom, removes diseases in a certain area and removes tension on the mind. This is the basic process in the Vedic sciences of medicine, agriculture, climate engineering and interplanetary communication.
2. Daan
Sharing of your assets in a spirit of humility. This corrects imbalance in financial matters and creates non-attachment to worldly possessions.
3. Tapa
Self-discipline of body and mind. This is conducive to a change in attitudes of mind and body. It results in a harmonious state of mind.
4. Karma
"You reap as you sow." Always practicing good Karma (actions) diminishes the burden of negative Karma and one begins to invest in his own future. This means that what you do today will bring its fruits. Sowing seeds of love and kindness will bless my garden with plenty of love. Do Karma for self-purification.
5. Swadhyaya
Practice Swadhyaya (Self-study) for liberation. Who am I? Why am I here? My work on this planet is to learn to react with total LOVE with each opportunity given to me.
This is the Fivefold Path for happy living on the planet. By practicing the Fivefold Path you become better members of your society, group, religion, community, etc.
Publisher: Fivefold Path Inc.
Parama Dham (House of Almighty Father), 278 N. White Oak Dr., Madison, VA 22727 USA
Editor: Lisa Powers
Published seven times yearly.
Please direct all Satsang correspondence to the Editor.
Opinions expressed by contributors are not necessarily those of Satsang.
ISSN 0735-1321
Want to share this issue? Use this link: