Orion on Centre of Light
June Satsang 2019 | Volume 47 #2 | New Era 76
Orion on Centre of Light
Parvati Rosen-Bizberg
Jordanow, Poland
As we embark on the next phase of manifesting Centre of Light here at Bhrugu Aranya, the power and Grace that are manifesting at the same time become more apparent. We are humbled by the opportunity, the blessing to serve many people whose lives are in need of the transformative energies of the healing fires. As we move in this world, we are stunned by the sheer magnitude of suffering and yearning in ordinary people we meet. Everywhere.
Our fervent wish is to provide a place of refuge and sanctuary where people can come and receive the healing energies that are so strong here at Bhrugu Aranya, and to learn ways to cope with the world, through the power of Fire, Love and this phenomenal path of Grace.
Here are a few messages which came from Orion over recent years, on Centre of Light.
With love,
Parvati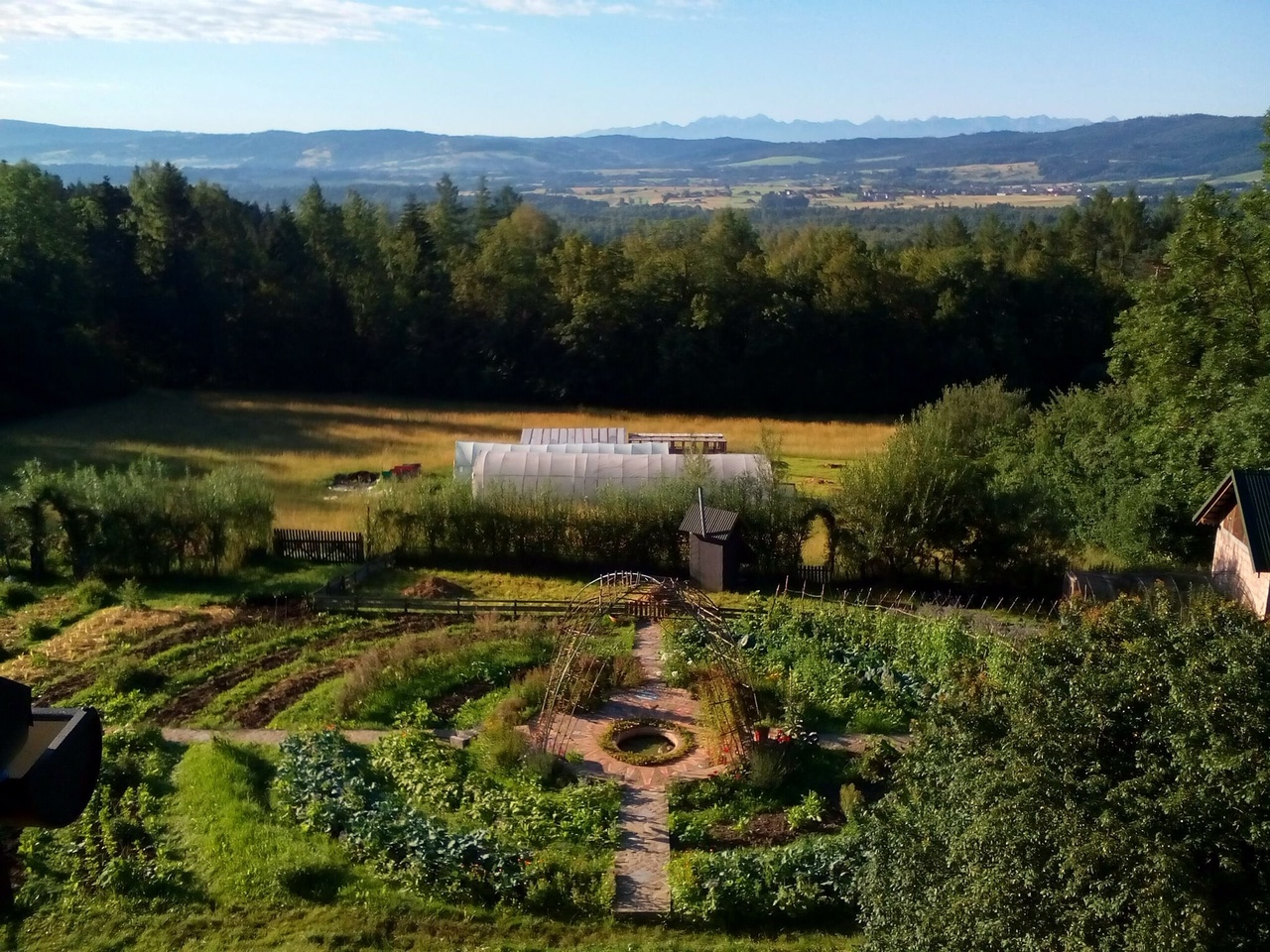 "Yes, yes. This Centre of Light is to provide sanctuary, refuge for coming times.
"It is not just another centre, but one which was called for, one which has been guided for this specific time and place.
"This Centre of Light will be the point where interplanetary communication will be most strong, where profound healing abilities reach from the bowels of the Earth to the heavens. This is not a normal Centre here. Create it.
"A wholistic Centre of Light is just that—one which appeals to and serves beings from all walks of life.
"There will be need for healing on all levels. There will be need for comfort and solace, peace and rejuvenation. This place will afford this. Of course, ultimately this Centre of Light will be a gathering point where beings can receive healing just by being present for Agnihotra and other healing fires.
"Yes, yes. Should there be any question about the validity of your purpose in creating such a Centre of Light, let that question be laid to rest for all times. This is a crucial time during which many will seek Light. There will be many in need of solace, so do not think it will be simply a 'seminar centre.' It will be much more a healing centre than you now realize.
"Those of you with healing skills and marketable healing products will be put to good use at such a Centre of Light. No one will realize their full potential until given an opportunity and an incomparable venue in which to manifest that opportunity.
"In near future, many will be turning toward vegetarian diet for health reasons. They will have no idea how to cook or how to balance their diet. This will be a place where they can come to learn such necessary life skills.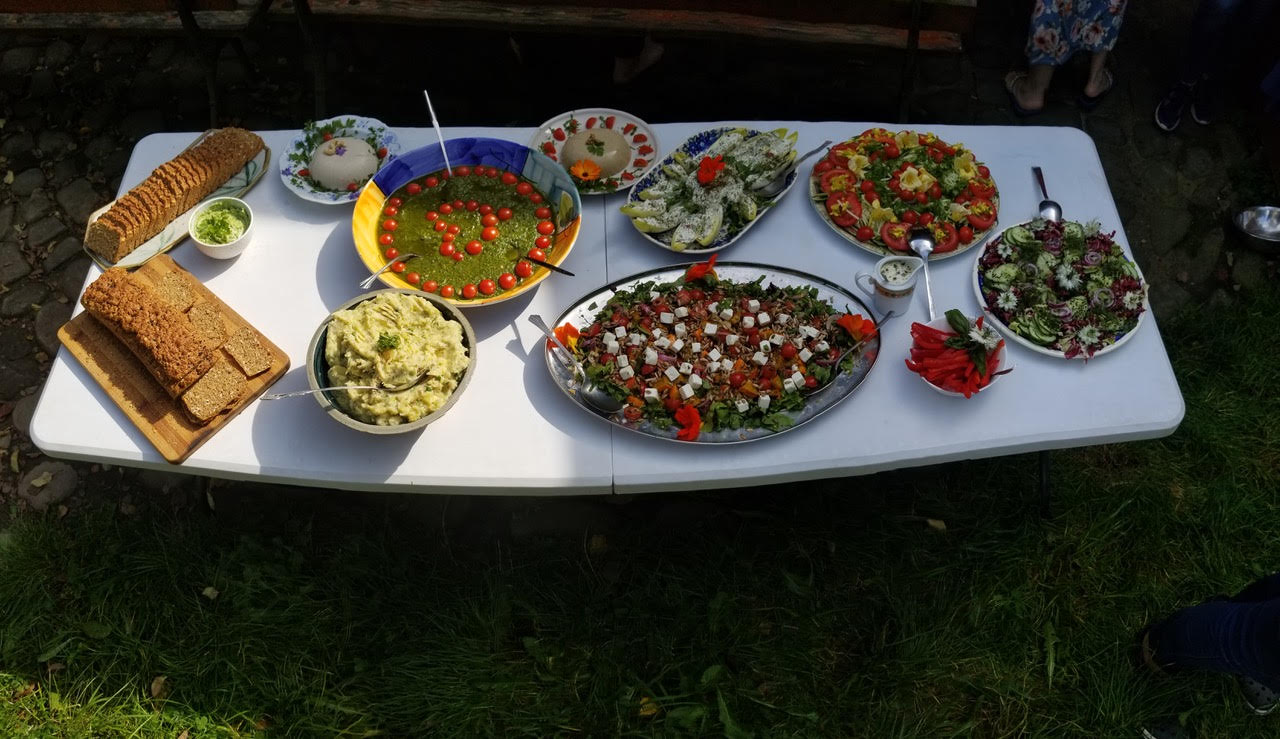 "Now, the fires themselves are increasing in power and healing energy. Those who come here will feel as though they entered a heavenly abode! This is due to the increase in healing energies in these simple HOMAS you perform so regularly. What an amazing site, complete with 24-hour fires on New and Full Moons. And four to five hours of continuous Yajnya daily, and daily sunrise and sunset Agnihotra.
"In the world outside your door, you can see how incredible this must appear to others who live in constant state of stress and misery, of anxiety, worry and pain.
"Yes, yes. This Centre of Light is to provide sanctuary, refuge for coming times. We see it standing. We see nothing standing in the way of full manifestation of planned Centre.
"All fires performed in this healing atmosphere here will have magnetic energy and effects multiplied. At such a site where Vedic healing fires have been maintained for over 24 years, the atmosphere is thus super-charged."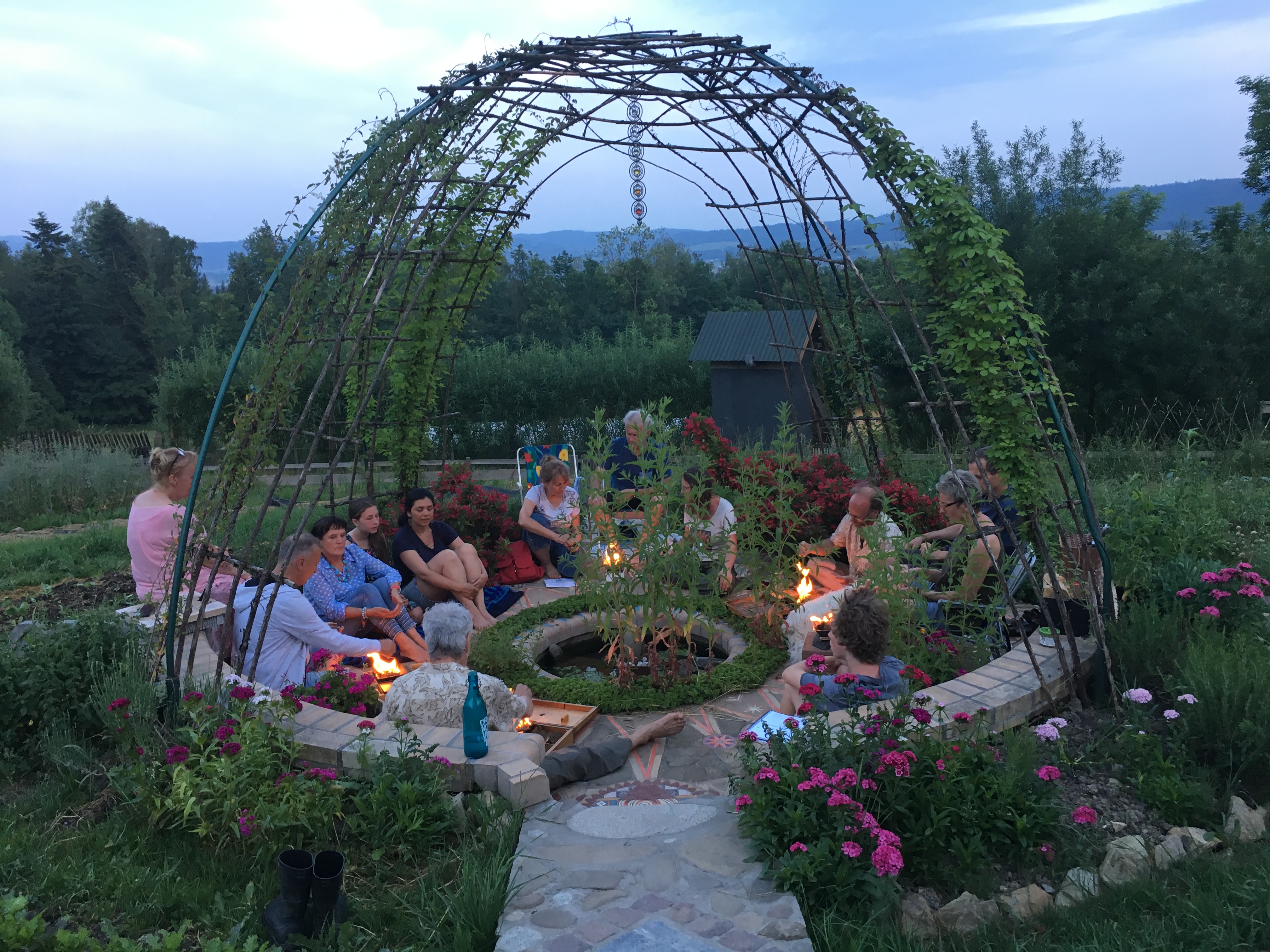 If you would like to join us in creating this centre, the link below makes contributing very easy. You can make a single donation or choose to give a certain amount every month.
https://agnihotra.pl/en/news-events/campaign/
If you are from the U.S. and would like a tax deduction, please donate through our affiliate NGO in the U.S., Fivefold Path Inc. and choose Centre of Light, Poland project.
Thank you!
Scientific Aspects of Agnihotra: Animals–Cows (Part 14)
Dr. Ulrich Berk
Germany
In this series of articles, so far  we have covered the effects of Agnihotra on our
environment (atmosphere, soil, and water resources) and also the use of Agnihotra in
agriculture / horticulture.
Now let us look into the effect Agnihotra has on animals and how it can be used for
animal husbandry. The first animal which comes to mind is the cow.
Cows supply us with cow dung and milk from which we prepare cow's ghee. Without
cows there would be no Agnihotra, no Vedic Yajnyas. Can cows also benefit from
Agnihotra?
The experience of many farmers shows that the health of cows improves considerably in
Homa atmosphere. Also it was noticed that cows on Homa farms are more peaceful as
compared to neighbouring farms. Some examples:
Germany
Monika Koch, a German pharmacist, developed medicines based on Agnihotra Ash
which are used for all kinds of human diseases, showing wonderful results.
When the farmer from whom they got their cow dung said that one of his cows was
troubled by eczema, she tried Agnihotra Ash. Nothing else had helped, but the ash cured
the eczema within a few days.
Another cow did not want to eat and got very weak. They added Agnihotra ash to the
fodder, the cow started to eat and got strong again soon.
Chile, South America

Nene was a young bull worth thousands of dollars, at a cattle breeder's farm in Amazone area, Chile, South America. He got the viral disease PIROPLASMOSIS which is transferred by ticks.
Medicines did not help and Nene could not get up any more; was close to dying.
Someone treated him with Agnihotra ash and with Agnihotra ash water. Next day he was up again, ate and got totally healed only with Agnihotra medicine.
Saving cows in England
As a small child, Wenda Shetala freed some calves meant for slaughter and hid them all night in the forest. When found, she was beaten up severely. But she vowed to create a refuge for cows when she grew up.
She has created this refuge and often gets old and sick cows. She performs Agnihotra regularly on this farm and all her treatments are with Agnihotra ash and with homeopathic medicines only.
Two years ago she also came to India for exchange of experience.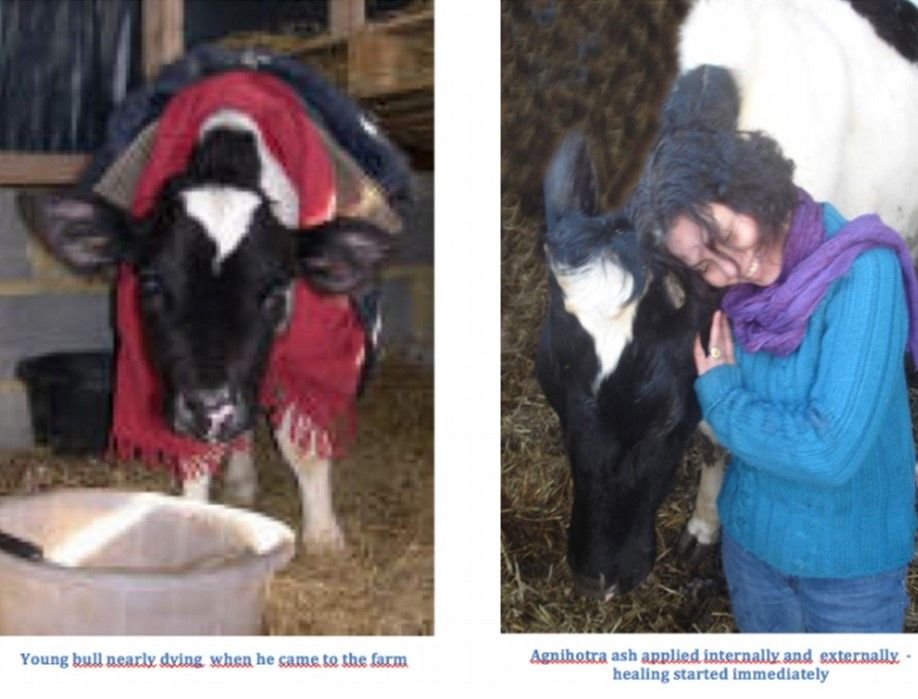 There are many more such reports showing how cows were healed with Agnihotra and
Agnihotra Ash. But till now there is only one systematic scientific study in this field.
This experiment was conducted at the Zoological Department of the National Agricultural
University in Tingo Maria, Peru, for a period of 18 months. It shows that in Homa
atmosphere there is a considerable improvement as compared to control in the following
respects:
* Reproductive Index
* Cows' and calves' mortality
* Muscle development
* Weight at birth
* Placenta retention
* Cow – calf separation
The following table shows the results in detail:
PRODUCTIVE AND REPRODUCTIVE INDICATORS OF BREED CATTLE IN THE HIGH HUALLAGA ZONE, COMPARISON OF FARMS WITH AND WITHOUT HOMA THERAPY
Parameters
Indicators
with Homa Therapy
Indicators without Homa Therapy
Indicators
normal for the zone
Reproductive Index (%)
88.6
60.0
65.0
Cows' Mortality (%)
1.8
3.5
4.0
Calves' Mortality (%)
3.5
11.5
10.0
Muscle Development (%)
16.0
8.7
12.0
Weight at Birth (kg)
35 – 40
30
28
Difficult Birth (%)
0
1.5
2.0
Placenta Retention (%)
0
1.0
1.5
Cow – Calf Separation (months)
5
6 – 7
6
This is a very interesting first study showing the positive effect of Agnihotra on health and
reproduction of cows compared with non-Homa farms.
It would be good if such a study could be replicated, also comparing milk production as
well as the fat content of milk as additional parameters.
Agnihotra Helps Plants Flourish
Sachin Gadkari

Belgaum, Karnataka, India
I have practiced Agnihotra since 2010.
I stayed in a room which had been vacant for a long time. There were some rooms in the back of the house, but nobody stayed there. At night, no one wanted to go to the backyard, behind the rooms, due to fear of the unknown, since it was a long-time abandoned space.
In the backyard, there were a Jackfruit tree, a chikoo tree, three small hibiscus plants and a large mango tree. When I moved there in December, 2008, not a single tree was having flowers or giving fruits.
Then, I came to know Homa Therapy and we started with the practice of Agnihotra in January, 2010. We did it regularly at sunrise and sunset. We also gave Agnihotra ashes to the plants in this backyard.
In the summer of 2011, we found that the jackfruit tree carried eight fruits. The chikoo plant had several fruits and it was almost unbelievable how the mango tree gave us seventy mangoes! Then, the monkeys also started to visit this backyard. The hibiscus plants had beautiful lavender flowers.
And little by little, the fear of the unknown also disappeared and we started having tea and dinner in the backyard.
After several years of enjoying this newly conquered space through the practice of Homa Therapy, I left in 2015.
What I can say for sure is that Agnihotra works miracles! In my new home, I continue with this practice.
Healing with Homa Therapy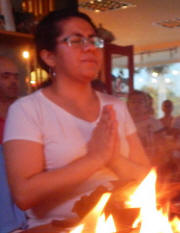 Amaris Villada
Armenia, Quindío, Colombia, South America
I learned about Homa Therapy last year, in the month of June. I arrived at the BoticaSol with a high level of stress. My mind was totally clouded and I practically did not want to live.
The first experience, thanks to Homa Therapy, was that I started to feel calm. I took the Agnihotra ash and slept peacefully for the first night in a long time. Before, when I was sleeping, I heard everything that went on around me–the motorcycle that passed by, even a cockroach, etc. I was aware of everything. And I woke up much more tired than before going to sleep. I had always negative thoughts, bad temper and anger towards everyone.
For work reasons, I left Armenia for five months in order to go to the region of Cauca. There, I also was exposed to a lot of stress. I returned to Armenia in the month of December. I felt as if something was squeezing my head. I went back to doing Agnihotra, took the Agnihotra ash and began to feel calm again.
For the last month, I have been doing Agnihotra. It brings good feelings of happiness and joy.
In my house, we have also been a little calmer. We are consuming the Agnihotra ash in salt and sugar, in hot chocolate, etc. This made us calmer and even our dogs don't bark that much anymore.
Silvia Giraldo
Santa Elena, Antioquia, Colombia, South America
I had an experience with my cat, which I have had for ten years. A few days ago, she appeared with some injuries on her neck. I could not find what to put on her because she is very wild. So I took some ghee and prepared a cream with the Agnihotra ash and applied this quickly and nothing else, because she did not allow me to do anything more. After eight days, she was completely healed. She recovered her fur and she is perfect. It was a single and fast application!
From Shree Vasant's Teachings
Now Man Has to Give (from the April 19, 1979 issue of Satsang)
When western man looks at what technology has done to his beautiful planet and hence to himself, he will start trembling. Insects are on the move, migrating and transmigrating. Nature is all mixed up. She does not know what she is doing. A point has come where something has to give. It is man. Man has taken; now man has to give. All the nutrients and balance that have been robbed from nature must be replaced now.
We will now begin to hear reports from various parts that the simple honey bee becomes extinct. Can you imagine what this will be, what this will do to the balance of nature? Can you imagine the effect this will have on crops? Terrible. Do Agnihotra and yield at least double the crops. Honey bees will thrive in this atmosphere.
Self study
Jealousy stems from our own insecurity. That need not be. Let us always say simply, "God, Thy will be done."
Let us not be upset over trying situations that incur jealousy, envy or deceit. As much as we want something or someone, that is as much the cause of our misery. Let it go. Let go of this fierce tiger of desire. If it [that which you desire] comes, let it come. Otherwise, let us not allow these situations to cause us pain. Let us not fix happiness on momentary gratification of desires. Let first come this purity. Let us become full of love in our actions. Then simply all other things can come more easily. Let it go. Then it is more likely to come back to us of its own accord.
Let us use reason to combat emotion. If we try to conquer emotion with emotion, it is like putting out a blaze with a matchstick. If anything, it will only add to the fire.
Cowdung in Folk Medicine (from Satsang, May 3, 1979)
If we refer to books on folk medicine in European languages written as recently as the beginning of this century, we will find that cowdung was widely used for medicinal purposes. The American Indians, the Mexicans, Peruvian Indians, and the native traditions in South America similarly show how cowdung was widely used as medicine in old days. In Africa, Asia and Scandinavia even to this day you will meet elderly people who use cowdung for medicinal purposes.
It may be interesting to experiment on cowdung with a view to find out the potential to protect man from the effects of nuclear radiation. In ancient days the Yogis used to live in thatched huts and they used to spread fresh cowdung on the walls through which sun's rays used to pass. It is stated that this made the atmosphere more purified.
In Homa fire practice, dried cowdung is used to prepare the fire. Only cowdung is prescribed and no other dung.
On Agnihotra
Agnihotra is merely a stepping stone in one's spiritual development. Agnihotra prepares the mind for the dawning of higher knowledge. It enables the mind to be free, to be clear-thinking, by scientific methods as given through Vedas. It is so simple and the cost is minimal. You pay nothing except to purchase one copper pyramid-shaped pot. The supplies to be burned are very inexpensive and simple to obtain. Nothing is required. This was given and shall always continue to be given. No money is ever to be charged to teach one Agnihotra. What other things you wish to teach, do so on your own, but Agnihotra is never to be charged for under any circumstance. It is ours by Grace that we can share with others.
Actually, the essential ingredients of Agnihotra are cowdung, ghee, and some grain. The grain chosen in this case was rice because of its chemical protein structure and its availability….Also for optimum effect the pyramid-shaped copper pot is essential.
There is such a turbulence of energies that come exactly at Agnihotra time that nothing should be done to disturb the movement of those energies. This is why one should not blow on the fire. Also, some things with the breath may disturb the purity of the energy that is created at that time. If there is bacteria in the mouth, for instance, and one blows it into the fire, it spreads, so this sort of thing should be avoided.
AGNIHOTRA WILL AMPLIFY THE EFFECTS OF MUSIC AS THERAPY. Agnihotra acts as a catalyst to boost the effects in atmosphere.
Agnihotra has such a good immediate effect on children. They stand to gain so much by it. They are less concentrated than adults, and therefore it is easier to see the effect of Agnihotra on a child. In that way they are like plants, more simple than some of us.
Fivefold Path for Happy Living
Yajnya
HOMA Therapy is the science of purification of the atmosphere through the agency of FIRE. AGNIHOTRA HOMA (YAJNYA) is the basic HOMA. It is tuned to the biorhythm of sunrise/sunset and gives nutrients to the plant kingdom, removes diseases in a certain area and removes tension on the mind. This is the basic process in the sciences of medicine, agriculture, climate engineering and interplanetary communication.
2. Daan
Sharing of your assets in a spirit of humility. This corrects imbalance in financial matters and creates non-attachment to worldly possessions.
3. Tapa
Self-discipline of body and mind. This is conducive to a change in attitudes of mind and body. It results in a harmonious state of mind.
4. Karma
"You reap as you sow." Always practicing good Karma (actions) diminishes the burden of negative Karma and one begins to invest in his own future. This means that what you do today will bring its fruits. Sowing seeds of love and kindness will bless my garden with plenty of love. Do Karma for self purification.
5. Swadhyaya
Practice Swadhyaya (Self-study) for liberation. Who am I? Why am I here? My work on this planet is to learn to react with total LOVE with each opportunity given to me.
This is the Fivefold Path for happy living on the planet. By practicing the Fivefold Path you become better members of your society, group, religion, community, etc.
Publisher: Fivefold Path Inc.
Parama Dham (House of Almighty Father), 278 N. White Oak Dr., Madison, VA 22727 USA
Editor: Lisa Powers
Published seven times yearly.
Please direct all Satsang correspondence to the Editor.
Opinions expressed by contributors are not necessarily those of Satsang.
ISSN 0735-1321