Children's Summer Programs at Ancient Oaks 2018
July/August Satsang 2018 | Volume 46 #3 | New Era 75
Children's Summer Programs 2018 at Ancient Oaks
Maria Broom and Patricia Norton
Baltimore, Maryland, USA
Shree Vasant said to bring the children from the city out to Ancient Oaks Homa farm in Westminster, Maryland, and we're doing it!  Here's today's third group this summer, from Creative City Charter School in Baltimore. Their sweetness and happiness really saturated the whole place.
Serving the children from the heart of Baltimore City has been our goal for three summers now. We are the Baltimore Homa Community, a small 501c3 educational and agricultural organization that owns Ancient Oaks, a 28 acre completely organic farm. During the summer we are able to host busloads of hundreds of children and youth from over ten different camps and schools, offering them a place to hike, learn and  play.  They also receive professionally facilitated programs in mindfulness, yoga, drumming and dance.
This vital program gives inner city children a unique opportunity to explore nature, experience Homa atmosphere, and romp and play without fear of traffic, violence or bullets. A typical visit starts with a welcoming circle, led by Maria Broom, which includes Vyahruti Homa and a sing-along. Next, the group hikes up the hill to meet our cows and learn about them. They then continue along the path, and upon returning to the base, they have a choice of activites: facilitated drumming (by the stream under the walnut tree), yoga and sound healing (under the apple tree in the "Secret Garden") or dance with Maria in the Community Center.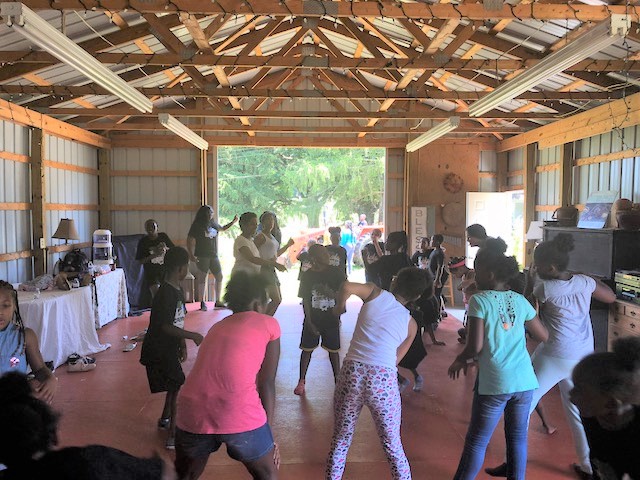 When possible, Vyahruti Homa is also performed at noon. For lunch, a healthy vegan meal is provided. Some time for free play, featuring hula hoops and balls, is also allotted.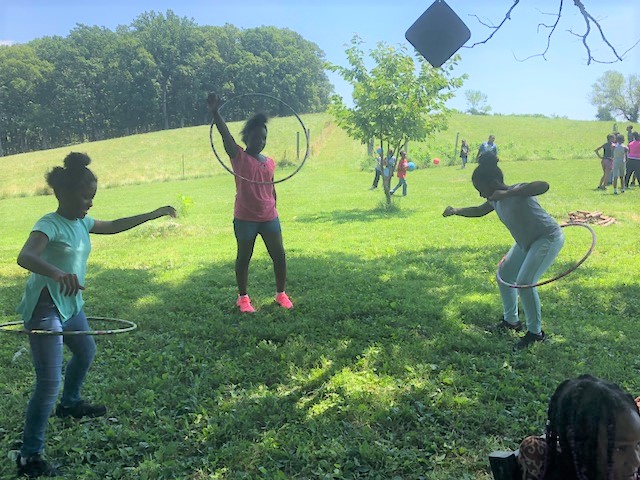 Initially, some children may feel intimidated by being out in nature–alarmed by insects or not liking the scratchiness of the grass on their legs–but by the time they have to go, they don't want to leave and want to come back.
Teachers from Creative City Public Charter School #384  liked Ancient Oaks so much that they will be holding their Professional Development for Teachers conference here.
In September, two schools (Watson-Hall Montessori and Community Academy of Scholars) will come, with a combined sixty children ages 2 to 10 years old.
We want to offer more activities throughout the entire year. To do this we must completely insulate and make our large community space fully functional for cold weather. We need your help in raising the $25,000 it will take to get this job done.
We would be so grateful for your (tax-deductible) contributions in helping us bring some peace and joy to these city children! If you would like to help, please go to gofundmecom/mku6pa-help-the-children
Donations may also be mailed to:
Dominic D'Alesandro
1020 Poole Road
Westminster, MD  21157
Please make checks or money orders payable to BHC (Baltimore Homa Community).
Thank you!
Homa Therapy Teacher Certification Training in Baltimore
Ed.
A Homa Therapy Teacher Certification Training was held at The Resonance Point in Baltimore, Maryland, U.S.A. from Thursday, June 28th to July 1st. This was the first certification training to be given in North America.
Some participants were taking the course in order to become certified Homa Therapy teachers, qualified to take Homa Therapy to the public. Others were attending in order to expand their knowledge and improve their own practice of Homa Therapy. Participants were mostly members of the Baltimore/Madison Homa Community, with the exception of  Andy Toepel, an Agnihotri who regularly travels to Japan to share Agnihotra and Homa Therapy information in the wake of the Fukushima disaster.
The program featured a number of presenters. Tom Couto and Lisa Powers taught Agnihotra, Homa Therapy, Fivefold Path, and how to teach. Taylor Logsdon, of the Baltimore Homa Community's Ancient Acres Homa Farm, spoke on Homa Farming. From Poland, Dr. Ulrich Berk joined in by Skype and shared the latest information on Agnihotra and scientific research. Ann Couto gave a presentation on Agnihotra Ash remedies, including hands-on demonstrations, samples, and ways to include herbs with ash preparations. Dr. Henry Gregory covered Mind Training, Homa Psychotherapy, and the Homa Therapy Drug/Alcohol Deaddiction Program.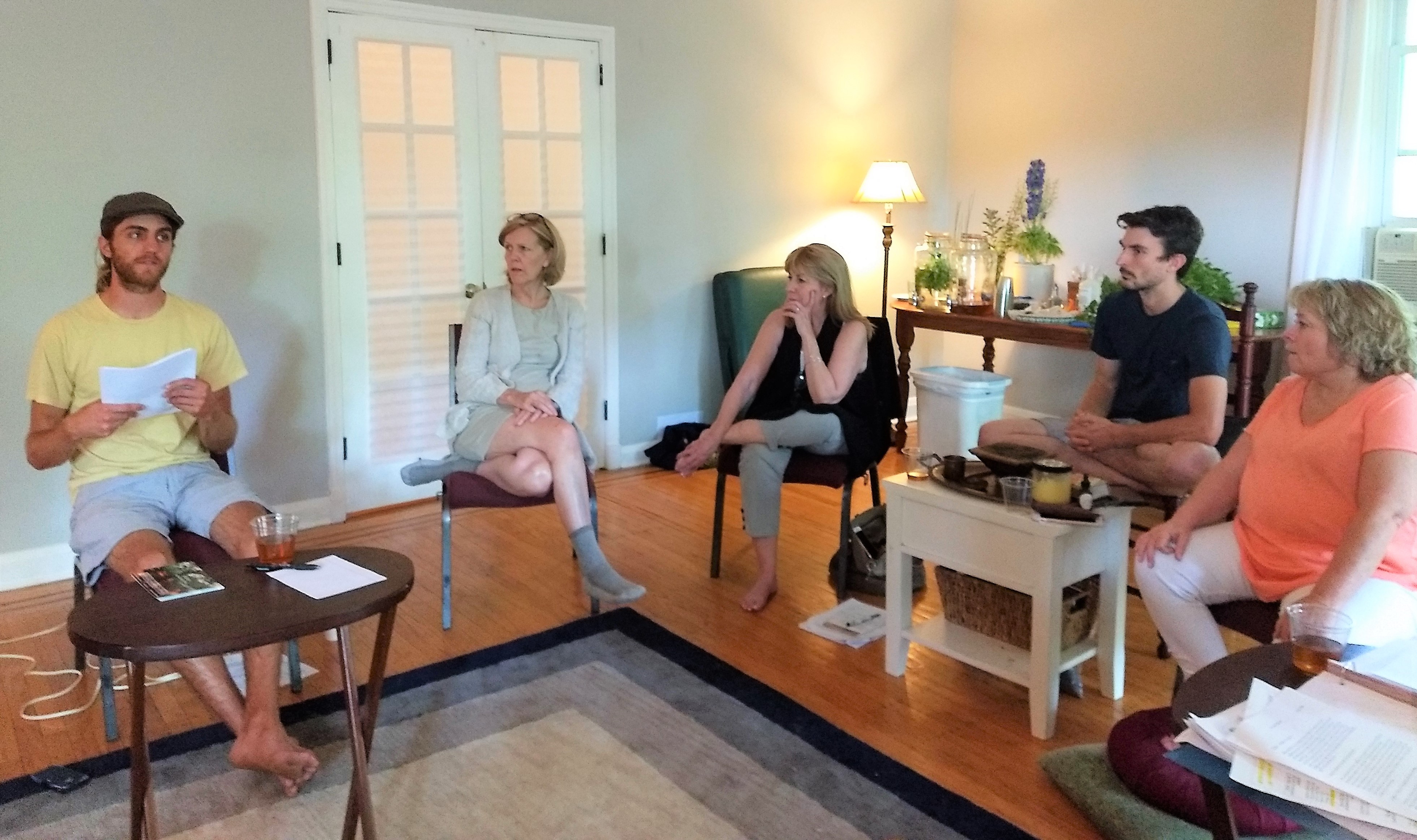 Although most of the attendees were longtime Agnihotra practitioners, everyone said that they had learned something new from the program, or corrected long-held misconceptions. (One common mistake was offerings being made during or before saying "SWAHA" instead of afterwards. The offerings for ALL Yajnyas that we teach are made after the word "SWAHA". Another common error was incorrect performance of Vyahruti Homa.) Some participants who had learned Agnihotra years ago were brought up to date with new information and research. The program also gave presenters the chance to confer with other certified teachers and double-check their information.
Great emphasis was placed on correct performance of Agnihotra, especially that Agnihotra should be done at the exact time given on the timesheet or accurate computer program.
The schedule was jam-packed, punctuated by Homa fires throughout the day.  It was no small feat to summarize the teachings of Agnihotra and Homa Therapy in just a few days. After hours of intense discussions, lunch and snack breaks helped keep the group fueled and energized, featuring delicious vegetarian food prepared by Ann and Tom Couto and Patricia Norton.
Heartfelt thanks to Tom and Ann Couto and Baltimore Homa Community for hosting this event.
News from the Homa Therapy Goshala, Maheshwar
Franklin Nelson, U.S.A.
On Monday, August 13, 2018, Sarvajit and I visited the Ardash Institute of Management and Science College in Dhamnod, about 18 kilometers from the Fivefold Path Mission Goshala in Maheshwar, India. We had been invited by Dr. Shailendra Sharma, Principal.
We met with beginning students and instructors. Sarvajit gave a presentation in Hindi on Agnihotra and Homa Therapy and their benefits for the environment, and the importance of being stewards, working to improve the condition of the environment by intensive tree planting and other significant acts.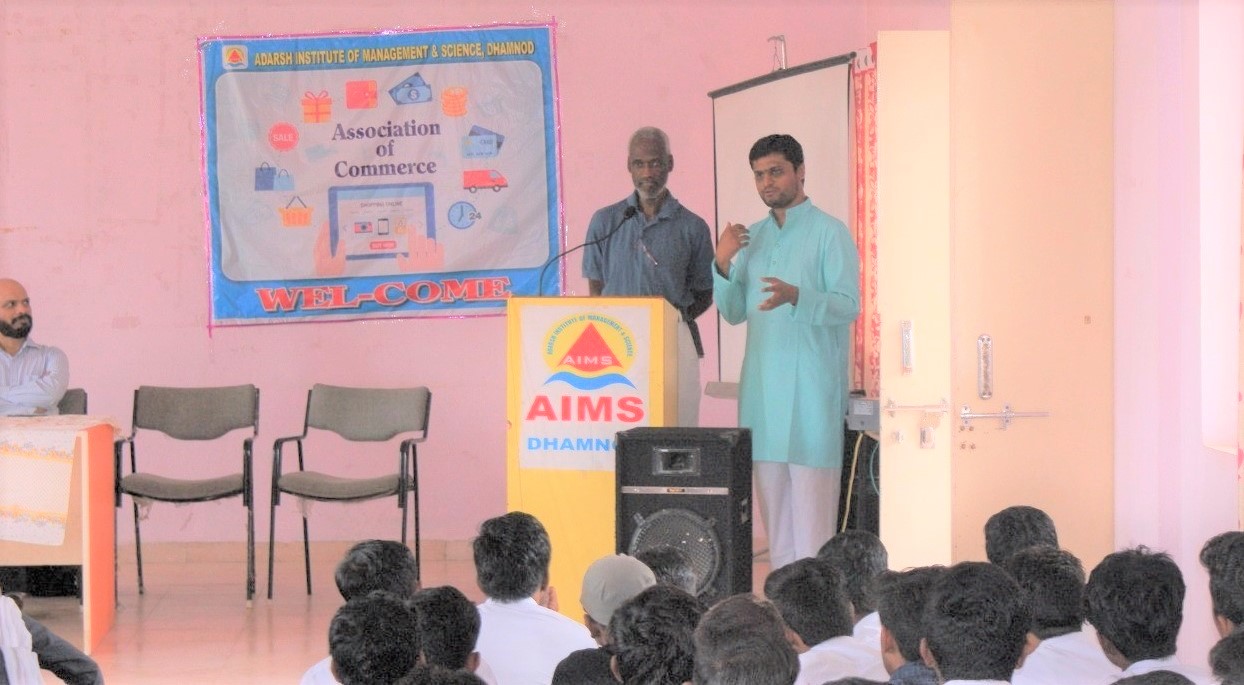 With Sarvajit translating, I reminded the students of the wonderful opportunity to have a college education and charged them to give their best to their studies and whatever they would do in life. And to always give back to help and serve others, concluding with a quote from Dr. Martin Luther King.
Dr. Sharma is a longtime Agnihotra practitioner and proponent. He has introduced numerous colleagues and acquaintances to Homa Therapy. He is an avid supporter of the work of the Goshala. Since June, he has visited the Goshala twice and brought people there for evening Agnihotra, including a professional radio personality and a naturopathic physician.
Dr. Sharma has also conducted various studies of Agnihotra's effectiveness, including experiments conducted with Dr. Ulrich Berk, on the effectiveness of Agnihotra Ash in purifying water.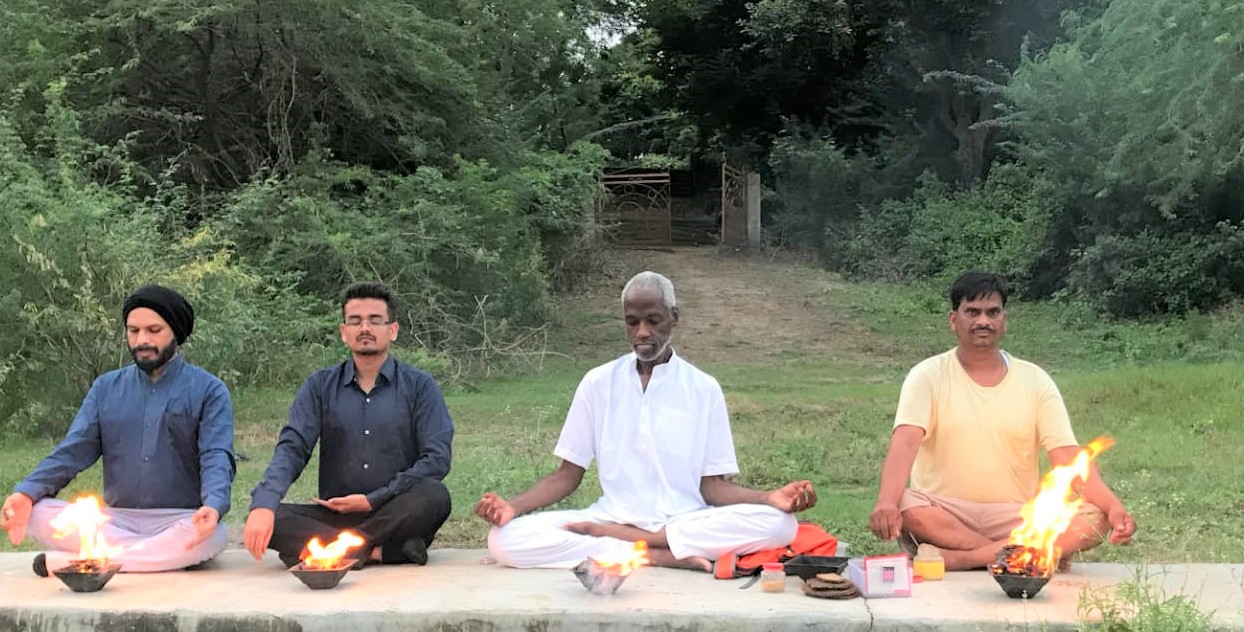 Sarvajit, Rajesh of the Goshala staff and I recently performed evening Agnihotra with three visitors at the Goshala. One was with the electricity board, which was instrumental in expediting the process of seeing that the Goshala received 24-hour electric service. The older man was a retired journalist. The youngest has his own solar installation company and was brought along to discuss the possibility of bringing solar power to the Goshala.
Surprise Agnihotra Guest
Ed.
Look who joined Patty Powers in her Colorado backyard for Agnihotra! The Agnihotra kit was on the black table shown in the photo, so he came very near. Over the years, many people have reported that birds and animals have come close during Agnihotra.
Healing with Homa Therapy
Lucia Gertrudis Pacheco Vázquez
Vinces, Ecuador, South America
I am 74 years old and I have a lung tumor. I used to have a dry cough, night and day, and I could not sleep. All that disappeared completely with Homa Therapy. I no longer cough. Before, I slept sitting, since I could not lie down due to pain. Now, I'm sleeping more and can lie down normally. The pain in my hands and bones has disappeared. Also now I have more appetite and can eat well.
Dr. Carriel explains further:
She had something similar to cystic fibrosis of the lungs. She coughed a lot. She could not sleep and suffered from severe pain in her back and in her bones.
She has participated in 23 Agnihotra sessions and consumes the Agnihotra ash with two liters of water every day. She places the water bottle with the ash near the Agnihotra fire, to energize it. She is also taking Agnihotra ash mixed with a little warm ghee and that relieves the irritation in the throat and helps her with the cough. She is also applying and taking other medicinal herbs, such as Noni Leaf and Cat's Claw, but always accompanied with Agnihotra ash.
By the way, it's worth mentioning that her pains were so intense that she was given morphine patches, which she no longer needs.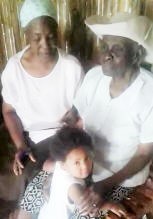 Teresa Lorenza Martínez
Chaflu, Esmeraldas, Ecuador, South America
I am almost 86 years old and I have been in Homa Therapy for two months, through Mrs. Sofía de Batioja.
Before that, I felt bad and my knees hurt, I could not walk for very long, I had to sit down, and I felt anguish. I had fever and felt very bad.
Since I have been coming to participate in Agnihotra in the morning for sunrise and in the evenings for sunset, I feel much better. My hands are better and I can walk.
From Shree Vasant's Teachings
On Swadhyaya (Self Study)
Every moment is like a rebirth when you start to see the action of the mind as separate from you. That does not give license to do anything we please. This simply gives us lead to train the mind. The mind is like a wild tiger or a jumping monkey. MANTRA is one way to take care of these mad tendencies of the mind. It is only the mind that makes us miserable.
One should not seek for fortune, fame, money, name or praise. One should only seek to become a better person, a better member of one's family, one's religion, one's social club, one's school. It does not matter to what you belong, only just be full of LOVE.
If you sit around thinking about what opportunities you lost, you will miss the opportunities that are yet to come. First, accept that as a human being you are bound to make mistakes. Then secondly, as a human being you can correct your mistakes by not allowing the same thing to happen twice. This has its root in the fifth aspect of the Fivefold Path, which is Swadhyaya.
Instead of beating yourself with your mind for things which you have done, forget them. Start again, make the effort and automatically things come. You will go on repeating the same mistakes over and over again until you learn the lesson. Mistakes are only for the learning. Just be more aware of the moment, what you can do in that moment and what is given to you to do in that moment. Always help is provided by Grace.
On Music and Dance
More music and dance therapy required. In conjunction with Agnihotra, it is very powerful and attractive to people also.
On Truth
Spread only the truth. If you do not know something to be true or not true by your own experience, why do you spread such a thing? Gossip. Needless gossip. Work on that. Take care that your actions are for the good of others and not out of spite or revenge.
On Free Will
We all have choices and free will with which to make that choice. If the choice is to serve, then automatically guidance comes. If the choice is based on desires, then we are left to our desires. Always that choice is available. Any person's life can be turned around, no matter how far astray they have gone.
On Service
Many pray for answers, for blessings, for help with family, money, career. Such things are given to many. But remember foremost, you are here to serve thy neighbor. When the mind is trained to Love in every situation, it takes on a different coloration. A whole different attitude comes. Sincere effort is always rewarded. When you are feeling LOVE,  everyone around you gets light. It is that light which lifts people up out of desperate situations.
Fivefold Path for Happy Living
1. Yajnya
HOMA Therapy is the science of purification of the atmosphere through the agency of FIRE. AGNIHOTRA HOMA (YAJNYA) is the basic HOMA. It is tuned to the biorhythm of sunrise/sunset and gives nutrients to the plant kingdom, removes diseases in a certain area and removes tension on the mind. This is the basic process in the science of medicine, agriculture, climate engineering and interplanetary communication.
2. Daan
Sharing of your assets in a spirit of humility. This corrects imbalance in financial matters and creates non-attachment to worldly possessions.
3. Tapa
Self-discipline of body and mind. This is conducive to a change in attitudes of mind and body. It results in a harmonious state of mind.
4. Karma
"You reap as you sow." Always practicing good Karma (actions) diminishes the burden of negative Karma and one begins to invest in his own future. This means that what you do today will bring its fruits. Sowing seeds of love and kindness will bless my garden with plenty of love. Do Karma for self purification.
5. Swadhyaya
Practice Swadhyaya (Self-study) for liberation. Who am I? Why am I here? My work on this planet is to learn to react with total LOVE with each opportunity given to me.
This is the Fivefold Path for happy living on the planet. By practicing the Fivefold Path you become better members of your society, group, religion, community, etc.
Publisher: Fivefold Path Inc.
Parama Dham (House of Almighty Father), 278 N. White Oak Dr., Madison, VA 22727 USA
Editor: Lisa Powers
Published seven times yearly.
Please direct all Satsang correspondence to the Editor.
Opinions expressed by contributors are not necessarily those of Satsang.
ISSN 0735-1321