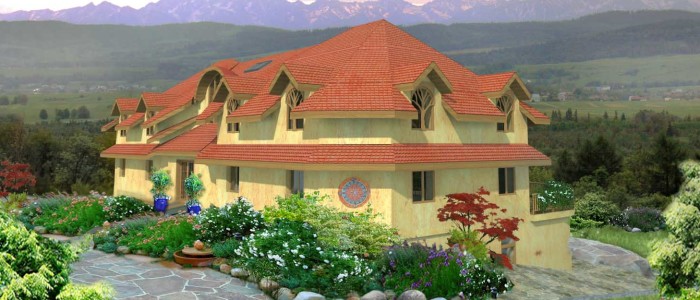 Centre of Light–The Work Continues
Satsang September/October 2015 | Volume 43 #4 |New Era 72
Centre of Light–The Work Continues
Parvati Rosen-Bizberg, Jarek Bizberg and the Ecovillage Bhrugu Aranya family
After years of preparation and planning, we are happy to say Centre of Light at Ecovillage Bhrugu Aranya is on its way. On May 17th, 2015, we broke ground and began the foundation work.
The dream of Shree Vasant Paranjpe was that one day a Centre of Light would be built on the land of Bhrugu Aranya, so that many could come here for healing, training and the opportunity to learn, firsthand, the ancient Vedic techniques He taught around the globe. The knowledge given included how to neutralize pollution and how to create sustainable eco-systems, which would become blueprints for survival in the coming times for our planet. These safe havens would be known as 'Arks of Fire.'
Winter came early to southern Poland—it snowed on October 12—so we will continue construction of Centre of Light in early Spring.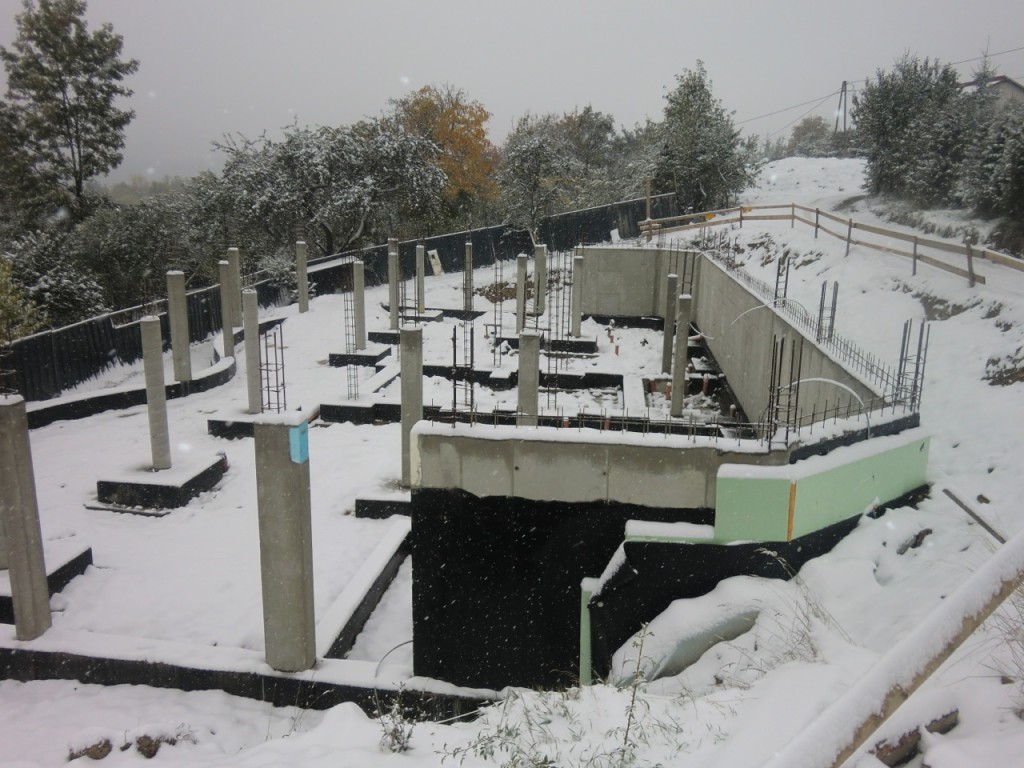 We are happy that the foundation has been completed and we are so grateful for all of the donations we have received.
Our fundraising campaign continues and we are looking to raise funds for the skeletal structure, frame and roof, and to complete the basement.
All summer long we have had a steady flow of enthusiastic visitors and volunteers from all over Europe,  Australia, and U.S. Many of them have started Agnihotra.
We feel the healing energy of the fires and the Love they bring, and look forward to welcoming you so you can share in this experience with us.
Because of the tenacity and strong sense of purpose from our growing group of community members over the years, Bhrugu Aranya has become a vibrant, living example of sustainable Homa Organic culture and a magnet and inspiration for visitors from all over the world.
All of our community members at Ecovillage Bhrugu Aranya regard ourselves as stewards of this sacred land and feel honored to have the opportunity to bring Shree Vasant's vision to fruition.
Until now, we have managed to serve the needs of the visiting global community with just one log main house, a two-room guest cabin and several caravans. However, requests for healing, training in Homa Therapy, visits and retreats have quadrupled. Our community can no longer continue to expand without building the Centre of Light.
The Centre of Light will be a place of refuge where you, your family and friends can experience:
•    The unique atmosphere and healing effects of Agnihotra  and Homa Therapy
•    Learn Homa Organic gardening and experience how to grow your own nutritious food
•    Awaken your highest potential through the Creative Arts (music, painting, dance, sculpture,
      landscaping, Mandala drawing)
•    Experience living in an Ecovillage and being a part of an intentional community
•    Learn and practice Yoga & Meditation daily
•    Identify and collect wildcrafted herbs and edible plants, for healing and nutrition
•    Experience Sound Healing with toning, crystal bowls and drumming 
•    Learn to cook vegetarian creatively with fresh, healthy organic ingredients in our Culinary Arts workshops
•    Explore the surrounding forests and hills on nature walks
•    Participate in a myriad of interesting workshops given by international leaders in Mind, Body, and Spirit work.
We are now asking you, our global community of family and friends, for much-needed donations to continue the work.
We deeply appreciate your help to fulfill the vision. Please go onto our website to make your donation. We are truly grateful for your generosity in helping this dream come true.
With gratitude and love,
Parvati & Jarek,  and the Ecovillage Bhrugu Aranya family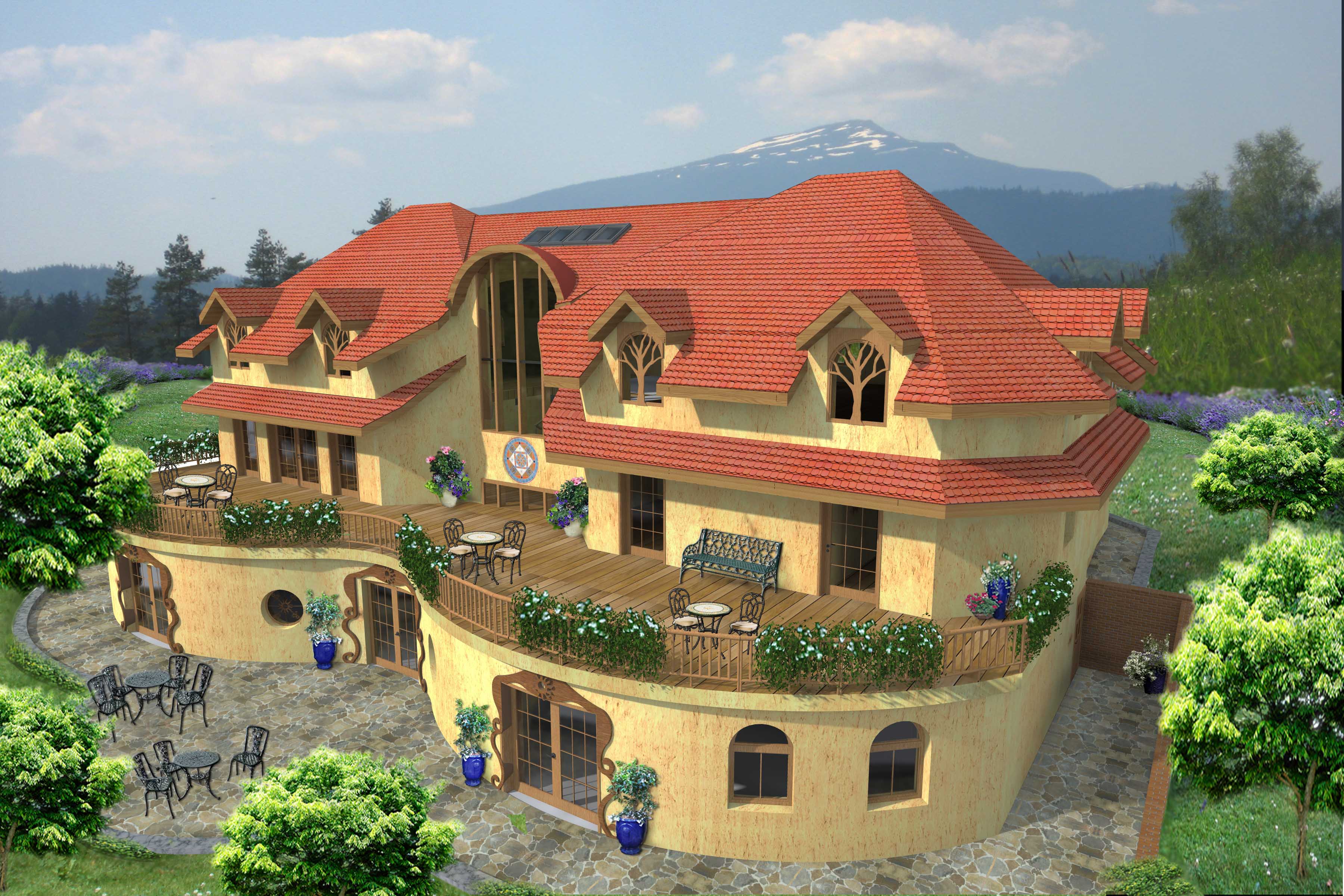 Click here to donate to our Centre of Light cause
Any amount is welcome!
FOR THOSE IN THE U.S. who would like to make tax-deductible contributions:
Donations from the U.S. (or from U.S. bank accounts) may be made by check, money order, or online by PayPal, using a credit card or PayPal card. Donations are tax-deductible as allowed by U.S. law. www.agnihotra.org. Please note,"FOR COL POLAND" when donating online.
Checks and money orders should be made payable to Fivefold Path, Inc. and may be mailed to:  Fivefold Path, Inc.
278 N. White Oak Drive.
Madison, VA 22727 U.S.A.
Please note "For COL POLAND" on your check or money order.
Watch a short documentary about our Ecovillage
We will be sending out an Ecovillage newsletter with updates.
We will also be posting our progress on our Centre of Light Facebook Page, and on our Ecovillage Bhrugu Aranya Facebook Page.
Ecovillage Bhrugu Aranya
Wysoka 151
34-240 Jordanow, Poland
Tel: (48) 502-347-898
info@homatherapypoland.org
 THANK YOU!
Agnihotra and Homa Therapy at the 12th International Congress of Alternative Medicine
Jimena Clarke, Elqui Valley, Chile
The 12th International Congress of Complementary Medicine was held from August 22-23 2015, in Santiago, Chile, and featured the promotion of Agnihotra and Homa Therapy. The Congress was organized by the School of Oriental Medicine and Culture, the Amanecer Clinic, and Fivefold Path  Foundation Chile, a foundation recently created for the support of Agnihotra and Homa Therapy.
Dr. Ulrich Berk from Germany spoke about the effects of Agnihotra on human health. His lecture was very well-received by a large number of the Congress participants.
Sponsors of the Congress were the Medical Association of Chile and the Faculty of Medicine of Finis Terrae University of Santiago.
On the second day, two students from this university presented a research paper on stress reduction effects of Agnihotra. These studies were conducted at the suggestion of Drs. Andrea Chavez and Ernesto Vega.
Stress levels were measured by testing hormone concentrations in the saliva.
In order to avoid placebo effects, the persons tested were not performing Agnihotra, or even sitting for Agnihotra; they were just sitting for some time in a room next to the Agnihotra room.
The results were highly significant. This provided motivation to start a larger experiment with more people and over a longer period of time. Also, they will try to find a scientifically acceptable way to show any differences between being next to an Agnihotra room – sitting for Agnihotra – and performing Agnihotra oneself (avoiding the possible objection that the results are just due to placebo effect).
In these two days, more than 50 Agnihotra kits were sold–evidence of people's enthusiasm about Agnihotra after listening to Dr. Berk's talk. He talked about how regular practice of Agnihotra can lead us to a happier life, in harmony with nature and each other.
Dr. Purushottam Rajimwale from India, grandson of Shree Gajanan Maharaj (who revived the practice of Agnihotra in modern times), spoke on Ayurveda. Also he gave a workshop on the second day of the conference on Ayurveda and diet, with practical solutions, easy to use in everyday life.
Dr. Berk has been working for many years with various universities around the world, urging scientists and researchers to conduct more studies on the effects of Agnihotra and Agnihotra Ash and their underlying mechanisms. One of the things he said that created a strong impression among those who did not know about Agnihotra was that this fire, performed in such a small copper container, has such immense power, and produces significant changes in our environment and in many aspects of our lives.
After nearly 30 years of living in England and having only returned to Chile 12 months ago, I was delighted to hear about the visit of my dear friend Ulrich Berk. I came down from my beloved Elqui Valley to have the privilege of accompanying him and serving as his translator during his stay in Chile, and also to share with old and new friends.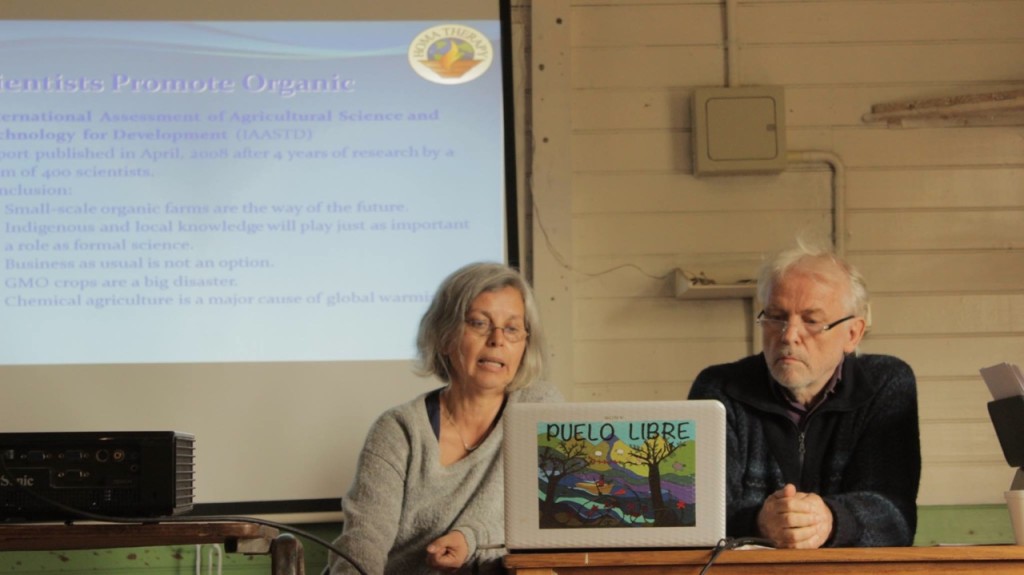 Events like these help us to consolidate ties, unify our knowledge, learn from those with more experience, but above all, to interact in harmony with each member of our global family of fire.
There is no doubt that Ulrich's visit to Chile had a great impact, especially in giving a push to the promotion and teaching of Agnihotra–this magnificent tool that Shree Gajanan Maharaj, via Shree Vasant, has left us, to help our society face these times of so much misery and uncertainty.
Once the Congress was over, the Fivefold Path Foundation organized a series of talks and presentations, both in Santiago and other regions of the country.  In these, Ulrich shared with the audience, in a very clear and accurate way, some of the results of research made so far, and the work he has been doing in recent decades to encourage scientists to investigate the enormous benefits of Homa Therapy, whether in the fields of medicine, agriculture, or other sciences.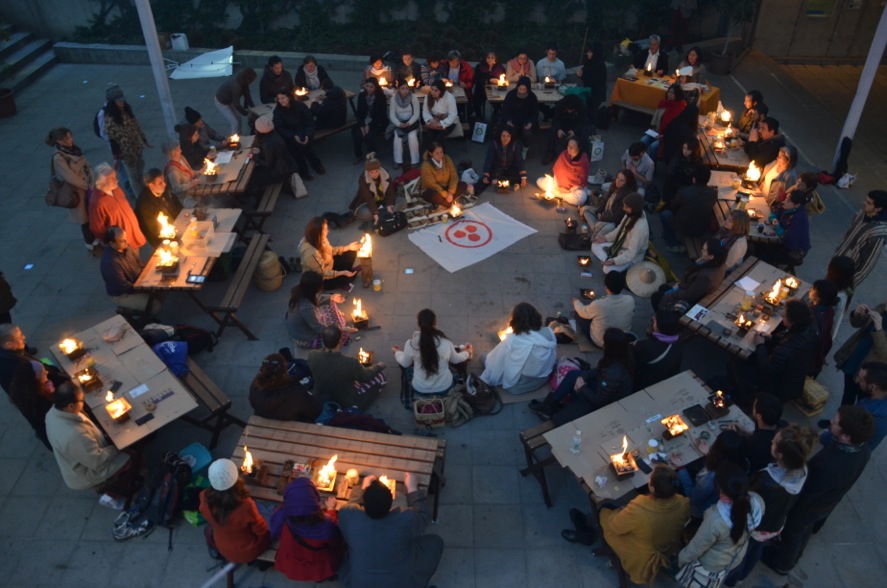 At one of the talks held in Santiago in a center for Ayurvedic studies, Ulrich talked about Homa Therapy and health, and how Agnihotra may decrease the levels of stress, among other things. This topic was the subject of a research project, which is still in process, carried out by medical students of the University Finis Terrae in Chile. These experiments and researches will continue, even though some immediate results have already been obtained. More details on these studies will be officially published in the near future.
Another topic of his lectures was Homa Organic Farming. Ulrich had the opportunity to meet with various officials of the Ministry of Agriculture.
In one meeting, it was agreed that Agnihotra Ash preparations and Homa Biosol (a preparation of several ingredients, including Agnihotra Ash) will in future be among the products allowed for organic farming. This will be the first time this has been done.
Ulrich also met with a group of organic farmers from small and medium-sized farms. They were interested in hearing about Homa agriculture and how they could implement it on their land. The talk was informative as well as practical, speaking of the use of Agnihotra ash in the plantings, the production of Homa Biosol, etc. These farmers are now aware that climate change is undoubtedly affecting them, despite the use of organic agriculture. Recently in this area of the South, a volcano began erupting after having been passive for over a hundred years; we were also told that last summer was a hotter season than usual and without rain, which is unusual in the area.
Thanks to the efforts undertaken by agronomist and Agnihotri Paula Heinsohn, Ulrich also had the opportunity to make a brief presentation about Homa agriculture to a small group of important officials of the INIA (Institute of Farming and Stockbreeding Research), who are in charge of projects and research in the area of organic farming. These officials were very interested in the subject. It is expected that next year they will submit a project at the regional government level for the implementation of Homa Agriculture for organic farmers in the area. Meanwhile, they intend to begin some research on the use of Agnihotra Ash.
Coming back to the capital, in Curacaví, an agricultural area near Santiago, Ulrich gave his last public talk, in the town hall, to a group of farmers and individuals interested in learning a little more about Agnihotra, Homa Therapy and their practical uses.
The following day was Ulrich's last day in Chile. We went back to Santiago for a private meeting with a former adviser of a past President of Chile, who was in charge of issues related to air pollution, and is now head of an institute working in this field. This was a very good meeting, especially because this person was willing to do an experiment to see how Agnihotra could help to solve the problem of air pollution in the capital of Chile, which suffers from severe air pollution. He has all the equipment and instruments to start some tests, so now it is important to follow up on this. It was a good final meeting, with some good possibilities for further research.
Ulrich remained in Chile for a bit more than 3 weeks, keeping a tight schedule during this period, giving lectures and specific workshops, but also having informal meetings with Chilean Agnihotris and old friends.
Many ideas and new projects are now on the table, including managing Homa Therapy Teachers Certification and the future training of Homa agricultural technicians in Chile.
Time will tell how this will develop, but I have no doubt that Ulrich's visit to Chile has turned "the wheel of fire", so to speak, and we can see an interesting future for the promotion of these sacred fires at a more scientific level, but at the same time at a very practical level, as in growing food. Above all, it is unified work with a constant exchange between the international family of fire.
I personally want to thank the organizers of these events: Dr. Ernesto Vega and his wife Dr. Andrea Chavez, Paula Heinsohn, Héctor Rosas, and many others, but especially to Karina Ohme for her tireless work, her big and friendly heart and infinite patience and for welcoming us in her home for 3 weeks!
Thanks again to Ulrich, for having accepted the invitation to come to the land at the end of the world!  We hope that he will be able to return to Chile in the future, especially to once again have a dip in the wonderfully healing waters of our sacred Cochiguaz River, in the Elqui Valley, that he also had the opportunity to go to on a short visit. We hope it will be longer next time!
Sound and Fire for Baltimore City
by Patricia Norton
Westminster, Maryland, U.S.A.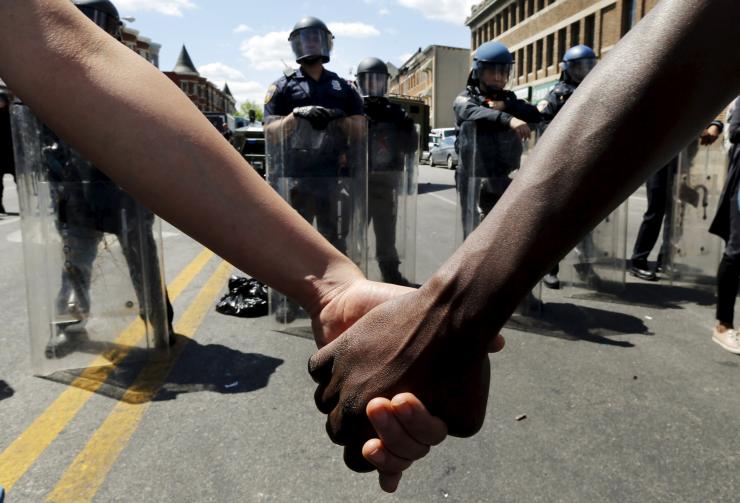 Back in April, the death of Freddie Gray, who was injured in police custody, brought national attention to Baltimore City, with riots and protests ensuing for weeks to follow. Nearly twenty people circled up and performed sunset Agnihotra for several days in Druid Hill Park, close to where the rioting occurred. They held the vision for bringing peace to the city and safety to the children.
To borrow the words of Baltimore Homa Therapist Maria Broom, "Every spiritual teaching of love, compassion and forgiveness can be used right now. Every conversation, group and organization that's about healing the root cause of our discontent… is on point. THERE IS NO THEM AND US. Out of brutality and destruction it is possible to create plans and actions to eliminate poverty, restore channels of justice… and wipe out racial inequities."
I was feeling the need to contribute in some way to the healing of our city. As the community heals, I felt called to offer the police who work in our community a peaceful and relaxing environment to help clear their minds, strengthen their inner calm and perhaps share tools with them that could open up a door to better ways of dealing with their stress. After three weeks of a bit of a runaround, I finally got approved by the Baltimore City Police to offer two Sound Healing sessions at The Living Well on Charles Street as a heart donation. The announcement went out to nine precincts in the city, including headquarters, a total of 3,000 employees.
Two sessions were offered in July. Petro Bass, from Florida, who plays the handpan drum and didgeridoo, and Reiki Master Elizabeth Scala, joined me. Both sound and Reiki sessions started with an explanation of Agnihotra and a Yajnya fire. Even though only six police officers took part in the sessions, including a lieutenant, I held the vision throughout that all officers were present and receiving waves of nurturing love.
When the sessions were completed every one of them shared that they journeyed into deep rest, except for the lieutenant. Although his wife is a Reiki Master and he is aware of its positive effect, he stated that it is the nature of police officers to always be aware of all sounds around them, and that his mind had difficulty letting go of what the noise was outside the front door.
A donation was also made of Rose Quartz crystals for love and harmony, and an Angelite stone for peace for each of the officers, to carry in their pockets while patrolling the streets of the city. They took more sets to give to fellow officers. One officer wanted to continue attending my sound sessions. I hope that each one of them walked away feeling a little more peaceful, with a new awareness, and perhaps a softer heart.
Healing with Homa Therapy
Zulay Trauco
EsSalud University Clinic Paul Nogier
Carabayllo, Lima, Peru, South America
I am 33 years old. My mother died over eight months ago. The day after her death, I started to have strange sensations, like involuntary movements, shocks from the brain to the heart, too much movement of the heart, my body temperature changed from cold to heat, up and down and so on. I did not know what was happening. The medical doctors diagnosed me with Depressive Anxiety.
Then I started to feel lots of fear. I thought I was going to die, that my heart was going to stop. I could not even sleep. Every night, I was crying and trembling. I had to call someone to accompany me, because I was panicking. It was terrible. I thought that I would die, and I had lost hope of living.
I went to a psychologist, who did therapy with me month after month, but my feeling of despair remained. I had to go many times to the emergency room at the hospital. I had horrible headaches. I felt as if my brain was burning–too many thoughts. It was crazy, and it was a vicious circle. Sometimes I fainted. I was given drugs, but the relief was temporary, because after their effect passed, it was the same. My improvement was too slow. Also, I walked away from my family. I could not enter the house of my sister, because there I seemed to see my mom and I began to tremble.
My sister told me to see a psychologist who did a therapy with fire in the hospital. I knew that only God could help me, but I wanted to see, just in case. And already the first time I participated, I felt a change. When I arrived, I was very tense, very scared, and I could not be in a closed room. I was full of despair.
However, when Agnihotra was performed, I felt a great calmness. I even left the therapy laughing! So much time had passed since I had laughed. I felt happy and did not know what had happened. I felt I needed this therapy and that this was my chance. I called Christian Alvaro to see where I could participate in Homa Therapy also at sunrise. Although it was about five o'clock in the morning, I went wherever it was practiced, and my health made very rapid improvements. I took the Agnihotra ash and rubbed it wherever I had pain.
I feel that I have been reborn. Now I feel again like going out and meeting other people. I thank God and also Christian Alvaro for his support. Now I want to get my own Agnihotra kit to further improve my health, and also to help many others.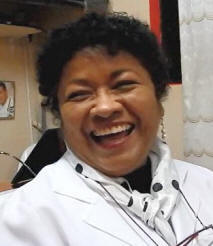 Dr. Lourdes Benavente
Hospital EsSalud Marino Molina SCIPPA
Comas, Lima, Peru, South America
I've had the problem of hair loss for a long time. I used to have very long hair, almost down to my waist. But then I was afraid I would lose more, so I cut it off. I had continuous treatments with the dermatologist, who gave me different prescriptions, but they did not solve my problem. I also suffer from hypothyroidism, and hair loss is one of the effects.
Then I began to participate in the Homa Therapy with Christian Alvaro Vasquez, and I had the idea of adding Agnihotra ash to my shampoo.
Then I could really see how my hair loss stopped.
I have a sister, who also had the same problem, and I gave her also a little bit of Agnihotra ash. She told me that after using it 2 times, her hair loss had stopped. This did not happen with me; It took my about a month.  I asked her how she had used the Agnihotra ash. She had put a little bit of ash in her hand and then added the shampoo, while I had put 2 teaspoons in the shampoo bottle in order to save some of this Agnihotra ash.
From the Orion Transmissions
received by Parvati Rosen-Bizberg
Wysoka, Poland
April 29, 2015 On Strength in Numbers
Yes, yes. So much suffering in the world at this time. Dear ones, bow your heads in prayer for those less fortunate than yourselves. Expand your hearts to include the whole of humanity. Seek not to condemn or place blame.
It is possible to take a stand and unite with those whose voices combine as ONE—to drown out hatred, to build bridges between you instead of erecting roadblocks to keep you apart.
Where there is injustice, where there is grave error in judgment, dear ones—speak with a voice that calls for brotherhood and sisterhood, yet speak with honour and self-respect. Walk in Peace.
There is strength in numbers—numbers of beings assembled in Light, in Love, with the breadth of compassion and understanding—for harmony, unity and equality for all.
There is little time to waste in anger fueled by fear. One must work for peace in a world that seems devoid of peace.
We salute those who seek peaceful resolution and who, arm in arm, refuse to be defeated. Love is the mission and the goal. Remember this always.
Walk in Light.
May 17, 2015 On Transmission of Higher Knowledge
(This transmission came on the birthday of Parama Sadguru Shree Gajanan Maharaj of Akkalkot, India. He vowed to resuscitate the Vedas and brought us Agnihotra, sunrise/sunset Vedic healing fire.)
Yes, yes. Dear ones, all that you know, all realizations and discoveries, all that you believe to be true—all this is a small fraction, a minute part of what IS.
Even the greatest of all teachers who have walked the Earth by command of Almighty—though their souls may be fully realized—even they cannot teach the Truths they have perceived. There are no words for ultimate Truths.
What can be transmitted when in the rarified presence of a realized being at one with Divine, reaches human beings through another channel which surpasses rational thought, and it eludes conceptual understanding.
When in the presence of Divinity, one's entire being is transformed. The cells of one's body are given a boost. Even the very basic processes in the body are redirected. On a mental level, one has no way of explaining what one has experienced.
When Truth is being transmitted, that Truth enters the mind and energizes one's thinking process.
This Truth can be transmitted via Mantra, intensified repetition of Holy Name, via chanting of sacred Mantras in an atmosphere prepared to receive such high vibrations. Yes, in this manner, Truth can be transmitted, but it is of no use to try to bottle and distill that which is of purest particles of energy.
The great Master whom you now honour on this day was beyond explanation. His greatness rests quietly in a fully realized Body. Thus, the Holy Presence whom you call SHREE has transcended all levels of understanding and is indeed OMNIPRESENT.
In such a resonance, all stand to be purified and transformed by GRACE. This is the point. This IS the Realization we have been pushing towards.
Blessings upon this Holy day in the heart of those fortunate to have perceived and received His Grace.
All our Love.
OM TAT SAT.
May 18, 2015 On Sustainability
Yes, yes. Sustain. Sustain. Sustain yourselves with your own foods, your own resources as far as possible. We realize that some of you may need to depend upon the grid, at least for the time being. However, the goal should be self-sufficiency.
What you cannot manage as of yet in terms of say, electric power, you can make up in improvement of soil and growing your own foods and herbs, preparing your own medicines and tinctures. You can manage the resources you have at your disposal. Later, alternative energy will become available at quite an affordable offer. This will come soon, actually.
June 16. 2015 On Protection of Homa
Yes, yes. X is both sensitive and afraid of being sensitive, simultaneously. It is important to realize that, when one is in Homa atmosphere, in a place where fires are being performed regularly, there is nothing that can harm you. However, it is also a good practice to make use of protective tools, such as the healing ash, etc. It would be a good idea to keep such sacred healing tools in use and present, particularly in the room where she sleeps. Perhaps this being would do well to wear a protective Yantram or Narmada Sand, as this emanates healing and protective vibrations. The fire itself is protective and also healing, often resulting in the need for sleeping hours being reduced.
Blessings. Blessings. Blessings. OM.
June 19, 2015 On True Spiritual Path
Yes, yes. As long as the heart beats, one's work in life continues. Till the moment of one's last breath, one can evolve and should, by all means, seek to progress on what you refer to as 'spiritual path.' This leads us to the topic, 'spiritual path.'
When one begins to follow a specific blueprint or path endowed by a prophet, a great Guru, or spiritual mentor or master, one takes a step towards one's goal of self-realization or God realization. If one has no particular guide and simply decides to follow his or her own heart through the ups and downs, ins and outs of life, this is also a type of 'spiritual path.'
However, simply practicing meditation techniques, pranayama, hatha yoga postures, chanting from ancient scripture or repeating mantras 10,000 times are not what constitutes spiritual path.
One's walk through life is one's path.
One's walk is one's way to serve Divine.
It is living in accordance with the basic laws of Nature, the striving for improvement in one's interactions with others, the tempering of one's words and the rearranging of one's own thought processes to let in more Light, that is truly spiritual path.
When human beings enter into a particular spiritual practice or study, often they begin to feel superior to those who either follow no particular spiritual direction or follow another line. They begin to take on a holier-than-thou attitude, the antithesis of spiritual path! With this newfound pseudo-confidence, the judgment begins.
On true spiritual path, judgment is like the enemy. When one gives in to judgment, one closes the doors of the heart and blocks one's very spiritual progress. Here, we do not mean giving helpful advice or reminders to those near. This, when done with kindness, is a gesture of compassion. It is the overall tone of judgment one takes on when one feels superior that is most debilitating on any spiritual path.
There is validity to almost all spiritual paths, often at the root of them. Religions began from a seed of Truth and often spiraled out of control, when the idea of controlling others was introduced.
Human nature can be easily drawn into controversy and judgment. One must guard against judgment as a sentry at the gates of heaven!
We call upon human beings to revel in their own joyous songs, chants and prayers to Almighty and accept other ways as being equal to your own. Acceptance and kindness will be your calling cards, as you walk resolutely on your chosen paths. Walk with Light, in Light. Practice forgiveness and let it fill your spirit with joy.
These are grave times on planet Earth. They call for greatness of character. They call forth those who can meet the challenges with strength and purpose, with grace and fortitude.
There are many paths which lead to Divine. There is not one way. The tools in one's hands are those which will uplift and lead them home. Share them openly and willingly with those whom you feel will benefit from them. Teach them freely, but without expectation of reward or accolades.
Blessings abound for those who walk in humility and Grace shall be showered upon them in great abundance. OM.
For further information:
www.oriontransmissions.com
From Shree Vasant's Teachings
On Swadhyaya
Contemplation is very beneficial. It is a meditative act. Remember to look over the day before sleeping and say, "Have my actions helped anyone? Have I practiced Tapa? Good Karma? Service? Have my words or actions hurt anyone? Helped anyone?" Really look.
On Self-Development
You have to have all faith. Fortify the body and the mind. Focus on improving health and more and more meditation. Focus on service and deepen your meditation. It is the quality of time given to spiritual disciplines. You should have all humility when you sit for meditation.
On Negative Energies
There are so many unseen forces at work. Really, there is much mischief in the world. These places of Homa become like refuges in the storm–not because of actual storm, but bombardment of these negative energies which are invading the planet now. We have never before spoken about these negative energies. We need not focus on them, but it is now time to INTENSIFY the Sadhana (spiritual practice). That is, put more effort, more energy into what is your life's work NOW. Of course, you can concentrate on economic matters and become more self-sufficient in the process. However, aside from that consideration, INTENSIFY YOUR SADHANA. BECOME A SPECIALIST IN THE FIELD IN WHICH YOU ARE ABLE TO PROVIDE SERVICE TO THE PEOPLE. If it is children, specialize. If it is gardening, develop teaching methods to help others, not just techniques to use on your own farms. MAKE LIFE ALL SERVICE NOW.
On Devotion
People harbor resentments and misunderstandings that lead to mistrust and damage the foundation of their devotion. Unless that devotion is felt, they will constantly waver in their commitment to this work.
On Discipline
The disciplines are for you. They do not benefit the Divine. They are to benefit you. So ultimately it is each person's choice to follow disciplined lifestyle or to incorporate the disciplines into their lives. To what degree is totally their decision. No one need be told to follow. No one, therefore, need be judged. Let the atmosphere of a loving, disciplined home speak for itself. Then, if one is more disciplined, one is able to think more clearly, make decisions in a logical manner. However, the disciplines must always be tempered with love and compassion for others. Then the result is quite naturally service. SERVICE IS ITS OWN REWARD. Best way to teach others is to live the life you want to teach.
On Our True Purpose
Oh blessed holy Fire
Restore the basic foundation of our planet Earth
for indeed, destruction is rising.
Let it be our one true aim–TO HEAL.
Fivefold Path for Happy Living
Perform AGNIHOTRA for purification of the atmosphere which leads to automatic purification of mind.
Practice DAAN (sharing of assets in a spirit of humility to reduce attachment to worldly possessions).
Practice TAPA (becoming better managers of our energy expenditure by training the body and mind to react to all circumstances in life with Total Love).
Perform KARMA (every action for self purification only and thus no expectations which bind us to the material world).
Practice SWADHYAYA (Self-study) for liberation. Who am I? Why am I here? My work on this planet is to learn to react with total LOVE with each opportunity given to me.
This is the Fivefold Path for happy living on the planet. By practicing the Fivefold Path you become better members of your society, group, religion, community, etc.