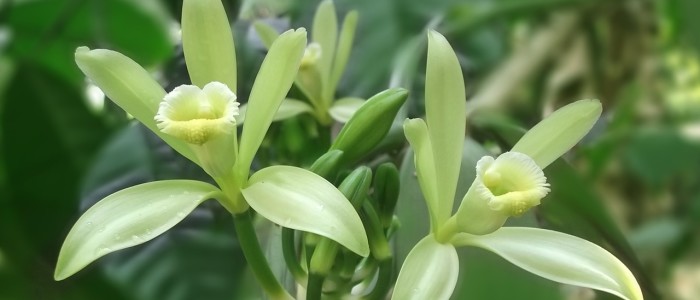 Agricultural Experience with Vanilla Plants
Abhay Mutalikdesai, Karnatak, India
Nature is a silent performer and I was anxious to see her work.  Since hundreds of farmers are closely observing our Homa Therapy work at Sutagatti, I was slightly under tension.  Our faith and devotion has started working in this after three months of regular Homa.
The single infected banana plant has gotten the first healthy leaf.  The shoot appears disease-free.  I will soon send the earlier and later photograph.
I am also very happy to inform that the first vanilla produce for the year 1999-2000 is of excellent quality.  The vanilla bean curing process (three months) was started along with Homa Therapy.  The cured vanilla beans were tested at Spice Board testing laboratory in Cochin.  The following are the results:
Year


Place

Vanillin%
by weight

1998

ernanakulam
(kerala)

2.56

1999

myladumpara
(kerala)

2.71

2000

sutagatti
(karnatak)

2.91
The above results have given immense joy to all of us, including our fellow organic farmers who had participated in our Homa Therapy.
Now a person with deep knowledge about farm seeds has approached us.  He is ready to offer voluntary services in developing a seed bank, seed plots and demonstration plots for fellow farmers in our area.
In this month we had three heavy rains at Sutagatti.  First occasion was when I was performing Om Tryambakam Homa.  The other two rains came during evening Agnihotra.  However, the first occasion was special.  It rained only over Parashanatti and Sutagatti.  This rain was very essential to us because the electricity transmission transformer was burnt and we had no power for fifteen days.  Our mud barrage built across River Ghataprabha remains now full; otherwise, it dried up by middle of May.  Availability of abundant water for farming during summer has happened, after many, many years.
My workers, their children and neighbors are very much influenced by Homa Therapy.  Two of my workers who were alcoholic and non-vegetarians have stopped consuming since last two months.  One of them is doing regular Om Tryambakam Homa and Agnihotra during our absence.
All these positive things are due to Yajnya.
Abhay Mutalikdesai
Karnatak, India