Agnihotra Equinox Fires in Austria
September/October 2019 | Volume 47 #4 | New Era 76
Agnihotra Equinox Fires in Austria
Reiner Szcypior
Austria
On September 22nd, 2019, a gathering was held in honor of the autumnal equinox at Lorenzhof in Lebenitzen, Austria. Since 2016, Lorenzhof has become an intentional community in which people can develop and feel at home with the lowest possible costs and shared commitment. They focus on arts and crafts and agriculture to provide an independent life for the people living on site. The center also serves as a place of education for young and elderly, focusing on personal progress.
I gave an introduction to Agnihotra and its benefits. Mainly I spoke about how we can protect ourselves from radioactivity and mobile (cell phone) radiation. Clearly, this is a serious concern. In mid-October, thousands in Switzerland protested exposure to 5G Wireless radiation.

After Chernobyl, scientists from Eastern Europe conducted experiments on the effect of Agnihotra and Agnihotra Ash on radioactivity. The leading physicist of that group, Miro Haber, stated the following as a résumé of this research:
"In physiological terms the body constantly exchanges all its elements (not cells). There are only some exceptions, like the lenses of the eyes and some parts of the nervous system. The mechanism of this exchange of elements in the body is not exactly known. For this exchange the body constantly needs elements like calcium, copper, iron etc. As long as these elements are not radioactive the body functions normally. Our body can deal well with the natural radioactivity which has been existing since millions of years on this planet.
"However, since the Chernobyl accident we are dealing with a much increased man-made radioactivity. Many radioactive elements like Caesium, Iodine, Ferric etc. have fallen onto this earth. The half-life period of these isotopes is rather high for some of them. They went from the air into the earth, from there into our food – salads, vegetables, fruits. Through our food we absorb radioactive elements. This is because our body cannot distinguish whether an element is radioactive or not, and thus it absorbs the element without selection. Once a radioactive element is stored in the body it radiates all the time (like a lighthouse) and destroys the cells in its surroundings. The body reacts with an infection (with luck the radioactive element is thereby thrown out of the body) or it reacts with a tumor, with cancer.
"How can we avoid the absorption of radioactive elements into our body? The answer is simple – we have to give the body each element in a natural (non-radioactive) form. Once the body is saturated with these elements, any radioactive versions of these elements thereafter are not absorbed by the body any longer. It very quickly gets rid of them. The newly absorbed non-radioactive elements will by and by replace the radioactive substances which we had absorbed in earlier time  and which our body had stored.
"Now where do we get these non-radioactive elements from in order to protect our body? The experiment that was conducted some time ago has shown that the Agnihotra ash (which at the time was produced by about 40 participants according to special directions of Mister Haber) was not radioactive, even though the ingredients were radioactive.
"How this mechanism of changing radioactive elements into non-radioactive elements works we do not yet understand. It cannot be explained, either by modern chemistry or by physics. But the result has been tested several times, always with the same outcome: The Agnihotra ash just had natural radioactivity.
"Also the Agnihotra ash contains all the 92 natural chemical elements. In this way the body's total requirement can be covered.
"Therefore, it is suggested to everybody to eat say a teaspoon of Agnihotra ash before every meal. Most important is in the morning. An easier way would be to make tablets from the ash which can easily be taken (as people are used to taking tablets)."
(For more information on Agnihotra and radioactivity , see http://www.agnihotra.org/2018/02/16/scientific-aspects-of-agnihotra-agnihotra-and-radioactivity-2/ –Ed.)
Outside at sunset, fifty-six Agnihotra fires were performed, with over one hundred people in attendance.
The participants ranged from three weeks to seventy years of age.
Thanks to the  Lorenzhof community for co-hosting this event.
Parama Dham's 46th Anniversary
Ed.
Sunday, September 22nd, 2019 marked the 46th anniversary of the Parama Dham Fire Temple in Madison, Virginia. Inaugurated by Shree Vasant in 1973, Parama Dham was the first Fire Temple in the world established under Parama Sadguru Shree Gajanan Maharaj's dispensation of resuscitation of the ancient science of atmospheric purification for the New Age. The name Parama Dham, which means House of Almighty Father, was chosen by Maharaj Shree.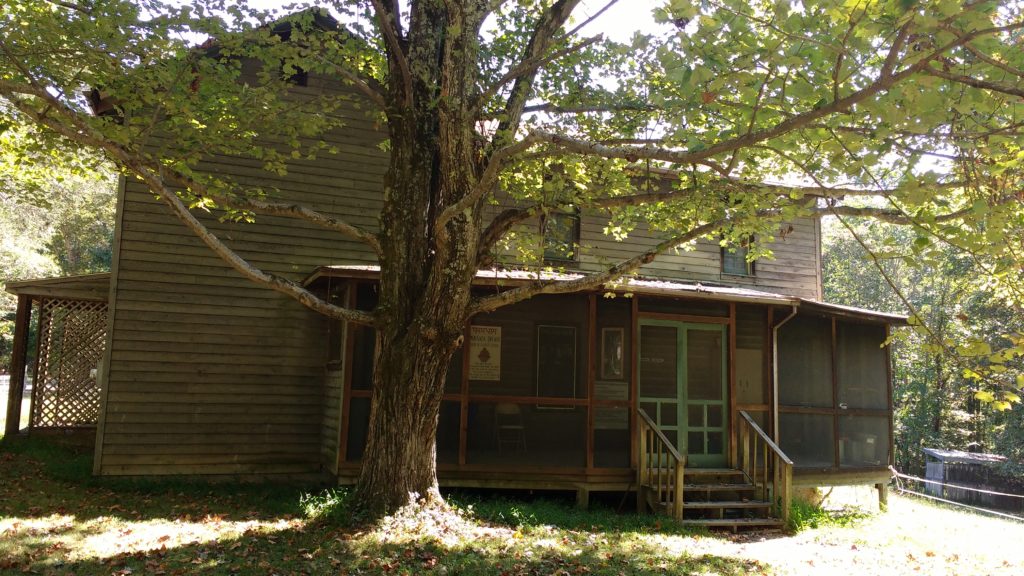 Parama Dham, Madison, Virginia
In a Fire Temple there is no priest and nothing is worshipped. Agnihotra atmospheric purification technique is performed there twice daily at sunrise and sunset. Also, a fixed set of mantras is chanted after Agnihotra. With the exception of the mantras, silence is observed in the Fire Temple at all times. The atmosphere becomes surcharged with healing energies.
In a separate room from the main temple room, four hours of Om Tryambakam Homa are performed daily. On no moon and full moon days, more hours of Om Tryambakam Homa are done there. The fires are maintained by the Madison Homa community.
Regarding Fire Temples, Shree Vasant once stated, "Time is coming in a few years when extremely strict disciplines will have to be maintained to keep up the purity of these places and the harmony cycles around them. These places will become special refuge for multitudes. It is preferable that they be situated in a large garden area where food can be grown by the YAJNYA method. We need some places in cities also."
The Madison Homa community marked the occasion with a group meditation in Parama Dham at sunset.
Heartfelt thanks to all the people over the years, from many places, who have helped in various ways to keep Parama Dham going.
Agnihotra Podcast
Ed.
(Fivefold Path, Inc. and the international network of Homa Therapy centers of which we are a part, teach Agnihotra as a science with benefits body, mind and environment, and are not affiliated with any religious body. Agnihotra is open to all regardless of religion or lack thereof. Agnihotra comes from Vedas; Vedic knowledge existed long before religions and cultures, and is the common inheritance of mankind.)
Subodh Cothran, host of Hindu Voices, recently invited me to do a podcast on Agnihotra. Although I'm not Hindu, Subodh assured me that Vedic topics were pertinent, so I was happy to accept.
The show presented an introduction to Agnihotra and Homa Therapy, plus some lesser-known facts and anecdotes on Agnihotra and its uses for personal healing, stress reduction, and healing the environment.
You can find the podcast at hinduvoices.com
Deepest thanks to Subodh for the chance to share information on Agnihotra and Homa Therapy!
Gathering of Young Ones in Maheshwar
Sarvajit Paranjpe
Maheshwar, India
On 13th Sep 2019, a small event to share Agnihotra and Fivefold Path with young girls was organized. Fourteen girls from the nearby village Makadkheda came to learn and visit Homa Therapy Goshala, Maheshwar.
On Our Bodies' Health
The following message from Shree Vasant was received by Parvati Rosen-Bizberg in meditation.
September 27, 2019
The body is a precious gift to be taken care of, kept clean, well rested, with sufficient water and air, movement and nutrition. Just as with a machine, if one part is not attended to, it can affect the whole mechanism.
Treat the body as you would a fine, valuable, rare instrument. If you had a fine, rare instrument, you would keep it in a safe case when not using it, you would keep it tuned and polished. And you would play it frequently, savoring its unique sound and the quality of that sound.
The body is your instrument. This is a great opportunity to give the body the attention it deserves, and good health will be the reward.
No one is exempt from this rule, this fact. Regardless of age or status in life, all have to take care of the bodies given to them. And ultimately these bodies can be used as instruments of Divine.
Prioritize health, physical and mental, as you would care for your own small child. Proper rest is essential. Then, balance in daily life—so that you are exercising the mind and the body, as per its own abilities and as per health. And the spiritual also needs exercise. All aspects.
When We say health, it refers to every aspect.
We are with all of you now.
All love and blessings.
OM TAT SAT.
Scientific Aspects of Agnihotra: Animals – Earthworms (Part 16)
by Dr. Ulrich Berk
Germany
We previously have discussed two of the three best farmer's friends: cows and bees.
The third of these animals is earthworms. Earthworms play a decisive role in improving and maintaining good soil health – and as we have seen before, soil health is of utmost importance for survival of mankind (see the previous articles on Soil and Agriculture in this series). And as already now 25% of fertile soil has been degraded in the last 50 years, regeneration of soil is a big challenge for farming. Earthworms can help with that a lot.
They play a key role in improving soil structure and soil fertility, and thus lead to a
healthy soil. They consume organic matter on the soil surface or in the soil. This
matter is digested in the earthworms' bodies and turned into a very good organic
fertilizer.
Earthworms improve biological, chemical, and physical properties of soil:
Biological
Earthworms digest all different kinds of organic plant material and break it down into
nutrient-rich humus. Also, the population of beneficial microbes is increased and the
microbial activity is stimulated.
Chemical
An earthworm consumes minute soil particles which are broken down and then
excreted in the form of casts. According to information from IFOAM (The International Federation of Organic Agriculture Movements) these casts contain five times more nitrogen, seven times more phosphorus, eleven times more potassium, and two times more calcium and magnesium than soil without earthworm populations. Also trace elements become more available to plants due to earthworm activities.
Physical
Earthworms improve the structure of soil in several ways:
– They create tunnels deep in the soil (which last much longer than the
earthworm lives). These tunnels allow water to penetrate deeper into the soil, thus the water holding capacity of soil increases.
– They break down clumps of soil by eating through these clumps.
– The earthworms' cast (the worms' excretion) helps to create stable soil
aggregates.
– They help to undo the effects of soil compaction.
All this shows that earthworms are really very valuable farmers' friends. Shree
Vasant remarked once, "They work night and day and do not form 'labor unions'
to charge higher salary. They do their job for free."
Impact of Conventional (chemical) Farming
But now this job is being threatened more and more – not by strikes, but by methods
of conventional farming. Problems are plowing and tilling, as well as use of
pesticides and chemical fertilizers.
Studies showed that some pesticides are lethal to earthworms even at levels much
lower than the recommended agricultural doses. But even if not lethal, these
pesticides and chemical fertilizers have a devastating effect on earthworms. Their
size is reduced (and therefore they convert less organic matter into useful humus),
and also their reproduction is happening at lower speed; therefore, the numbers of
earthworms in the soil will be less. That can be easily seen on fields where
conventional farming is applied. As a consequence, soil health degenerates.
The Role of Homa Organic Farming
How to restore soil health and for that, make best use of earthworms? Homa Organic
Farming offers a solution.
Shree Vasant Paranjpe wrote in the book, Homa Therapy – Our Last Chance:
"The entire ecological system is benefited by YAJNYA. For example, earthworms
are able to generate more moisture in the soil due to performance of YAJNYA. The
YAJNYA makes them happy and their hormone secretions increase, thereby
benefiting the soil and therefore the plants that live in the soil. The earthworm is
important to farming. YAJNYA atmosphere increases the hormones in earthworms
involved in their reproductive organs and helps multiplication of the species, which in
turn helps the soil to become more rich."
Alas, we have no scientific studies so far about earthworms in Homa atmosphere.
But there are several reports of Homa farmers. The results are:
In Homa atmosphere, earthworms:
– Generate more moisture in the soil
– Increase the hormones secretions in their reproductive organs enabling them to
reproduce at a faster rate
– With Homa, in less than one month, the number of earthworms doubles. Normally,
this takes from three to four months.
– This is part of the bio-feedback effect from Nature which is obtained with Homa
technology.
That earthworms grow bigger you see on these two photos which show earthworms
found in the soil of the Homa Farm Shreedham of Christa and Ricardo Mena in
Algodonales, Spain.
As in Homa Atmosphere earthworms multiply faster, grow bigger, and also the cast
has some additional beneficial properties because of the specific hormone secretion,
it is advisable to have a vermicompost unit on every Homa Farm.
In hot Indian climate it takes normally 42 days until vermicompost is ready for use:
In Homa Atmosphere it only takes half the time!
During the composting process in Homa atmosphere, an exquisite fragrance is
produced, which permeates the whole environment, contributing to the healing.
This pleasant aroma attracts pollinators within the area.
This Homa vermicompost can be used to prepare Homa Biosol – a very powerful biofertilizer
which Homa farmers can produce themselves on their farms. The
extraordinary results scientists observed using Homa Biosol on different crops like
tomatoes, cabbage, soybean, and okra were described in previous articles.
Below: Sanjay Patil, manager of Tapovan Homa Organic Farm in India, shows how
to set up a vermicompost unit.
Healing with Homa Therapy
Giri Bek and Govinda Yogi
Florida, U.S.A.
giribeck.com
Giri Bek is a Certified Transformational Breath® Trainer, Certified in Yoga Nidra, Chakradance and Yoga of Recovery.
She is a Registered Holistic Nutritionist, and an E-RYT 500, having completed her trainings in the Sivananda tradition. 
Govinda is a is a graduate of the Sivananda Yoga Teacher Training Course, Transformational Breath Facilitator, Culinary Graduate, Certified Yoga Teacher and Reiki practitioner. 
They offer private and group sessions, and retreats for healing and transformation.

Govinda Yogi 
We moved to a property that had a lot of old fruit trees on it and there was one 20-year-old avocado tree. The tree was injured, and someone had tried saving it. They wrapped some foil tape around one of the big limbs. The tape had been on there for quite a long time. I took the tape off and realized that it wasn't really healthy at all. I took ash from the Agnihotra fires that we were doing and I placed it on top of the wound. Within three months it looked a lot better. In about six months it was completely healed, and the tree was starting to produce. It hadn't produced in many, many years. There were about a hundred avocados growing!
In my life I have felt so much healing energy flow from the Agnihotra pyramid, helping me with addiction and craving, to balance my day. My drug of choice was marijuana and I had this routine of abusing the drug. When doing the Agnihotra fire I was able to still have the fire and smoke, but on a much more positive level. The fire grounded me and cleared my mind, unlike when I would smoke marijuana, which clouded my mind and made me unbalanced. I'm very honored to be able to have Agnihotra on my path.
Giri Bek
Sometimes Govinda and I have weekend retreats geared towards people in recovery or perhaps wanting to be in recovery. Many of the students have expressed that meditation was very challenging for them–that their minds were racing. They had difficulty calming down. One of the things that the students said helped the most was the Agnihotra fire. Afterwards, we spend some time in meditation. All of the students said their minds were so clear and calm and they were actually able to meditate.
In my own life, I have also found this to be true. I have been in recovery from addiction for over twenty-five years. I have had all kinds of addictions and mental health problems: alcohol, opiates, benzodiazepines, barbiturates and eating disorders. On this healing path, I have seen many people benefit from the healing of Agnihotra.
From Shree Vasant's Teachings
On Homa Therapy Farming
If a Yajnya is going on all the 24 hours in proximity to a garden, that in itself is an effective aid to insect control. The atmosphere becomes saturated with ghee and the plants are able to manufacture a protective coating due to a special chemical combination in their chemical makeup interacting with the ghee absorbed by the plants by breathing. The Yajnya atmosphere also creates something intangible that permits this situation to occur which is based on the vibrational content of the atmosphere due to the Mantras going on all the time.
When growing plants in Agnihotra atmosphere, do not necessarily expect the plants themselves to become large. Instead observe the size, quality and appearance of the vegetables, fruit or flowers. All the energy of the plant goes towards yield as by performance of Yajnya we make the plants happy.
Lettuce, the vegetable, grown in Homa atmosphere, possesses great healing and revitalizing properties.
On Inner Light
You have the power within you to defeat any evil forces.
Force never yields any constructive results. Force yields only fear and disrespect. No one should be forced into anything, whether it is Divine Will, their will or any other. When you submit to following the plan of the Divine, you do not submit to force of any kind.
Simply you seek to purify yourself, and in doing so you come under Divine guidance. IF you follow this, inner truth will dawn. This does not require that you take lessons in divining or clairvoyance or that you enroll in Cosmic Religion courses. You can do this and still not receive Divine guidance.
A person who wishes to find this "inner light" does so simply by purifying his own thoughts and actions in hoping to become a better individual. One need not seek to become a religious scholar. By deed a man is judged, not by intellectual prowess.
We must look into ourselves, our lives, our environment, our relationships with family and friends. All this you might say is small, insignificant, but it is not. One outburst of anger affects the planet. LET US SEEK TO FIND THE KINGDOM OF HEAVEN WITHIN US NOW.
Destruction on the planet is following a definite pattern and daily the cycles repeat themselves. So much crime and disease are now spreading everywhere. If it is not physical disease, it is mental. You see it all around you. Agnihotra alone will help to curtail this massive move toward destruction. At least in our own homes let there be peace.
If one can get up one hour before sunrise, whole NADI system is affected. It gives cleansing effect followed by Agnihotra. This simply will enhance the effects of Agnihotra if your breathing has adjusted itself by your being awake one hour early. If this is not possible due to your work schedule or otherwise, continue doing Agnihotra in morning. It is as though a protective shield is placed around you. You renew this at evening Agnihotra.
Fivefold Path for Happy Living
Yajnya
HOMA Therapy is the science of purification of the atmosphere through the agency of FIRE. AGNIHOTRA HOMA (YAJNYA) is the basic HOMA. It is tuned to the biorhythm of sunrise/sunset and gives nutrients to the plant kingdom, removes diseases in a certain area and removes tension on the mind. This is the basic process in the sciences of medicine, agriculture, climate engineering and interplanetary communication.
2. Daan
Sharing of your assets in a spirit of humility. This corrects imbalance in financial matters and creates non-attachment to worldly possessions.
3. Tapa
Self-discipline of body and mind. This is conducive to a change in attitudes of mind and body. It results in a harmonious state of mind.
4. Karma
"You reap as you sow." Always practicing good Karma (actions) diminishes the burden of negative Karma and one begins to invest in his own future. This means that what you do today will bring its fruits. Sowing seeds of love and kindness will bless my garden with plenty of love. Do Karma for self purification.
5. Swadhyaya
Practice Swadhyaya (Self-study) for liberation. Who am I? Why am I here? My work on this planet is to learn to react with total LOVE with each opportunity given to me.
This is the Fivefold Path for happy living on the planet. By practicing the Fivefold Path you become better members of your society, group, religion, community, etc.
Publisher: Fivefold Path Inc.
Parama Dham (House of Almighty Father), 278 N. White Oak Dr., Madison, VA 22727 USA
Editor: Lisa Powers
Published seven times yearly.
Please direct all Satsang correspondence to the Editor.
Opinions expressed by contributors are not necessarily those of Satsang.
ISSN 0735-1321