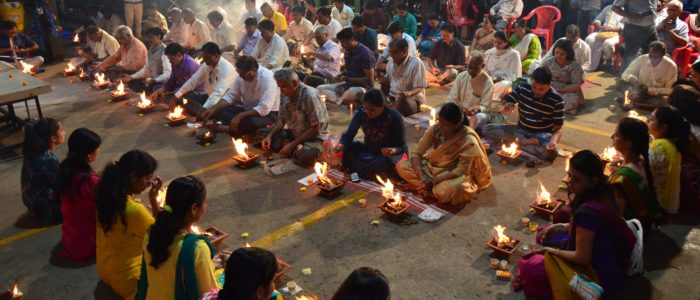 World Agnihotra Day
March/April Satsang 2019 | Volume 46 #7 | New Era 76
World Agnihotra Day
Vinayak Lokur
Belgaum, India
We observed the World Agnihotra Day at Expert Engineering Belgaum, Karnataka, India on 12th March 2019. This was the 9th consecutive year.
A one-hour session was arranged for the Agnihotra promoters, specifically, wherein Mr. S. K. Kulkarni and Col. Dr. Madan Deshpande shared their experiences and views on "Promotion of Agnihotra."
Thereafter, both of them addressed the common audience. Col. Deshpande highlighted about "Scientific Apects of Agnihotra" while Mr. Kulkarni enlightened the gathering about "Universality of Agnihotra."
The procedure of performing Agnihotra was explained in local language by Mr. Abhay Mutalik Desai.
A set of required Agnihotra materials was made available to each one. At the sunset, group Agnihotra was performed by all.
Dr. Rajendra Bhandankar shared his experience of how Agnihotra has benefited the orphans at Gangamma Chikkumbimath. He said that after they started Agnihotra at the orphanage the incidence of illness among the orphans has drastically reduced, particularly the respiratory issues.
Informal discussion and experience sharing then happened after the Agnihotra.
There were stalls where people could purchase books on Agnihotra, genuine Agnihottra materials such as pyramid sets, cowdung cakes, etc.
Agnihotra Demonstration at Rotary Club Event
Vinayak Lokur
Belgaum, India
What does it take to become a dynamic leader and change yourself and the world?
Rotary Youth Leadership Awards (RYLA) is an intensive leadership experience organized by Rotary Clubs and districts where young people develop their skills as a leader while having fun and making connections.
Indeed, it was a pleasure to spend time and interact with the youth during the RYLA, organised by Rotary Club of Belgaum South, at Kulgi Nature Camp, Dandeli, India.
Various topics related to patriotism, leadership, managing emotions, building self-confidence and career goal setting were discussed.
I had an opportunity to demonstrate Agnihotra during my visit. Literature concerning Agnihotra was distributed, so that each of the 98 children and the Rotary Club members could carry the information to their respective homes. I also answered the instant questions the group had in mind.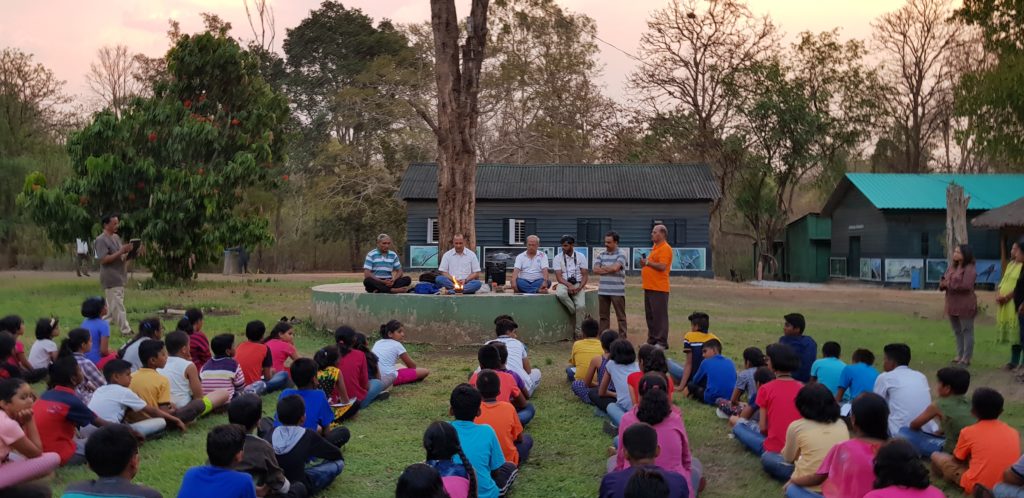 The innocence of the young minds and their exuberance keeps one rejuvenated. Wishing them all the best.
Scientific Aspects of Agnihotra: Agnihotra and Radioactivity–Part 12
by Dr. Ulrich Berk


Germany
Until now we have covered the beneficial effects of Agnihotra and Agnihotra Ash on air, soil, and water resources. But there is one more environmental threat that affects all these areas and is especially dangerous as we do not detect it with our senses: this is radioactivity. Radioactivity became a problem on large scale during the second world war when the world saw the fatal destruction in Hiroshima and Nagasaki. After that there were several accidents in nuclear plants (not all of them known to the public); the worst were those in Chernobyl and in Fukushima. But there also was radioactive contamination by use of depleted uranium in bombs in different wars around the globe. Radioactive pollution has thus become a worldwide problem. Now the West Coast of U.S. is affected by winds and the waters of the Pacific Ocean bringing radioactive substances from the Fukushima catastrophe.
For biological, physical, and chemical pollution there are ways to degrade harmful substances. But if some substance is radioactive, you can heat it, you can try all kinds of chemical treatments, you can hammer on it or put high pressure – radioactivity is not affected by any of these measures. This is why normally radioactive substances have to be stored away for many generations, some substances even for thousands of years (depending on the half life of the isotopes contained).
In short, you can say that radioactive radiation is one of the biggest environmental threats nowadays, and modern science does not have a solution for that. With this background, it is really astonishing to see what Agnihotra and Homa Therapy could achieve.
First observation
The first observation was made on a Homa Farm in Austria after the Chernobyl catastrophe. Karin Heschl, owner of that farm, writes:
"I had a farm in Kirchberg an der Raab, Styria, Austria in 1986 when the Chernobyl accident happened. I was practicing the principles of Homa Organic Farming, including sunrise/sunset Agnihotra, four hours daily Om Tryambakam Homa and twenty-four hours Homa on Full Moon and New Moon days.
"Immediately after the Chernobyl accident, the Austrian Government issued instructions that samples of all milk and fodder in our area should be tested for radioactivity.
"Scientists were shocked to find that milk and fodder on my farm had normal radioactivity while all the surrounding farms had much higher radioactivity."
Agnihotra Ash protects us
After that observation scientists from Eastern Europe were conducting experiments on the effect of Agnihotra and Agnihotra Ash on radioactivity. The leading physicist of that group, Miro Haber, stated the following as a résumé of this research:
"In physiological terms the body constantly exchanges all its elements (not cells). There are only some exceptions, like the lenses of the eyes and some parts of the nervous system. The mechanism of this exchange of elements in the body is not exactly known. For this exchange the body constantly needs elements like calcium, copper, iron etc. As long as these elements are not radioactive the body functions normally. Our body can deal well with the natural radioactivity which has been existing since millions of years on this planet. However, since the Chernobyl accident we are dealing with a much increased man-made radioactivity. Many radioactive elements like caesium, iodine, ferric etc. have fallen onto this Earth. The half-life period of these isotopes is rather high for some of them. They went from the air into the earth, from there into our food – salads, vegetables, fruits. Through our food we absorb radioactive elements. This is because our body cannot distinguish whether an element is radioactive or not, and thus it absorbs the element without selection. Once a radioactive element is stored in the body it radiates all the time (like a lighthouse) and destroys the cells in its surroundings. The body reacts with an infection (with luck the radioactive element is thereby thrown out of the body) or it reacts with a tumor, with cancer.
"How can we avoid the absorption of radioactive elements into our body? The answer is simple – we have to give the body each element in a natural (non-radioactive) form. Once the body is saturated with these elements, any radioactive versions of these elements thereafter are not absorbed by the body any longer. It very quickly gets rid of them. The newly absorbed non-radioactive elements will by and by replace the radioactive substances which we had absorbed in earlier time  and which our body had stored.
"Now where do we get these non-radioactive elements from in order to protect our body? The experiment that was conducted some time ago has shown that the Agnihotra ash [which at the time was produced by about 40 participants according to special directions of Mister Haber] was not radioactive, even though the ingredients were radioactive.
"How this mechanism of changing radioactive elements into non-radioactive elements works we do not yet understand. It cannot be explained, neither by modern chemistry nor by physics. But the result has been tested several times, always with the same outcome: The Agnihotra ash just had natural radioactivity.
Also the Agnihotra ash contains all the 92 natural chemical elements. In this way the body's total requirement can be covered.
Therefore, it is suggested to everybody to eat say a teaspoon of Agnihotra ash before every meal. Most important is in the morning. An easier way would be to make tablets from the ash which can easily be taken (as people are used to taking tablets)."
Agnihotra Ash neutralizes radioactivity in food
After the Fukushima catastrophe, an experiment was done in the Physics Institute of Academy of Science, Kiev, Ukraine (formerly part of Soviet Union).
Japanese rice from Fukushima area contaminated with radioactive isotopes Cs-137 and Cs-134 (the radioactivity was about 200 Bq/kg) was taken in a quantity of 50 grams and mixed with a water solution of Agnihotra ash – one spoon in one litre of water.
Spectrometric measurements of the mix of water, Agnihotra ash and radioactive rice were conducted in a device called "Food Light" which allows one to measure levels of radioactivity in a short time.
The measurement of the background radioactivity was at the level of 8 Bq [Becquerel]. The measurements of a sample (the mix, which included 50 grams of radioactive rice) showed that initially during the first and the second day the radioactivity was at the same level, 200 Bq/kg.
Then during the next days, third and fourth, the radioactive level of the sample went down to about 160 Bq/kg.
Then the measurement of the sample was not done for about 10 days. After that the measurement again was performed – on 14th and 15th days.
These last two days the background radiation was 3 Bq.  The measurements on 14th and 15th days showed that the sample did not have any radioactivity; the level of radioactivity was the same as the background, 3 Bq/kg.
Result: Agnihotra Ash water completely neutralized radioactivity of the rice in the sample studied in two weeks.
 Conclusion
It is advisable to take Agnihotra Ash at least three times per day, preferably before the meals. Also good to soak food such as vegetables and fruits in Agnihotra Ash water overnight before eating.
We are planning a Homa Organic Farm project close to the wrecked reactors near Fukushima, Japan, to see how these ancient techniques can help to neutralize radioactivity in soil, water, and atmosphere and bring Nature back to harmony.
From The Orion Transmissions
received by Parvati Rosen-Bizberg
Jordanow, Poland
January 6, 2019  On Agnihotra and Rhythms of Nature
Yes, yes. Another energy shift is rising now, and with it, an increase in energy output of
creative stimulation.
Dear ones, the AGNIHOTRA fire which you have performed for many years at this ancient
site, 'Bhrugu Aranya,'* is affecting the rhythms of Nature here, providing a push to
environmental healing as given through Vedas.
As we told before, energy is received as well as transmitted—that is, to and from the
copper pyramid—at precise, calculated timings of sunrise and sunset.
Thus, any practice which is done in this super-charged atmosphere will increase healing
effects and give energy to all that you offer to others at this place.
All the years of FIRE performed here, not to mention the participation of human beings
living here, have borne fruit. A peace pervades this land, and all that grows here in
this microclimate will carry healing energies within the structure of plants, fruits,
vegetables and herbs.
Blessings abound.
We are Orion.
OM.
*Ecovillage Bhrugu Aranya is the Homa farm in Jordanow, Poland, where healing Homa fires have been maintained for many years. The Centre of Light is being constructed on this property.–Ed.
March 21, 2019  On Healing Inside and Out
Yes, yes. A layer of protection is covering this planet you call Earth. Those of deceitful
natures will be removed by their own karmic justice. Of this, be certain.
The players on the stage again will shift, as one act follows the next. No encore is
expected. Political alliances are not recommended, as politics itself is a rather stained and
soiled ground, normally a platform for greedy agendas, want for name and fame.
As mentioned before, there are few politicians of excellent repute—out of a world stage
full of prancing political puppets and egotists amassing power. Indeed, those whose
sheen is quite pure, stand out as symbols of hope for a dream where Unity and Justice
join in the egalitarian pursuit of a peaceful, harmonious world.
That said, in order to truly have a peaceful, harmonious world, one also likely must begin
with cleansing and detoxifying one's environment—both inner and outer.
Grand and great ecological pioneers should do well to look within and see that their inner
environment is clear and clean—with respect to honoring the planet and truly acting to
protect and champion this beloved planet's ecosystem.
This is a call for those active in environmental protection and ecological balance to begin
to move toward creating the same inside yourselves.
One cannot further develop a clear planetary healing initiative and simultaneously
avoid one's own inner landscape.
Shifting one's focus to healing within creates an environment which is far more
conducive to healing the planet.
If you truly want to heal outside, you must begin within.
For further information: oriontransmissions.com
Healing with Homa Therapy
Alex Zamfir
Sydney, NSW Australia
Agnihotra was first introduced to me by Ana Ringma. I was touched to the heart the first time I even heard the word, Agnihotra. Two years before, I knew that something was coming and that in order to align with this, I had to purify.  I kept to myself until eventually the prompts grew and I knew that something important was about to happen.  Ana took me to Om Shree Dham Homa Therapy Centre where I met Lee and Frits. It was a life-changing experience; It was magnificent to see people living authentically, lovingly, stopping daily activities to perform Homa healing Fires at regular intervals throughout the day into the night, in order to bring healing to Nature and to align themselves with the Divine.
Over two years of association with Om Shree Dham, Agnihotra has become a daily life partner for me. It is mind-blowing to me that here I am, in a backyard in Sydney, performing this ancient practice and feeling the impact. In my dreams I have seen both Shree Vasant and Param Sadguru Shree Gajanan Maharaj. At that time I had been exposed to the Fire daily, sunrise and sunset, and was experiencing something like an acceleration of working through my karmas.
It is heartening to see others around me also benefit. My neighbour Elizabeth has severe arthritis and is finding it difficult to walk. I introduced her to Agnihotra in the backyard and she would call me up and ask, "When's the next one?"
I made a paste out of ghee and Agnihotra ash for her joints, which she applied. She told me she had applied it to her liver spots on her left hand. A week or so later she showed me that the liver spots had gone. She was astounded. She wanted more ash and ghee.
I am blessed to have come across Agnihotra; I experience it bringing a certain quality to my daily life, helping me. 
Mukhande
France
 Mukhande, a yoga teacher and holistic therapist, has set up an Agnihotra space at Retreat Centre, home of AMRIT Nam Sarovar School for Awakening and Conscious Living, in the French Alps near Grenoble.
My journey in Australia ended at Om Shree Dham, where I immersed myself in the bliss of Homa Therapy atmosphere. I thought, Wow, if I had known this in the first place, I would have spent my whole trip here!
From half a kilometre distance, I began to feel the change in energy on the road, as if we were stepping in a Pranic cocoon of more nourishing and bright Light. This impression kept on and stabilized once we entered the farm. Approaching Lee, I directly noticed a radiance, flow and peace around her. Well, it was a good beginning!
With the first Homa there in the Fire hut, I was very touched. I could hear the voice of some yoga Master speaking in my head, underlining the rectitude and importance of this work. Inner tears of joy, Light, truth, were washing my depths.
I fell asleep with a renewed sense of Love for myself. I slipped into the Dream World where I experienced a field of powerful protection– this kind of crystalline and liquid vortex of the highest frequency of Unity. I had some reminiscence of tough shamanic attacks that had disturbed me for months in the field of my work as a holistic therapist. This time, the attacks could not enter my sphere of Light. I felt so grateful and relieved as I awoke.
The way Lee and Frits shared their stories, experiences, knowledge and practice with us the next couple of days were so imprinted by selfless service and concern for Mother Gaia. They sound totally surrendered to their work, from sunrise to sunset and even several hours more, performing Homas throughout, caring for the farm, answering calls and mails, organizing satsang/sharings, building a retreat and refuge, investing in a happy, healthy, holy future. The tears in the eyes of Lee when she spoke of her teacher Shree Vasant revealed the source of her aspiration.
Back in France, my son really enjoys sitting with us for every fire and reminds me to prepare it. We also shared the practice with a few other families of friends and all the children were becoming calmer and more focused with the fire, sometimes letting go of a lot of stress and difficult emotions. I believe it may be a precious practice for hyperactive children.
From Shree Vasant's Teachings
On Unfoldment of Higher Consciousness
By attuning the free will to the will of God, this relieves man of the burdens and the multitude of emotional ups and downs he normally must endure. AGNIHOTRA PAVES THE WAY FOR THE UNFOLDMENT OF DIVINE CONSCIOUSNESS. NO BELIEF IN GOD IS REQUIRED. That there is a will higher than our own has to be acknowledged. However, no belief is required. Here also regular practice of some such practices including Agnihotra simply allows man the ascent to higher consciousness. That there is a higher consciousness also is not required to be believed.
THAT THERE EXIST CERTAIN MANIFESTATIONS BY GRACE NEED NOT BE KNOWN TO YOU. YOU NEED NOT CHANGE OR ALTER YOUR OWN PERSONAL BELIEFS, NOR CHANGE OR ALTER BELIEFS OF ANYONE AROUND YOU.
NO BELIEF IS REQUIRED. You must have both eyes open to see clearly. Experience for yourself; then if you choose to believe, believe simply your own experiences.
On Meditation
If I tell you Agnihotra, it is so simple to learn, you will say to me, "And what if I go to this certain mountain in Himalayas and I perform Agnihotra on the top of this mountain?" I say, "Certainly, it would be an interesting experience." Here is a simple example of how people wish to complicate. First of all, the fellow will have to purchase a ticket to India, go there, find the mountain and more. Let him do it as and where he is. Do not seek to attain beautiful experiences in your meditations. We do not meditate for experience alone. It is as if you would give a gift to receive a "thank you" in return.
When you meditate, it helps you  in a much subtler way than actual physical, mental experiences. It also helps those around you. Do not think, "Oh, I had a bad meditation." Sometimes it is delightful, other times very subtle. If there is some disturbance consistently in your meditations, check your diet and posture during meditation.
Regular practice of Pranayama itself may alleviate all or part of the difficulty. This ancient breathing technique is excellent for the mind and bodily functions.
Fivefold Path for Happy Living
Yajnya
HOMA Therapy is the science of purification of the atmosphere through the agency of FIRE. AGNIHOTRA HOMA (YAJNYA) is the basic HOMA. It is tuned to the biorhythm of sunrise/sunset and gives nutrients to the plant kingdom, removes diseases in a certain area and removes tension on the mind. This is the basic process in the science of medicine, agriculture, climate engineering and interplanetary communication.
2. Daan
Sharing of your assets in a spirit of humility. This corrects imbalance in financial matters and creates non-attachment to worldly possessions.
3. Tapa
Self-discipline of body and mind. This is conducive to a change in attitudes of mind and body. It results in a harmonious state of mind.
4. Karma
"You reap as you sow." Always practicing good Karma (actions) diminishes the burden of negative Karma and one begins to invest in his own future. This means that what you do today will bring its fruits. Sowing seeds of love and kindness will bless my garden with plenty of love. Do Karma for self purification.
5. Swadhyaya
Practice Swadhyaya (Self-study) for liberation. Who am I? Why am I here? My work on this planet is to learn to react with total LOVE with each opportunity given to me.
This is the Fivefold Path for happy living on the planet. By practicing the Fivefold Path you become better members of your society, group, religion, community, etc.
Publisher: Fivefold Path Inc.
Parama Dham (House of Almighty Father), 278 N. White Oak Dr., Madison, VA 22727 USA
Editor: Lisa Powers
Published seven times yearly.
Please direct all Satsang correspondence to the Editor.
Opinions expressed by contributors are not necessarily those of Satsang.
ISSN 0735-1321