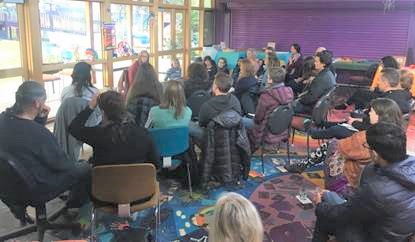 Agnihotra in Australia
September/October 2018 Satsang | Volume 46 #4 | New Era 75
Agnihotra in Australia
Lee Ringma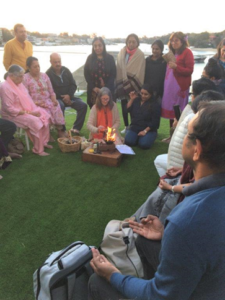 Workshop in Syndey
Recently Frits and Lee Ringma conducted a workshop in Sydney organized by Asha Agarwalla and hosted by Kalpana at her beautiful home on the harbour, Sydney, Australia. It was a large gathering mostly from the local Indian community.  Thirteen people took up Agnihotra and Asha is happy to organize gatherings to keep people inspired and to provide support.
Asha is an optometrist and has made a natural remedy for the eyes which includes Agnihotra eye drops. At the workshop a young woman told us that she had inflammation of the eyes and was told she would need to be on steroids for the rest of her life. The natural eye drops cured her condition quickly and effectively.
(Note: Monika Koch, author of  Homa Therapy, the Ancient Science of Healing, gives the following instructions for preparing Agnihotra ash eye drops:
"Agnihotra eye drops need to be prepared anew daily. Mix one part Agnihotra ash powder with ten parts distilled water. This mixture has to be boiled on low flame for 10 minutes, afterwards pass the mixture through filter paper, triple folded close meshed cheese cloth or similar. From the solution which has passed the filter one can several times a day apply one drop into each eye and also rub one drop onto the skin around the eye."-Ed.)
Agnihotra to Benefit Children and Community
Permaculture designer Jacqui Van Heerden took me to her permaculture food garden at the foot of the Housing Commission Flats in Kensington, Melbourne. These apartments are for low income families. Jacqui applied for a grant and set up the food gardens for the residents to freely use. We performed sunset Agnihotra there, the first of many to come to support the food growing and the uplifting of community.
Jacqui writes, "Over the past years understanding and researching the state of the planet has been integral to my work as a permaculture designer.  Through this time I started to become disheartened at the enormity of the damage we have done to our home  – forest clearing, land degradation, desertification, loss of species, polluted air, water and soil. The big systems of the planet that regulate to ensure we can live on this planet have been disrupted so much by our behaviour that for this Earth to continue to be livable, we actually have to help restore these systems.
"As well, the trauma that humanity sits with. After discussions with colleagues who have worked with trans-generational trauma and family trauma for 30 years – and the recent revelations of 1 in 3 women being abused, plus the greed and abuse of power where 1  percent of people own 99 percent of the wealth–all of this made me think, 'How are we going to restore our planet if humanity is so sick?'
"One of the places I volunteer is at the Venny Adventure Playground, where young children who don't have a backyard can go and play. Over the years we have slowly installed a permaculture organic garden to add diversity, provide nutrient-rich organic food to reduce reliance on industrialized monoculture farming (which is a big contributor to the problems mentioned above) and combat climate destruction and carbon emissions.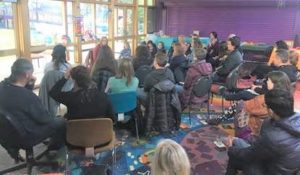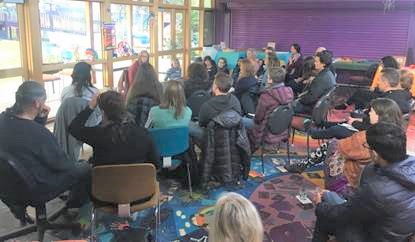 "The Venny Inc. has been facing funding challenges and an increase in demand for care for those at risk and vulnerable.  Danny (who has been a prime carer at the Venny for 15 years) and I spoke about what could we do to further provide a sanctuary.  That's when a friend sent me a link about Homa Therapy.  I emailed Lee to find out what to do.  Lee kindly offered to run a free workshop – Danny and I said yes.  A workshop was planned and over 30 people attended – the first sunset Agnihotra held at the Venny was so powerful – it was palpable."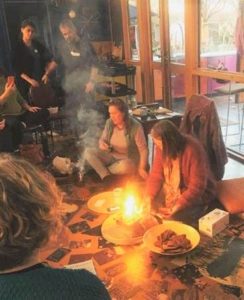 After the workshop a level of peace and calm settled on the Venny. I went to do volunteer gardening a couple of weeks afterwards and was hit by the continuing calm that was present.  We have done a further Agnihotra at the Venny on the recent new moon and will continue to do it at various events to give the Venny a boost; so not only providing a creative playground and good vegetarian food to the children but also a healing atmosphere.
"Agnihotra has been an answered prayer to me as I realize that there is something that can be done which can restore and repair the planet as well as humanity that hooks into a divine process that has been ever present and scientifically proven. At home after doing Agnihotra a few times my husband noticed how the fronds of our big palm tree seemed to suddenly relax.
"I thank Lee and Frits for the 30 years they have been dedicated to this and for sharing this important and valuable science for us to use in these times which require it.
"My hope has been restored to know that we can push back this tide of destruction.  I will continue to do Agnihotra to become part of the solution and take responsibility for my behaviour and my ancestral behaviour that has created the state of our home.  We are caretakers of divine property."
Parama Dham's 45th Anniversary
Ed.
Saturday, September 22nd, 2018 marked the 45th anniversary of the Parama Dham Fire Temple in Madison, Virginia. Inaugurated by Shree Vasant in 1973, Parama Dham was the first Fire Temple in the world established under Parama Sadguru Shree Gajanan Maharaj's dispensation of resuscitation of the ancient science of atmospheric purification for the New Age. The name Parama Dham, which means House of Almighty Father, was chosen by Maharaj Shree.
Parama Dham, Madison, Virginia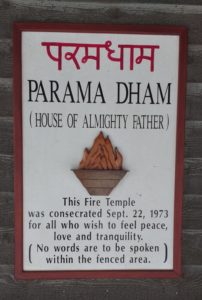 In a Fire Temple there is no priest and nothing is worshiped. Agnihotra atmospheric purification technique is performed there twice daily at sunrise and sunset. Also, a fixed set of mantras is chanted after Agnihotra. With the exception of the mantras, silence is observed in the Fire Temple at all times. The atmosphere becomes surcharged with healing energies.
In a separate room from the main temple room, four hours of Om Tryambakam Homa are performed daily, and more hours of no moon and full moon Om Tryambakam Homa are also done there. The fires are maintained by the Madison Homa community.
Regarding Fire Temples, Shree Vasant once stated, "Time is coming in a few years when extremely strict disciplines will have to be maintained to keep up the purity of these places and the harmony cycles around them. These places will become special refuge for multitudes. It is preferable that they be situated in a large garden area where food can be grown by the YAJNYA method. We need some places in cities also."
Thanks to all the people over the years, from many places, who have helped in various ways to keep Parama Dham going.
Experiences in the Parama Dham Fire Temple
Margie Aranya and Arhat Oliva
*Please note: A Fire Temple is a place where sunrise and sunset Agnihotra are performed daily and silence is maintained all the time except for the Agnihotra mantras and other specific mantras and Sanskrit verses. People may come and sit in silence and experience the energy of Agnihotra.
Over the years, many people have remarked that they have felt profound peace and deeper meditations in Parma Dham. Occasionally, people have had unusual experiences, such as those below.
If you would like to visit Parama Dham, please contact info@agnihotra.org or call 540-407-0273 for visitor information.–Ed.
Since 1998, when I visited for the first time in Madison, Virginia, I have traveled with Parama Dham in my heart, yearning to meet again, but this trip was the time to feel it.
Following the disciplines that had been explained to me, I entered Parama Dham a few minutes before evening Agnihotra. The energy was so intensely enveloping that I could not wait to sit. I lay on the floor face down with my hands in the direction of the pyramid. It was so intense that I had to breathe deeply many times until I felt balanced; I could not stop tears from coming from my eyes. I felt such a vast energy! But at the same time it felt so soft, so powerful, that I stayed for a few minutes like that. Then I went back to my seat in ecstasy. Lisa Powers did Agnihotra in the evening. I enjoyed it until the last second of fire, then went into the next room to perform Om Tryambakam Yajnya. During the Om Tryambakam Yajnya  I felt very clearly as if a vortex of energy was spinning and enveloping my voice; it was as if I entered the mantra. At the end, I experienced a new version of me–more balanced, in peace, full of love. Thank you very much to the Divine for always being there, and to the guardians of the Sacred Fire! OM SHREE.–Margie Aranya
When I entered Parama Dham I sat down and waited for my mother to finish the Om Tryambakam Homa in the next room, so I started meditating in the main temple room. No one else was in the room. When I heard that my mother was finishing the Homa, I stood up and went into the hall to wait for her. Suddenly I heard two little steps behind me, so I turned around and the first thing I saw was a monk.  I didn't see his face, but I saw his clothes. He was wearing a blue and green robe, and he was standing almost in the middle of the room.  I bowed and the monk also did the same. After he bowed, he walked to the big pyramid which is behind the Agnihotra pyramid in the main temple room and stepped into it, and when he stepped in, he disappeared.–Arhat Oliva
Agnihotra Ash Remedies Video
Ed.
A video on preparing Agnihotra ash home remedies, featuring Monika Koch, author of Homa Therapy, the Ancient Science of Healing, is available here: https://www.youtube.com/watch?v=uCXiH0f2PQg 
Scientific Aspects of Agnihotra: Soil and Agriculture, continued (Part 9)

By Dr. Ulrich Berk
Germany
Note: The following scientific studies were based on Agnihotra performed using:
– a copper pyramid of exact size and shape
– the precise materials (pure dried cow dung, pure cow's ghee, less polished rice – and nothing else to be added)
– absolutely correct timings to the second (which will change from year to year and have to be calculated for each address)
– exact Agnihotra mantras.
For some other type of fire procedure which does not follow all these disciplines, results will be different. 
In the last article we quoted reports of FAO (the Food and Agriculture Organization of the United Nations ) saying that only 60 years of farming would be left if conventional farming would continue as it is today.
Also we quoted Shree Vasant Paranjpe stating that the soil has to be rejuvenated first by Homa Therapy, thus creating a healthy micro-flora and micro-fauna.
This is the claim based on Vedic Knowledge.
To what extent could this claim be validated by modern agricultural sciences?
A lot of research work was done on the effects of Homa Farming on soil health at Dharwad Agricultural University, Karnataka, Southern India, under the guidance of Dr. Pramod Basarkar. Four M.Sc. theses had the subject of Homa Farming – focused on studying growth, yield, disease resistance, occurrence of pests, and effect on soil parameters.
Crops planted were soybeans, cabbage, tomato, and okra (ladies' fingers, a vegetable quite popular in Asian and African countries), one thesis each concentrating on one crop.
Results were very good, showing increase in yield, better quality of the produce etc. Today we want to just look at the effect of Homa Farming on soil quality,  soil health.
There were considerable improvements – although all these four studies were only carried out for one season! It would be interesting to see how the soil improves even further if Homa Farming would continue for a couple of years.
The four studies examined nutrient content and biological properties of soil, mainly beneficial microorganisms, but did not go into physical properties such as soil texture and structure, pore space, permeability, water holding capacity, etc.
Soil nutrients: Normally there is a distinction made between macronutrients and micronutrients. Macronutrients are nutrients which are required in large quantities for plant growth. The primary macronutrients are N, P, K – Nitrogen, Phosphorus, and Potassium.
Micronutrients are of same importance for plant growth as macronutrients, only they are needed in smaller quantities.
Microorganisms:  beneficial bacteria and fungi help to decompose organic matter in soil, fix nitrogen from the atmosphere, solubilise phosphorus, etc., and thus make nutrients available to plants. A soil without such microorganisms is dead – not really a soil in the proper sense.
Actinomycetes have characteristics of both bacteria and fungi. Their role in soil is mainly to break down organic matter which is difficult to degrade.
Soil dehydrogenases are used as an indicator of the activity of soil microorganisms; also they play an important role in the biological oxidation of soil organic matter.
Soil phosphatase activity plays a fundamental role in the transformation of phosphorous from soil organic matter into a form available to plants.
The following chart shows the change of soil parameters, especially soil microbial count and content of macro- and micronutrients, compared to control without Homa.
(These studies examined up to 18 different treatment combinations, such as soil application of Agnihotra Ash OR soil application of Homa Biosol. Here we do not want to got into these fine details – as in Homa Farming we use BOTH Agnihotra Ash (as well as other Homa ashes) and Homa Biosol. [Homa Biosol is a liquid bio-fertilizer based on Agnihotra ash. It is prepared under anaerobic conditions in a bio-digester.-Ed.])
Table 1. Effect of Homa Organic Farming on Soil Parameters
It can be clearly seen that Homa Organic Farming improves soil quality in all the parameters measured. These results were obtained after just one season. It would be worthwhile to continue such a project and see how soil health improves within a longer period, say three years!
This time we concentrated on the effects of Homa Organic Farming on soil quality.
In the next article we will examine how plant growth, yield, and quality of the produce were affected, and also see the effect on plant health and disease resistance.
Forgiveness
Parvati Rosen-Bizberg of Ecovillage Bhrurgu Aranya, Poland, received the following message from Shree Vasant in meditation.-Ed.
September 12, 2018 Shree on Forgiveness
What is TRUE FORGIVENESS is a deep life-transforming process which leaves one in a state of acceptance, of true deep compassion and unconditional love.
To simply say, "I am sorry" is only a beginning or, in some situations, what you are finally able to tell the other person once you really see and accept your part in the equation.
TRUE FORGIVENESS requires one to open to the truth, unafraid, bravely treading emotionally-charged waters.
The outcome of your forgiveness is not necessarily the other person's awareness, nor will it necessarily initiate his/her forgiveness. The result is your freedom from binding ties that occur and reoccur throughout this life and subsequent lives until the lesson is learned.
FORGIVENESS is like cutting ties which hold your spirit captive and bind you to karmic ties with that person—that or the next person with similar qualities. You can break the cycle with FORGIVENESS.
In so doing, you consciously let go of attachments, unfulfilled desires, and erratic, unexplained needs that you even cannot understand.
FORGIVENESS requires a deepened state of consciousness, which all of you here are capable of reaching.
It is in this state that one can truly embrace another soul and step forward on the path to Unity.
It is Our fervent wish that all of you clear the cobwebs of resentment, part the sea of fears, open your hearts to the new, to that which can nourish and uplift you and ultimately all whom you meet.
Then, you can work together in Unity without the need to compete with each other or compare one to the other.
TRUE UNITY is fulfilling and it is the way of PEACE.
Walk in Light and in Joy.
OM TAT SAT.
Satsang Q & A
Ed.
Q: I am interested in beginning a regular practice of Agnihotra. I am looking for a supplier of ghee and cowdung, but I am also vegan and mean no disrespect to anyone, but want to make certain that the ghee and cowdung are from sources that do not harm their cattle in any way whatsoever.
"Harm" would include taking their calves away before they are grown or killing calves/retired dairy cows for meat, and not allowing their animals to live out a normal natural lifespan. I can't personally be content with making offerings that are a product of any human cause related suffering.
A: For ghee, our research has shown Ancient Organics brand, in California, to be an ahimsa (nonviolent) source. They sell by mail order. For cowdung, agnihotrasupplies.com has some cowdung available which meets your requirements.
From the Vedic point of view, Agnihotra is an ordained duty for all human beings, to heal the planet and keep the energy cycle of the planet in harmony. Ghee is a non-negotiable requirement for the process. Agnihotra benefits all life forms, including animals, and the plant life which supplies cow fodder. There are wonderful accounts of animals being healed by Homa Therapy on the www.homa1.com website. Over the years, many people have written to us about the beneficial effects of Agnihotra on their pets, livestock, the birds near their house, etc. Pollution takes a heavy toll on the animal kingdom. Agnihotra helps reverse the trend.
Homa Therapy teachers around the world advocate the use of organic ghee. Some Homa Therapy practitioners are connected to the work of cow sanctuaries. A large effort in Homa Therapy work is the formation of Homa farms around the world, where animals are treated humanely.
Certainly, the purer the ingredients of Agnihotra, the better the result. However, availability of such strictly pure cowdung and ghee are very limited, and would supply only a small number of the people who currently practice Agnihotra. We feel that Agnihotra is so urgently needed now, to counteract so many forms of pollution, heal our planet and benefit all life forms, that it is more important that people perform it, even if all the ingredients are not absolutely ideally sourced. People from all over the world have written to us, telling of the the wonderful effects/healings they have experienced through Agnihotra, and most of them are probably using ghee and cowdung from ordinary sources.
We also feel that Agnihtora, when correctly performed, helps to shift consciousness and thus bring real change. This helps bring man into the right relationship with the cow. Agnihotra's effect on plant life and the environment helps support the cow's environment.
We feel that the many benefits of Agnihotra far outweigh any effects from less ideally sourced ingredients.
Healing with Homa Therapy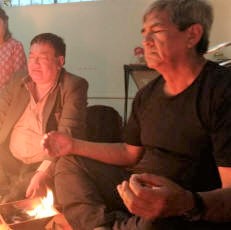 Carlos Trivozo
Centro Homa Huánuco 
Huánuco, Peru, South America
 I have had only 3 sessions with Agnihotra, but now I sleep better. Before, I only slept 2 to 3 hours and I woke up with headache and pain in my eyes, due to the insomnia. Before, I took pills and did many things, but without the desired effect. Since I started with Homa Therapy I'm sleeping better.
Vaini Lachalam

Kharagpur, West Bengal, India
My mother suffered from third stage uterine cancer.
However, after doing Agnihotra regularly and taking the Agnihotra ash, she was healed. There was no need for an operation.
This happened at the beginning of our Agnihotra practice.
Now my family has been performing the healing Homa fires for 10 years.
From The Orion Transmissions
received by Parvati Rosen-Bizberg
Jordanow, Poland
August 13, 2018 On Children
Yes yes yes. Children need grounded energy and to feel safe in the world. Agnihotra at sunrise and sunset will create a cleansing, healing environment, which will change one's life.
On Clearing One's Way
One must clear away the cobwebs of illusion and of disillusion embedded in one's consciousness from lifetimes.

Walk in Light.
OM TAT SAT
September 9, 2018
(On this day we celebrated the 22nd anniversary of our healing temple. These messages were received during Rudra Yajnya in the temple.)
Shree:
On this auspicious date here at our Bhrugu Aranya, blessings are being showered upon you all.
The Mantras are seeded into the atmosphere from the repetition of Rudra Yajnya chant. There is an instant recognition of these Mantras and they are drawn into the trees, into the plants, stones, and soil of this sacred place.
Those who learn these ancient Mantras with relative ease in this life have often been seeded with the Mantras from previous incarnations. For them as such, it is an instant recognition as well, and their souls are drawn to and awakened by repetition of the Mantras.
Humans, as well as Nature, respond to Mantras in a similar manner. It is like a light is suddenly switched on. We commend all who carry the Mantras into the next generation, and uphold the sacred practice of Yajnya.
Orion:
Yes, yes. In this New Year, which begins in the month of September, by the ancient Hebraic calendar, we salute the ones who continually, year after year, keep the ancient healing fires burning. This will one day be well known and respected. Time is stretched to include those who have come with pure hearts.
Yes, yes. In ancient caves in Himalaya Mountains, such fires continue untended by human beings on the physical plane—but continually maintained round-the-clock on the subtle planes.
If one sits for meditation in the caves and is steeped in silence, one will hear the Mantras being chanted through the ethers.
If you go to ancient sacred sites where once sacred Mantras were chanted, you will hear them, however faintly, being emitted through the stones, carried by the wind, resonating with all of Nature.
When you perform Agnihotra at sunrise/sunset, you are seeding Mantras into the atmosphere, which will resound throughout Nature for millenniums to come.
As you connect with the ancestors, you are simultaneously connecting with generations to come. And the cycle remains unbroken.
We are humbly in your service, all who carry the Light forward in time.
We are, Orion.
For further information:
www.oriontransmissions.com
From Shree Vasant's Teachings
The Unstruck Music (ANAHAT)
It was the sound of the abstract which Prophet Muhammad heard in the cave of Gare Hira when He became lost in His Divine ideal. The Quran refers to this sound in the words, "BE! AND ALL BECAME." Moses heard this very sound on Mount Sinai when in communion with God.
The same Word was audible to the Christ when absorbed in His Heavenly Father in the wilderness.
The flute of Krishna is symbolic of the same sound allegorically explained.
This sound is the source of all revelation to the Masters to whom it is revealed from within. It is therefore that They know and teach the one and same TRUTH.
"The knower of the mystery of sound knows the mystery of the whole universe. Whosoever has followed the strains of this sound has forgotten all earthly distinctions and differences." Inayat Khan.
"In the beginning was the Word and the Word was with God, and the Word was God. The same was in the beginning with God. All things were made by Him; and without Him was not any thing made that was made." (St John 1:1-3)
NADA BRAHMA in Sanskrit means Sound, the Creator.
Attunement to this inner music wipes off all loads of Karma and leads one to the state of, "Not my will, but Thy WILL be done."
This is RE-LIGARE (binding again to the source) from which the word "religion" comes.
This is YOGA. (English word "yoke" means binding the animal to the cart.")
ANAHAT NADA (unstruck music) is the method.
The NEW AGE IS USHERED and this method will be used to lift people up to the HOME OF THE FATHER.
To facilitate this experience in the world of turmoil HEALING FIRE of AGNIHOTRA is the easiest way.
If you keep some rooms of silence all around the world, where only AGNIHOTRA and certain other fires and Mantras are done, tuned to the biorhythms as stated in the science of HOMA THERAPY, you create an atmosphere where automatically the unstruck music manifests within oneself. Believe what you experience.
THE UNFOLDMENT OF THE SCIENCE OF THE SPIRIT BRINGS ALL PEOPLE TOGETHER ABOVE AND BEYOND THEIR RESTRICTED IDEAS OF RELIGIONS, SECTS, AND GROUPS. THEN THEY KNOW THAT ALL PROPHETS BY WHOSE NAME THEY SWEAR CAME FROM THE SAME ALMIGHTY FATHER TO DO HIS WILL.
Fivefold Path for Happy Living
1. Yajnya
HOMA Therapy is the science of purification of the atmosphere through the agency of FIRE. AGNIHOTRA HOMA (YAJNYA) is the basic HOMA. It is tuned to the biorhythm of sunrise/sunset and gives nutrients to the plant kingdom, removes diseases in a certain area and removes tension on the mind. This is the basic process in the science of medicine, agriculture, climate engineering and interplanetary communication.
2. Daan
Sharing of your assets in a spirit of humility. This corrects imbalance in financial matters and creates non-attachment to worldly possessions.
3. Tapa
Self-discipline of body and mind. This is conducive to a change in attitudes of mind and body. It results in a harmonious state of mind.
4. Karma
"You reap as you sow." Always practicing good Karma (actions) diminishes the burden of negative Karma and one begins to invest in his own future. This means that what you do today will bring its fruits. Sowing seeds of love and kindness will bless my garden with plenty of love. Do Karma for self purification.
5. Swadhyaya
Practice Swadhyaya (Self-study) for liberation. Who am I? Why am I here? My work on this planet is to learn to react with total LOVE with each opportunity given to me.
This is the Fivefold Path for happy living on the planet. By practicing the Fivefold Path you become better members of your society, group, religion, community, etc.
Publisher: Fivefold Path Inc.
Parama Dham (House of Almighty Father), 278 N. White Oak Dr., Madison, VA 22727 USA
Editor: Lisa Powers
Published seven times yearly.
Please direct all Satsang correspondence to the Editor.
Opinions expressed by contributors are not necessarily those of Satsang.
ISSN 0735-1321