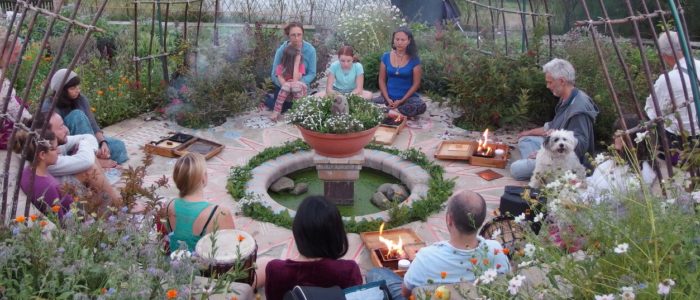 Ecovillage Bhrugu Aranya Summer 2017
September/October Satsang 2017 | Volume 45 #4 | New Era 74
Ecovillage Bhrugu Aranya Summer 2017
Summer at Ecovillage Bhrugu Aranya was rich with visitors from many countries, including
United States, Australia, Switzerland, Germany, Canada, China, Hungary, India, Turkey,
Thailand, Israel, Chile, Brazil, Holland, Italy, Romania, and Poland! As always, there was a lively
interchange of ideas and experiences, as well as healing received from the many fires
performed here daily. We truly are One World.
We were blessed with enthusiastic volunteers from around the world as well, who learned
hands-on Homa Organic gardening, happily participating in Agnihotra and Yajnyas. All
worked in our bountiful Homa organic gardens filled with veggies, varying from broccoli to
pumpkin, corn to tomatoes and a myriad of herbs. Our gardens never cease to amaze
even us, as our soil was previously laboratory-tested as so poor that nothing would grow. We
continually realize firsthand the wonders of Homa to balance Nature.
So many memories. We had the joyous visit from a lively group of young children from a
Waldorf School, accompanied by their inspired teacher, Agata. Parvati and Asia led the
children in Mandala drawing for creative self-expression. After the drawing, the children sat mesmerized by the very calming Agnihotra fire at sunset, followed by the soothing sounds of crystal bowls.
In August, three inspired Turkish filmmakers came to document our story, as part of their
government funded project on Ecovillage life. We had explained that we are not a huge
ecovillage, but their interest in us particularly was the balance of physical and spiritual life.
They attended all the fires, shared their Sufi songs with us, so happy to feel so welcome to
share them. They filmed for three days and we all bonded as family.
Throughout the busy summer months, we attended several festivals and workshops. Jarek
and Barry taught Homa Therapy workshops in Holland, while Suwindi taught Homa Therapy at women's gatherings in England. Asia and Rory led a Homa Herb workshop, teaching how
to use herbs for healing, including Agnihotra and herbal remedies for family health. Jarek,
Maria and Barry led Agnihotra classes in Krakow. Our 24-hour Yajnyas on full and new
moon days at the farm were well-attended by guests and volunteers alike.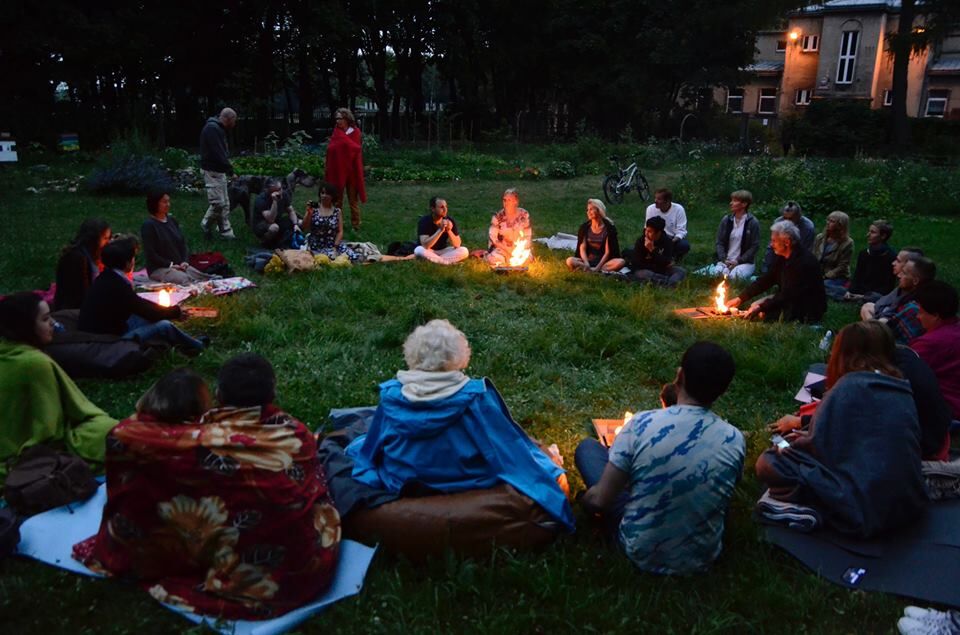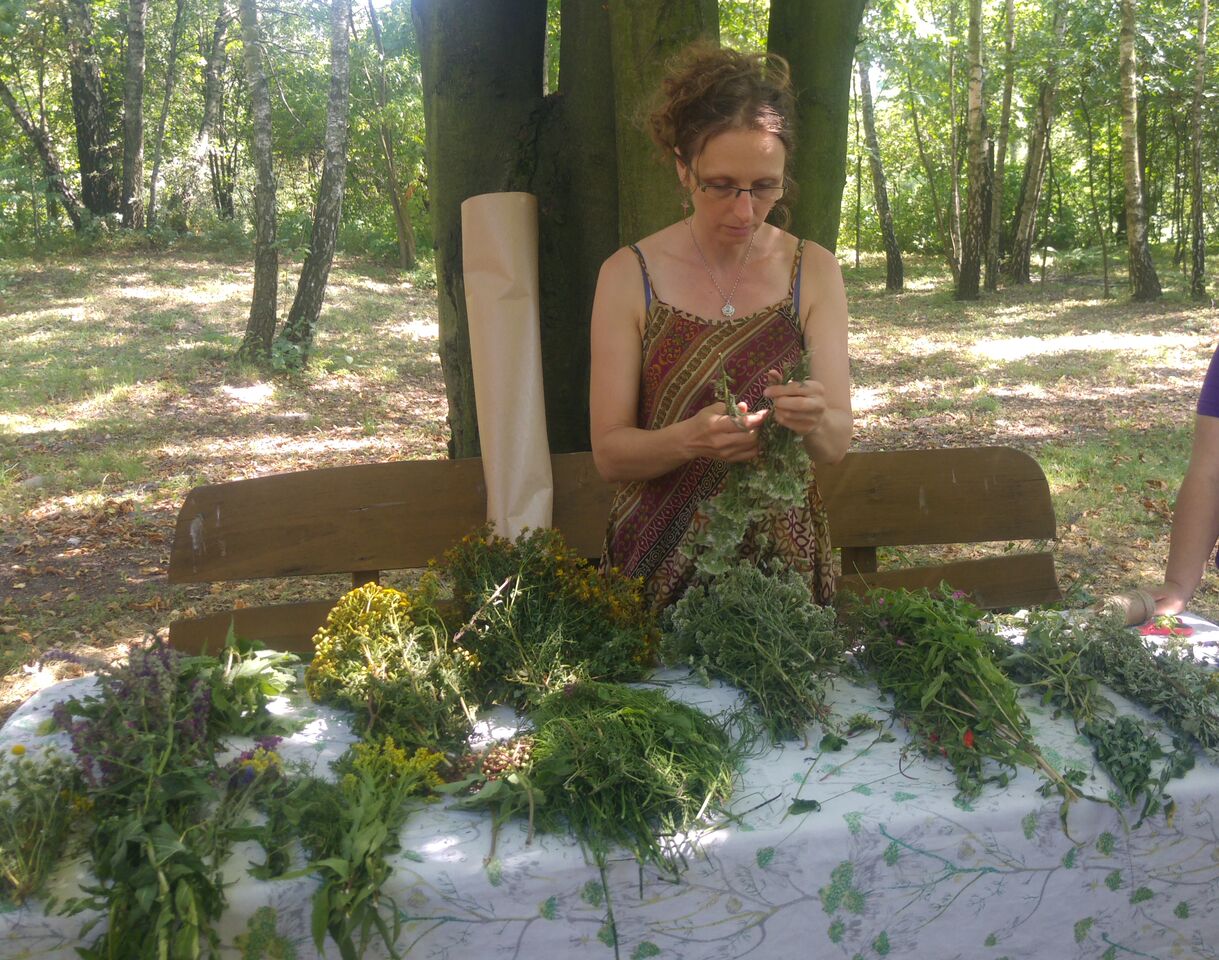 Women's Circles every Thursday evening were lively, rich with songs from the various
cultures of the women who joined us. Our dear friend Anne Godfrey recently led the
women in a Divine Feminine Awakening workshop, focusing on creativity and visioning
through art and collage. We also have incorporated Self-Development classes and are
beginning a creative writers group here.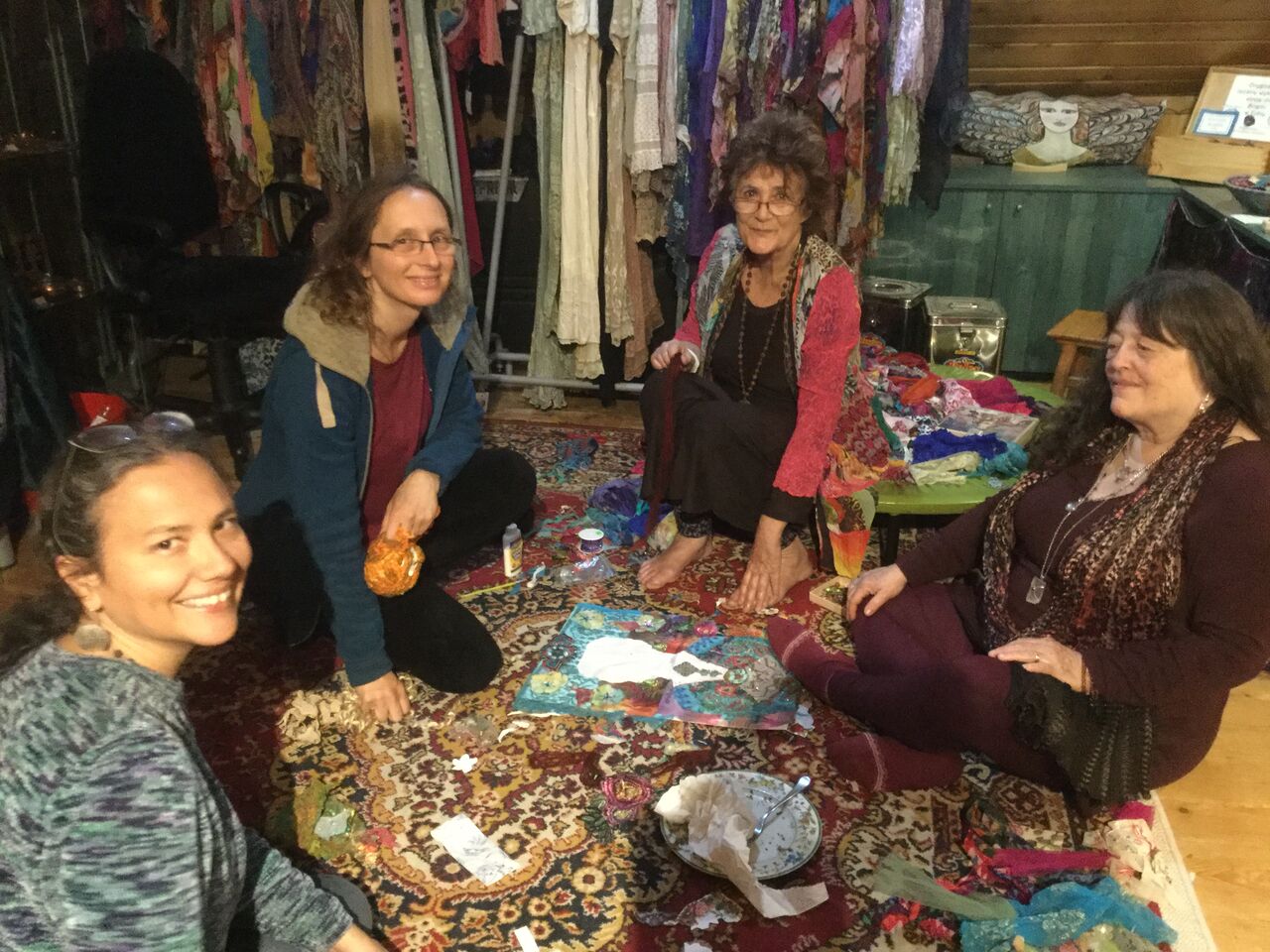 Every evening at sunset, we gathered for healing circles, with Fire and Sound held in the
Mandala garden, during which time we sent healing and prayers of comfort and solace to
our brothers and sisters around the world. We extend our solidarity to all who stand for
Peace, Unity and Equality around the world.
Now the winds of change are shifting from summer's glorious presence into autumn. As we
preserve our garden's bounty for the long winter months, we begin the introspective journey, still warmed by the loving hearts of newfound friends and the continual generation of new
ideas which we will incubate and nurture, until Spring arrives once again, ready for new
beginnings.
We are still welcoming visitors and input on how we can better serve the global community–as always, in gratitude for our lives, and prayers for all those in need around the world
whose names and faces we remember in our hearts.
Ecovillage Bhrugu Aranya
"This place is magical. The energies here are quite powerful and the place heals you. Bhrugu Aranya is an ancient place of fire which has been rediscovered in this time. We feel we are guardians of this sacred site. Often Devas and Angels have appeared here."
This ancient sacred site lies in the majestic Tatra Mountain region of southern Poland. The atmosphere at Bhrugu Aranya is infused with high vibrations from Ayurvedic healing fires that are maintained daily. It is this energy that radiates to heal the Earth.
At this site, an organic Homa farm and community began in 1995 and is growing. We are now fourteen adults, four children, three cows, many cats, ducks, and three dogs.
Jarek Bizberg started a non-profit ecological/educational Homa Therapy Foundation to teach Vedic methods of Homa organic farming, alternative medicine and atmospheric purification. We offer teachingof this ancient science of Agnihotra all over Europe free of charge.
The other community members offer a myriad of skills in herbal lore, massage, healing, organic gardening, vegetarian cooking, music, and art therapy. We hold women's circles of Light, as well as healing circles. We are a creative group who value the arts as an integral part of organic living.
We invite visitors to experience transformation in a peaceful yet energetic, creative, healing environment. A place where Spirituality meets Ecology!
www.homatherapypoland.org
On Facebook: Ecovillage Bhrugu Aranya
Centre of Light Update
As many of you are aware, Ecovillage Bhrugu Aranya in Poland has been running a fundraising campaign to help raise money for the ongoing construction of Centre of Light. This year we have raised approximately 50,000 Euros ($59, 000) for the current Centre of Light campaign! Although our target for this phase is 90,000 Euros, this is an amazing achievement and we are all so very grateful for all the generous donations that have come from around the world.
The builders are now continuing construction of the next level and our goal is to have the structure and roof completed before the onset of winter. We are, therefore, continuing our fundraising efforts, as we still need 40,000 Euros ($48,000) to achieve this aim.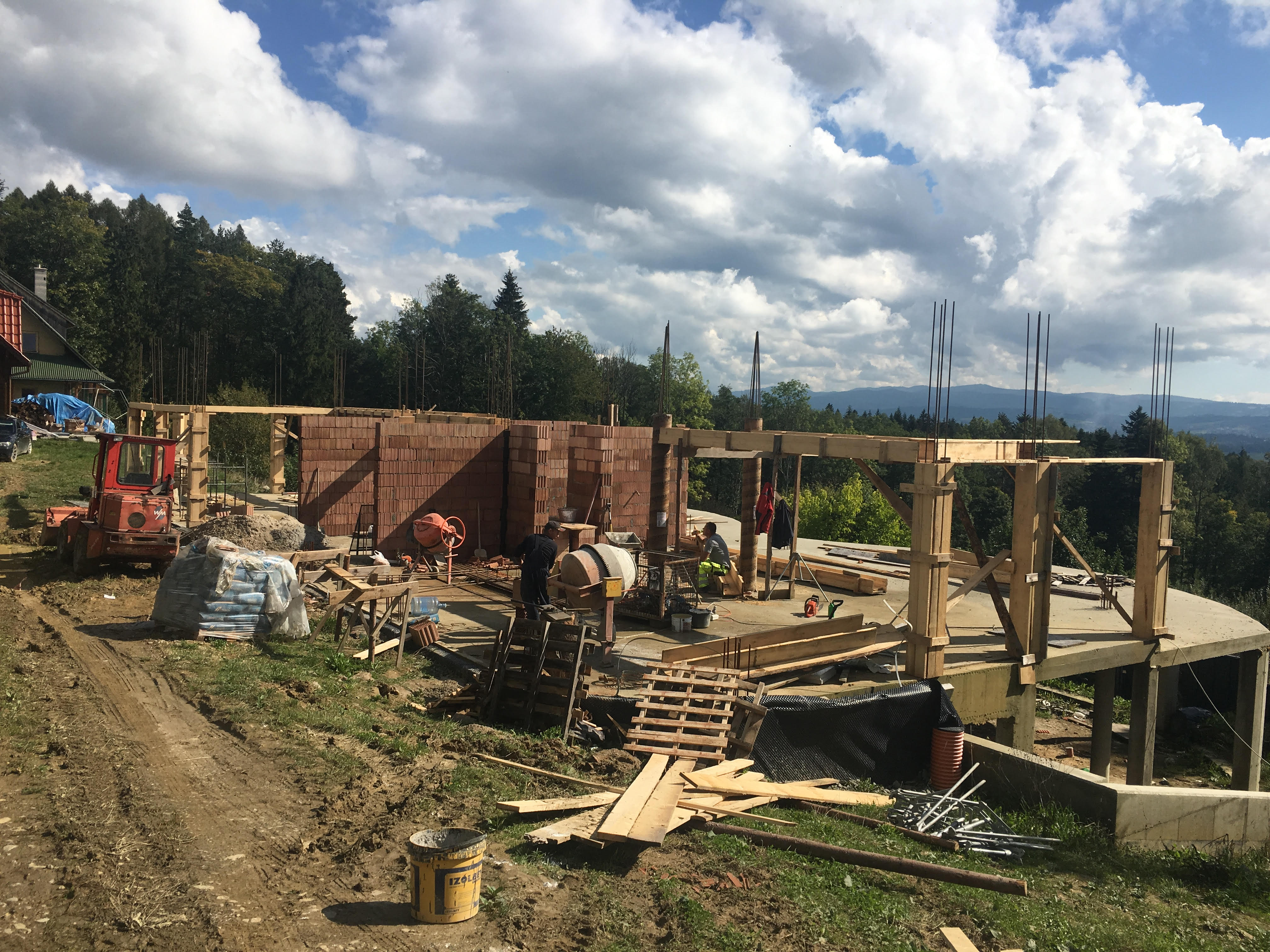 We are also making preparations to have the clay ready for the natural straw/clay walls which we will start in Spring. This is why it is so urgent to have the roof completed, as it will protect the clay work and allow us to conduct natural building workshops to help in this labour-intensive phase.
On September 9th, we celebrated the anniversary of our Healing Temple, which was inaugurated by Shree Vasant Paranjpe 21 years ago.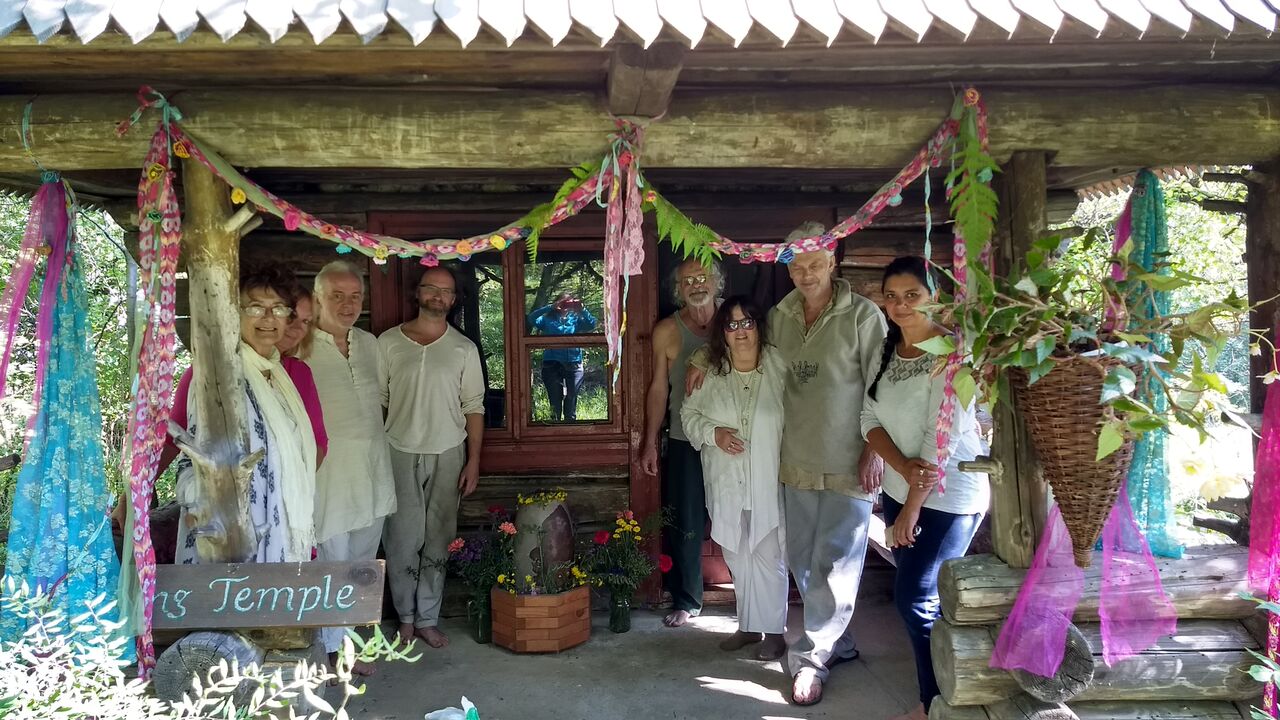 As long as Shree Vasant was traveling, He never failed to come to Bhrugu Aranya for the September 9th celebrations. Shree made the caretakers of this land aware of how important it is to maintain the fires here and to create a way of life that revolves around Agnihotra and Yajnyas.
Bhrugu Aranya is an ancient land of Yajnya and it is one of three Points of Light on the planet that are being maintained for planetary healing as revealed by Shree Vasant.
Part of this plan is to create the Centre of Light, not only as a venue for teaching Homa Therapy, but also as a safe haven for the coming times. It was Shree Vasant who instructed us to build the Centre of Light, and He continues to bless and guide this project.
We are forever grateful to those who have generously donated towards the Centre of Light. We need to make a final push to raise the remaining amount necessary to complete this next phase of building. We have all the faith that it will be done, but we need your continuing support and help to manifest the Centre of Light.
If you wish to donate please visit our campaign page.
We are always open to fundraising ideas and to new contacts who can help us. If you have any suggestions please don't hesitate to contact us. http://bit.ly/centreoflightpoland
If you are from the US and would like a tax deduction:
Please donate through our affiliate NGO in the U.S., Fivefold Path Inc., and choose Centre of Light, Poland project.
With gratitude and love,
All of us from Ecovillage Bhrugu Aranya Homa Community
Living Space Available at Ancient Oaks Homa Farm
Ancient Oaks Hama Farm, owned by the Baltimore Homa Community, is a sweet, secluded sanctuary nestled in 28 acres of rolling hills, only  3 minutes from Main Street, Westminster, Maryland.    This beautiful land has two small streams, fenced fields, a large community center and barn, and three Scottish Highlander cows. The atmosphere here is fortified with the healing energy from the daily practice of Agnihotra and Yajnya fires. This year was our third year of our CSA (Community Supported Agriculture) which supplied 50 families with nutritious Homa organic food.
Are you contemplating moving out of the city and living in the country? 
Perhaps living on a peaceful, vegetarian farm with the wide open sky, fresh air and vibrant land is calling you?
We have two living rental spaces available in our comfortable farm house. One bedroom is available on the first floor, complete with a shared open common kitchen and living room with fireplace at $450/month. Also available is an apartment upstairs overlooking the property, with a bedroom, living room, a new kitchen and bathroom for $1,000/month.
If interested, please contact: Patricia Norton patricianorton38@gmail.com
Happy Birthday, Parama Dham!
Ed.
Friday, September 22nd, 2017 marked the 44th anniversary of the Parama Dham Fire Temple in Madison, Virginia. Inaugurated by Shree Vasant in 1973, Parama Dham was the first Fire Temple in the world established under Parama Sadguru Shree Gajanan Maharaj's dispensation of resuscitation of the ancient science of atmospheric purification for the New Age. The name Parama Dham, which means House of Almighty Father, was chosen by Maharaj Shree.
Parama Dham, Madison, Virginia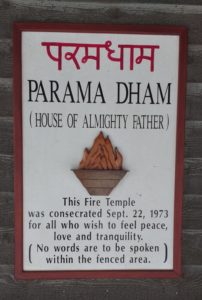 In a Fire Temple there is no priest and nothing is worshipped. Agnihotra atmospheric purification technique is performed there twice daily at sunrise and sunset. Also, a fixed set of Mantras is chanted after Agnihotra. With the exception of the Mantras, silence is observed in the Fire Temple at all times. The atmosphere becomes surcharged with healing energies.
In a separate room from the main temple room, four hours of Om Tryambakam Homa are performed daily, and no moon and full moon Om Tryambakam Homas are also done there. The fires are maintained by the Madison Homa community.
Regarding Fire Temples, Shree Vasant once stated that, "Time is coming in a few years when extremely strict disciplines will have to be maintained to keep up the purity of these places and the harmony cycles around them. These places will become special refuge for multitudes. It is preferable that they be situated in a large garden area where food can be grown by the YAJNYA method. We need some places in cities also."
Thanks to all the people over the years, from many places, who have helped in various ways to keep Parama Dham going.
Effects of Agnihotra and Agnihotra Ash on Soil
Dr. Ulrich Berk


Earlier we had discussed how Agnihotra purifies our atmosphere and the water resources. Now let us have a look into the effect of Agnihotra on soil. Mostly people are not aware of how important soil is – although it is obvious that our lives depend on the thin layer of topsoil as we all feed on plants (even non-vegetarian people do indirectly), and most plants need soil for growing.
Conventional chemical farming has led to a degradation of our soil on large scale. With Homa Farming techniques this degradation can be reversed and healthy, productive soil will be restored, on which healthy plants will thrive.
When you perform Agnihotra and the other techniques of Homa Organic Farming, following are the effects on the soil:
§ Aeration is increased.
§ Moisture holding capacity is increased.
§ Both acidity and alkalinity are controlled.
§ Salinity is removed.
§ Beneficial microbes thrive.
§ Earthworms multiply at a higher rate.
Some of these results have just been confirmed by observations. E.g. it was found that in Tapovan, a Homa Farm in India (the only place we know of where continuous Tryambakam Yajnya is going on for many years), in a very dry summer you had to dig half a meter deep to find moisture in the soil. On neighbouring lands you had to dig one meter deep!
Regarding other points, scientific studies are available. One was done on one farm with highly alkaline soil; pH was 9.86. The land was divided into three plots. One was cultivated conventionally with agrochemicals; the second plot was cultivated organically, using vermicompost; and the third one was cultivated organically with vermicompost and Agnihotra Ash.
After only one season – approximately three months – you see that conventional farming did not change the pH, organic farming brought the pH a little bit down, but Homa Organic Farming nearly brought the pH back to nearly normal – IN JUST THREE MONTHS!
| | |
| --- | --- |
| SOIL TREATMENT | pH |
| with agro-chemicals | 9.86 |
| with Vermicompost | 9.06 |
| with Vermicompost + Agnihotra ash | 7.67 |
It is interesting that on the other hand, with highly acidic soil, Homa Organic Farming brings the pH up, as we have seen in Bhrugu Aranya, a Homa Farm in Southern Poland. Before Jarek and Parvati started farming there, a government agricultural engineer came and tested the soil. The result was discouraging: pH was 4.4, and the agricultural engineer said that nothing will grow on this soil unless you add a lot of lime to it. For that, money was not available but still all kinds of vegetables were growing on this land just because of the Homa atmosphere and adding of Agnihotra Ash. Some time later the pH was measured again and it had come up to 7.2. That means that Agnihotra Ash does not just push the pH in one direction – it brings Nature back to harmony.
Very important for soil health and soil fertility are biological properties. We have seen that earthworms thrive in Homa atmosphere. Earthworms are actually an indicator of healthy soil, but also different kinds of microbes are essential, e.g. phosphorus solubilizing bacteria.
All plants need phosphorus; however, regardless of how much phosphate is added to the soil, only the water soluble portion can be utilized by the plant. One study done long time ago by Dr. Tung Ming Lai, Denver, Colorado, USA, showed that water solubility of phosphorus in soil increased if Agnihotra Ash was added:

The question arises of how this effect comes about. It is known that certain bacteria can help in turning non water soluble phosphorus into water soluble phosphorus, and the hypothesis was that Agnihotra Ash supports these bacteria. A recent study done in Ratnagiri, South India (a place famous for the Alfonso mangoes) confirmed this hypothesis: By adding Agnihotra Ash, the count of phosphate solubilisers increased 1000 fold.
Another kind of useful bacteria in soil are nitrogen fixers. Their count increased 100 fold.
This explains why in Homa Farming it is not necessary to add chemical fertilizers. The following graphic shows the comparison of useful bacteria with and without Agnihotra Ash (using different media to cultivate those bacteria for measuring).
The researchers summarized their findings saying that, "…addition of Agnihotra ash to the soil positively increases the number of effective organisms while suppressing the fungal growth.
"In all the samples, the ratio of positive to negative micro-organisms is 100:0. i.e the soil contains 100 % positive or effective microorganisms upon treatment with Agnihotra ash."
It is really a powerful substance, this Agnihotra Ash!
From the Orion Transmissions
received by Parvati Rosen-Bizberg
Wysoka, Poland
December 18, 2016 On Faith and Teaching Children
Yes, yes. These are uncharted waters, a new chapter in life. The unfamiliarity can feel disconcerting, but remember—the waters of the heart are well-charted.
Put your full faith in Almighty. In every instance, He will provide comfort, wisdom, protection and pure love.
It is in these times when darkness seems to reign in the world, that all of you must go within and UNITE with ones of like mind and heart.
RESIST VIOLENCE.
Resist the evils of the world.
Strengthen inner peace and rise above chaos and turmoil.
Teach your children through peace and tolerance, through love and forgiveness. They look to you for direction.
If only you had known to go within during times of strife in your lives.
You can save your children unnecessary steps by showing them the way to go within and find their inner strength, how to trust and move ahead in Light.
Let this be your legacy.
Blessings to all.
We are, ORION.
For further information:
www.oriontransmissions.com
Healing with Homa Therapy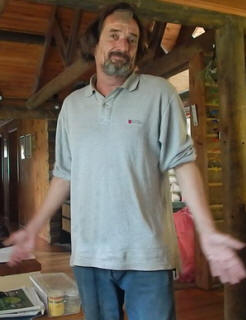 Diego Avelinda Ferreyra
Granja Satsang, Curacaví, Chile, South America
I am 52. I suffered from a trauma to the femur's head and they had to replace my hip with a prosthesis. That was about 8 years ago, but for the last 6 years, it was quite painful. I always had pain, 24 hours continuous pain.
I work here at the Satsang Farm, for a few days each week, and I received the Agnihotra ash and started to take it. In just 2, 3 days, the pain has gone and so far, nothing hurts at all! Really magical!
At first I took the Agnihotra ash 3 to 4 times a day; now I take it 2 times a day in a big glass of water–one coffee spoon filled with Agnihotra ash, which I pass beforehand through a strainer. It does not have any taste, nor does it smell.
Before, to calm the pain I took a morphine derivative, but I also did not want to abuse that, because it is extremely addictive and I had no interest in that. So I had no choice but to suffer.
My job is cutting wood, cutting grass, doing everything that is fieldwork. Now, all I've done is taken the ash and the pain went away. I will not stop taking this ash, because I do not want the pain back. Thank you very much!
Ana Sobarzo Díaz
Puerto Montt, Chile, South America
I'm 62. I've known Homa Therapy since 2004. Before that time, I lived in a very difficult situation, divorced and with 3 small children. The whole world came down on me, everything was destroyed. When bad things happen, it seems that everything goes wrong.
When I saw the Homa Fires in a meeting with Mr. Juan Ojeda, they immediately echoed in me. Instantly I started to feel good and I began practicing Agnihotra in my house. I had heard many people saying that the practice of Agnihotra at home brings harmony, that there are less or no arguments and fights, and I needed that!
I did not question the reality of this and opened a space in my house every Thursday so that other people could also take advantage of Homa Therapy. Many people began to come and many healings were happening. I maintained this service to the community for 10 years, until we moved.
And there was harmony in my home! Years passed and we realized that the Healing Fires were working, because in other houses there were fights and arguments.
We also felt protected. In accidents, nothing happened to us.
The fires harmonize the whole being; they bring peace and act in a plane that opens the senses. People sometimes came stressed and had a hard expression on their face. After Agnihotra they left relaxed and looked more beautiful.
My personal life began to take a wonderful course. I understood many things in my life and understood why somethings did not turn out. When I was in harmony, everything else came automatically, everything had a flow and when it did not come, I knew that this was the best thing. When one is in harmony, the children and the family also perceive it and they are calm, too. And one has a closer relationship with his soul. The Fire transmutes and transforms. The mind begins to change. If one is very aggressive, nervous, desperate, anxious, the Fire transforms the mind and you calm down, little by little.
From Shree Vasant's Teachings
On Responding with Love
If one has jealousy, anger, greed, lust, if one is consumed with fear, hatred, resentment, one is open to negative energies or DARK FORCES to play on one's otherwise peaceful disposition. Once one opens the door to negativity, one becomes more vulnerable to manipulation. No matter what anyone says or does I should always respond with love. You can say the same statement with love or anger. So why not say it with love?
On Forgiveness
First thing now is FORGIVENESS. If you have judged another or been jealous of another, angry towards another, FORGIVE now. FORGIVENESS SHALL CLEANSE YOU COMPLETELY. Without practicing forgiveness, you will not be able to move further.
On Anger
One can learn to see the incidents in life just as the tide on the ocean. Waves rise and fall but the ocean accepts both rise and fall. High tide, low tide, all the same. If someone becomes angry you need not become angry. Until the moment you take on their anger, it is only their anger, not yours. You can even say, "This is your anger, not mine. I will not respond to it with anger from my side." Think instead, "How may I serve?" and the whole thing changes. You are more than that lowly anger. Let us rise to the occasion and serve our fellow man.
Fivefold Path for Happy Living
1. Yajnya
HOMA Therapy is the science of purification of the atmosphere through the agency of FIRE. AGNIHOTRA HOMA (YAJNYA) is the basic HOMA. It is tuned to the biorhythm of sunrise/sunset and gives nutrients to the plant kingdom, removes diseases in a certain area and removes tension on the mind. This is the basic process in the science of medicine, agriculture, climate engineering and interplanetary communication.
2. Daan
Sharing of your assets in a spirit of humility. This corrects imbalance in financial matters and creates non-attachment to worldly possessions.
3. Tapa
Self-discipline of body and mind. This is conducive to a change in attitudes of mind and body. It results in a harmonious state of mind.
4. Karma
"You reap as you sow." Always practicing good Karma (actions) diminishes the burden of negative Karma and one begins to invest in his own future. This means that what you do today will bring its fruits. Sowing seeds of love and kindness will bless my garden with plenty of love. Do Karma for self purification.
5. Swadhyaya
Practice Swadhyaya (Self-study) for liberation. Who am I? Why am I here? My work on this planet is to learn to react with total LOVE with each opportunity given to me.
This is the Fivefold Path for happy living on the planet. By practicing the Fivefold Path you become better members of your society, group, religion, community, etc.
Publisher: Fivefold Path Inc.
Parama Dham (House of Almighty Father), 278 N. White Oak Dr., Madison, VA 22727 USA
Editor: Lisa Powers
Published seven times yearly.
Please direct all Satsang correspondence to the Editor.
Opinions expressed by contributors are not necessarily those of Satsang.
ISSN 0735-1321