Healing with Homa Therapy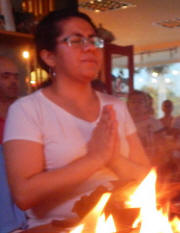 Amaris Villada
Armenia, Quindío, Colombia, South America
I learned about Homa Therapy last year, in the month of June. I arrived at the BoticaSol with a high level of stress. My mind was totally clouded and I practically did not want to live.
The first experience, thanks to Homa Therapy, was that I started to feel calm. I took the Agnihotra ash and slept peacefully for the first night in a long time. Before, when I was sleeping, I heard everything that went on around me–the motorcycle that passed by, even a cockroach, etc. I was aware of everything. And I woke up much more tired than before going to sleep. I had always negative thoughts, bad temper and anger towards everyone.
For work reasons, I left Armenia for five months in order to go to the region of Cauca. There, I also was exposed to a lot of stress. I returned to Armenia in the month of December. I felt as if something was squeezing my head. I went back to doing Agnihotra, took the Agnihotra ash and began to feel calm again.
For the last month, I have been doing Agnihotra. It brings good feelings of happiness and joy.
In my house, we have also been a little calmer. We are consuming the Agnihotra ash in salt and sugar, in hot chocolate, etc. This made us calmer and even our dogs don't bark that much anymore.
Silvia Giraldo
Santa Elena, Antioquia, Colombia, South America
I had an experience with my cat, which I have had for ten years. A few days ago, she appeared with some injuries on her neck. I could not find what to put on her because she is very wild. So I took some ghee and prepared a cream with the Agnihotra ash and applied this quickly and nothing else, because she did not allow me to do anything more. After eight days, she was completely healed. She recovered her fur and she is perfect. It was a single and fast application!