Healing with Homa Therapy
Lucia Gertrudis Pacheco Vázquez
Vinces, Ecuador, South America
I am 74 years old and I have a lung tumor. I used to have a dry cough, night and day, and I could not sleep. All that disappeared completely with Homa Therapy. I no longer cough. Before, I slept sitting, since I could not lie down due to pain. Now, I'm sleeping more and can lie down normally. The pain in my hands and bones has disappeared. Also now I have more appetite and can eat well.
Dr. Carriel explains further:
She had something similar to cystic fibrosis of the lungs. She coughed a lot. She could not sleep and suffered from severe pain in her back and in her bones.
She has participated in 23 Agnihotra sessions and consumes the Agnihotra ash with two liters of water every day. She places the water bottle with the ash near the Agnihotra fire, to energize it. She is also taking Agnihotra ash mixed with a little warm ghee and that relieves the irritation in the throat and helps her with the cough. She is also applying and taking other medicinal herbs, such as Noni leaf and Cat's Claw, but always accompanied with Agnihotra ash.
By the way, it's worth mentioning that her pains were so intense that she was given morphine patches, which she no longer needs.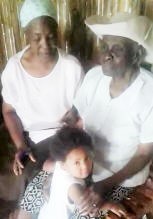 Teresa Lorenza Martínez
Chaflu, Esmeraldas, Ecuador, South America
I am almost 86 years old and I have been in Homa Therapy for two months, through Mrs. Sofía de Batioja.
Before that, I felt bad and my knees hurt, I could not walk for very long, I had to sit down, and I felt anguish. I had fever and felt very bad.
Since I have been coming to participate in Agnihotra in the morning for sunrise and in the evenings for sunset, I feel much better. My hands are better and I can walk.