In Remembrance–Kusum Vasant Paranjpe
by Sarvajit Paranjpe
Maheshwar, India
Kusum was born into a family named Kajale in Kohlapur, Maharashtra on 22nd March, 1928. She was the fourth among five siblings; Malati, Ganesh, Indu, Kusum and Prabha.
Her father's name was Shankar but was popularly called Appa by all. He was a learned man who was very punctual and disciplined and was working for the Indian Railways. He hailed from Konkan but due to the very nature of his work, they shifted to Mumbai.
Her mother's name was Radha. She had completed just a few years of education. She couldn't write well, but she taught herself to read very well. She would plunge herself into any reading material that  she could get her hands on, and was a self-taught woman.
Radha was one who would mould herself according to the times, and she would encourage her daughters, too, to change according to modern circumstances.
She made her daughters complete their education according to their likings. Kusum graduated in Arts from Ruia College, Matunga, Mumbai. She was a badminton player who participated in different championships and won medals.
After a girl completed her graduation was the time when parents would look for a good groom. Just after Kusum's graduation thus Shree Vasant was introduced to Kusum's parents, through one of their relatives, as an ideal groom to wed. Shree Vasant had only been out of jail a few months, after having spent 3 years and 7 months in Pune and Belgaum jails. He had been detained without trial for his participation in the "Quit India" movement. (The Quit India Movement  was a movement launched by Mahatma Gandhi on August 8th, 1942, during World War II, calling for an end to British rule in India.—Ed.) Shree Vasant was an active participant in the nation's freedom movement. The relative told Kusum's parents about Shree, that the boy is good and will take good care of her. Ultimately, Kusum and Shree Vasant got married on 28th November, 1946 in Pune.
After 5 years of marriage, their son, Abhay, was born on 10th December, 1950.
Around 1955 they shifted to Belgaum, as Shree Vasant wanted to set up a paper factory. As Shree Vasant had to travel a lot for work, Kusum's parents would accompany her to Belgaum to be with her, though they and Kusum stayed in separate houses. They stayed with her for 5 years, but later on, because of their deteriorating health, her parents had to move back to Mumbai for better medical care.
Then in 1958, just after 3 years, Shree Vasant happened to meet Shree Gajanan Maharaj to seek His blessings so that they could set up the paper factory. At this deciding moment, the lives of both Shree Vasant and Kusum were going to change, after that meeting with Shree Gajanan Maharaj. After the meeting, Shree Gajanan Maharaj said to his close disciple, "We have found the one We were looking for."
Slowly after that, Shree Vasant would often visit Shree Gajanan Maharaj and engage in spiritual practices under His guidance. After a few years, Shree Vasant would go to unknown places for his deeper spiritual practices. It was during this period that Kusum had to go through great turmoil to sustain the family. She took up a clerical job to meet the day-to-day family needs for many years.
Later on, Shree Vasant would go to the USA on 20th June, 1972, at the command of Shree Gajanan Maharaj, to carry His blissful words to the people of the world.
Shree Vasant travelled across the world to share the message of Agnihotra and Fivefold Path.
Kusum always showed devotion towards Shree Vasant and the work He was doing. She had the grit to go through all the ups and downs without losing her mental poise.
After Shree Vasant's first trip to the USA, his presence in Akkalkot increased. Abhay also would stay in Akkalkot to assist Shree Vasant in His work, for extended periods of time. But Kusum was still in Belgaum all alone. After some time, Shree Gajanan Maharaj asked Kusum to come and stay in Akkalkot. A trust named "Fivefold Path Mission" was set up on the command of Shree Gajanan Maharaj and adjoining land to Shivpuri was bought by Fivefold Path Mission. A few houses were built for people wanting to walk the Path of Light of Fivefold Path, and people started coming. It soon became a hub for westerners from various walks of life, from places Shree Vasant had visited. Kusum would become the mother for those who came to stay, learn and share.
A house in Dhule was bought in 1989 so that Kusum's and Shree Vasant's grandchildren could have access to education, as the other places were very remote.
Another centre was built, named Tapovan, in Jalgaon district of Maharashtra around the 1990s. Later on there, 24 hours Om Tryambakam Yajnya would begin on 25th March, 2001.
Kusum would stay in Tapovan and Dhule till 2005. She would also travel sometimes, accompanying Shree Vasant on His journeys within India.
In 2006 Kusum permanently shifted to Homa Therapy Goshala in Maheshwar, Madhya Pradesh. Shree Gajanan Maharaj had told Shree Vasant that after the completion of his work and at the end of his life, he shall reside on the bank of river Narmada in Maheshwar. Accordingly, a piece of land was bought in the year 2000, where Shree Vasant stayed until the end of his life.
Shree Vasant started the series of seven Somayags in Maheshwar in 2007, but he left his body on 30th December, 2008. Maheshwar Goshala would become a place where people from  many countries and India gathered and performed and attended the healing fires of Somayag.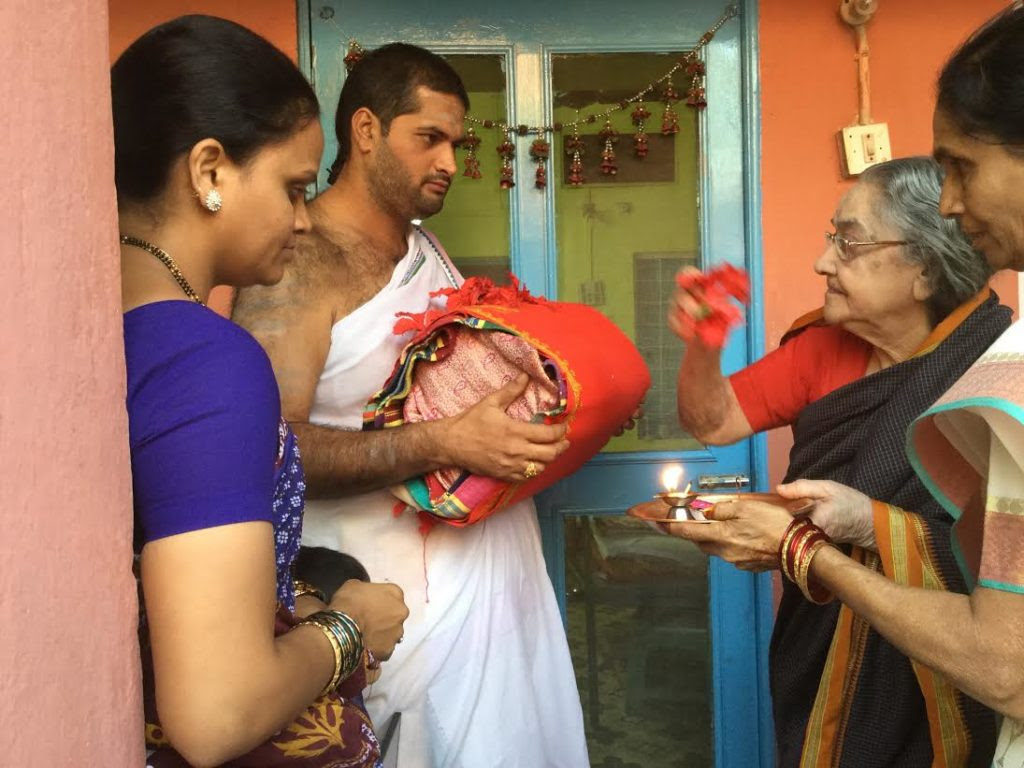 It became a place for Agnihotra practitioners to gather from the different corners of the world. Kusum, still healthy and strong, would engage, with compassion to all the people who would come to meet her. She was calm and would not interfere with the day-to-day matters, but would encourage others to work with diligence. She ultimately witnessed all the seven Somayags which Shree Vasant started 11 years back.
Ultimately she left her body on 12th April, 2018, peacefully at early morning hours in her sleep, at the age of 90. Till the last moment of her life she had a sharp memory. Her body was weak but not her mind. She maintained her mental poise and cheerfulness till the very last.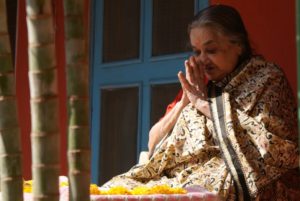 Kusum showed her utmost faith towards Shree Vasant and the work he was doing. She went through a lot of obstacles and pain in her whole life, but still she would remain calm and collected.
We pay our respects to this lady of substance and her great contribution to the journey of Agnihotra. For sure, she knew the very purpose of her Journey!