Reiner Szcypior
Victoria and Jürgen as well as Andrea and Markus have been doing Agnihotra on their farms for quite some time. 
Together, they have about 130 cows and produce dried cow dung and ghee for all who practice Agnihotra and other Vedic fires.
Alexandra Z. has initiated both families into the ancient knowledge of the Homa Therapy Agnihotra fire that is practiced with enthusiasm and joy every day. The ashes are already used for medical purposes on their cows, are added to the drinking water and / or feed and are discharged in the fields.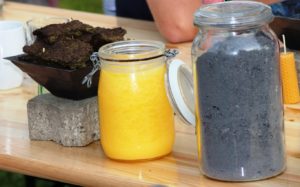 Many friends were invited on this evening last summer and we were able to ignite some new Agnihotra fires and thank Mother Nature, who is so wonderful.
Please contact Jürgen for cowdung and ghee in Austria: 06644357213 or email juergen-flois@gmx.at