The Somayag Committee, Bruce Johnson and Ed.
(For Part II, please see the March/April issue of Satsang.)
A Review of the First Six Somayags, continued
Jyotiruktha 2011 was the fourth Somayag in the series of seven. Its purpose was primarily for food.
Although each Somayag has a unique emphasis, the purposes of the Somayags are interrelated. For example The Jyotirukta Somayag is for food, but this also includes atmosphere and water.
This event again lifted the energy field. Some measurements of subtle energies were undertaken by different scientists over the years and the consensus was that, each year, the energy rose to new heights and maintained that level until the next Somayag.
Work continued on the kitchen complex, which included a wood-fired oven, and also on the accommodation facilities.

The very powerful 17-day Vajapeya Somayag was performed from November 24th to
December 10th in 2012. its primary purpose was for peace of mind.
As far as we know, the Vajapeya Somayag had not been performed anywhere on the
planet for more than 50 years.
It provided the large quantum of high vibrational healing energy needed to balance out the
critical destructive phase being experienced all over the world at this time.
This Somayag differed from previous Somayags in several ways. First was the format. One
could say that this Somayag was actually three Somayags in one. It also included some
activities which were not part of the previous Somayags.
In one of the special activities, seventeen arrows are shot, each starting from the point where the previous arrow has landed. The point where the last arrow lands marks the finish line of the chariot race that follows.
A number of bullock carts assemble just outside the Somayag shala, and all the
participants are invited to climb onto them and join in the "race," which makes a loop around the Goshala grounds and ends in back of the Somayag shala. The Yajaman returns to the Somayag shala after 'winning' the chariot race.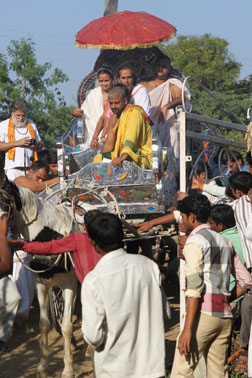 Just outside the Yajnya shala, a gaily decorated tower, approximately thirty feet in
height, was erected. After the race, the winner/Yajaman stands at the top of this tower
and greets his subjects.