Healing with Homa Therapy
Elizabeth Quijique
Guayaquil, Ecuador, South America
On January 4th, 10 days ago, I had a stroke, which affected the left side of my body. I was restricted fully. I spent some days without being able to move. I had paralysis and a lot of pain. My family had to take complete care of me.
I have three children–Valentina, Gregory and Ronald. I am mother and father for them. So I said to myself, "I have to get up; I have to do it for them." Thanks to the phone call and invitation of Don Patricio Feijoo to join a Homa Therapy meeting, I got encouraged and got up. I tried to dress myself and then the pain started, but I said, "I have to walk, I have to go there."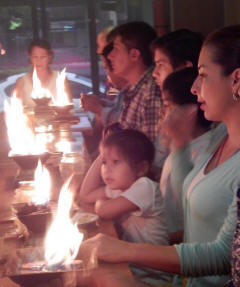 My mother, who had come to help me, asked me what I was doing. Then I told her that I wanted to go to Homa Therapy. I insisted in going there, because even Arcoxia did not take away my pain.
Then they helped me and I arrived in Urdesa to talk with you [Homa Therapy teachers Abel Hernandez and Aleta Macan] and you gave me a little bit of the Agnihotra ash. I was sitting on the sofa and the pain started to disappear.
I said, "Wow! The pain is disappearing and I only took a little Agnihotra ash with water!" After that I could walk by myself.
Then I reasoned, "This is better than Diclofenac," which I had to inject when I could not take the pain any more. However, that would take away the pain for an hour or two and then it came back. But the Agnihotra ash removed it, and if it returned, I took more Agnihotra ash and I was fine. I went there with a lot of pain and I returned home without pain.
You see, I'm here warming my hands on top of the extinguished Agnihotra fire. I felt pain and put my warm hands right there and the pain disappeared. However, I still find it a little difficult to pick up things.
People see me and think I have nothing. Today, the doctor told me, "But you do not have a stroke." Then, when she checked me and saw the exams, she said, "Yes, you have paralysis. It's a cerebral stroke." The exams done at the Pan-American Clinic also showed these results.
So my family now says to me, "Go, go. We do not know what you're doing at the Homa Therapy, but it takes your pain away."
At first, the doctor told me that I was irresponsible, that I should be hospitalized and intubated. But then she also said, "We do not understand what you're doing, but go on with that."
After this group Agnihotra today, I feel better and now I have no pain.