Healing with Homa Therapy
Compiled by Homa Therapy teachers Abel Hernandez and Aleta Macan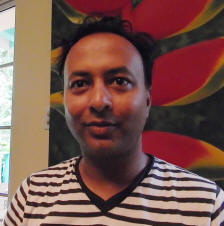 Dilip Palakaladinna
Chicago, IL, USA
during his visit in Rio Blanco, 
Puerto Rico, Caribbean
I am visiting with my wife Keerthi 'Casa Picaflores'. I have been doing Yoga since my childhood, with occasional breaks, but now I am more steady with it and meditation.
I came to know about Agnihotra when I called Mrs. Barbara Rogers to make the reservation. Then I investigated Homa Therapy through internet.
I ordered my Agnihotra kit and its practice has helped me a lot with my meditations. It helps me to focus and it has normalized a lot of pressure I had in work and otherwise. It neutralized any depressive thoughts.
More importantly, it has improved my teamwork with my colleagues. I started sharing more knowledge and more work. It has given me more collaborative and innovative ideas.
It has improved my out-of-the-box thinking. I am more outgoing now as compared to before. Agnihotra has a healing effect and its vibratory powers go around my home and I can feel its energy that is going into my nerves and veins.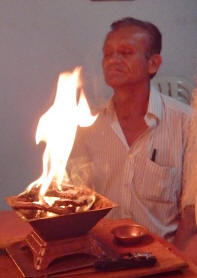 Cesar Augusto Aguilar Obando
Piura, Peru, South America
I am 61 years old. My health is very good with Homa Therapy.
Before, I was unbalanced regarding my health. I suffered a pre-heart attack, and I took many pills. Every day I took between 6 and 7 pills. I had high cholesterol and triglycerides levels, and high blood pressure, among other things. When I heard of this therapy, I came with my wife who was also with poor health.
At the moment of Agnihotra, I felt something changing in my body! We have been doing Agnihotra constantly in the Ñari Walac Foundation or at home with my family for one month. I am not taking any more pills, except the one for blood pressure. Now I am in good health.