Healing with Homa Therapy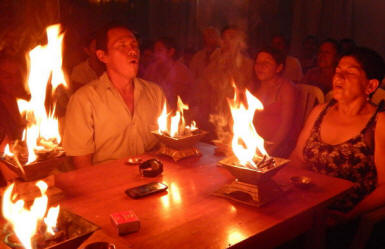 Alicia de Montalvo
Municipality Utcubamba
Bagua Grande, Amazonas, Peru
"Before, my husband used to get angry about anything. Now his behavior is moderate.
"I was very allergic to smoke. My pneumologist forbid me completely to be exposed to cigarette smoke or anything alike.
"However, the Agnihotra smoke is healing. Now, I have been cured of my problem."
Segundo Montalvo Cubas (husband of Mrs. Alicia)
"I am 48 years old. I have been suffering from an accelerated heartbeat; my heart used to be racing. With the practice of Homa Therapy,  the disease is controlled. I also suffered from gastritis, which so far has also disappeared. And I have another disease, prostatitis; it is much better now. I do not take the pills. After 5-6 days of Agnihotra practice, I began to notice these positive changes.
"In relation to my wife, one day I told her to come and participate, just out of curiosity.  She suffered from asthma and used to need inhalers. Now with Homa Therapy, she breathes well and does not need inhalers any longer."