Tenants Wanted at Ancient Oaks Farm
UPDATE: AS OF AUGUST 2018, THERE ARE NO VACANCIES AT ANCIENT OAKS FARM.
"There is a kind of migration within the Homa community, as people find their rightful places."
Peaceful greetings dear worldwide Homa family,
I'm writing on behalf of the Baltimore Homa Community. We have a beautiful 28 acre Homa farm in Westminster, Maryland including two streams, beautiful gardens, a lovely community center and a highly successful CSA (Community Supported Agriculture) program. It is the happy home of three long-haired Highlander cows who provide the dung for four hours of Yajnya every day and of course daily sunrise/sunset Agnihotra.
Patricia Norton lives there at Ancient Oaks Homa Farm, as does Taylor Logsdon, who is currently the farm manager. Adam Kandel coordinates the CSA and various members of BHC help to take care of the many things that need attending.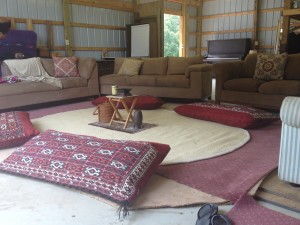 HAVE YOU BEEN FEELING A PULL TO MOVE OUT OF THE CITY OR ACROSS THE GLOBE TO EAST COAST AMERICA? Would you like to come live on one of the newest Homa farms on the planet? We need one or two more tenants, Homa practitioners, to come take up residence here. Please let us hear from you, so we can encourage you!
Showers of blessings for all that you are doing. Thank you for your commitment to Homa.
Maria Broom, BHC Community Correspondent
If you are interested in becoming a tenant at Ancient Oaks, please contact Patricia Norton at patricianorton38@gmail.com or Ann Couto at ranncouto@gmail.com.