Homa Fire in the Classroom
Maria Broom
Baltimore, Maryland, U.S.A.
Truly by Grace alone, I have been able to begin every class I teach with Homa fire, in public and in private school. Countless students have learned and remember all the Sanskrit words in the Vyahruti mantra… Bhooh Swaha, Agnaye Idam Na Mama, etc.
At the Baltimore School for the Arts where I've taught storytelling and dance for 25 years in the theater department, the hallway outside my classroom is filled with the incense-like smell of Homa at least four to five times a week. The students love it. It's the only class they have throughout their high school years where they get to rest their minds and briefly experience stillness.
In all honesty, it's a blessing for me to be able to do the fire with every group of children and young people I work with, and to even incorporate it in most of my performances and adult dance classes.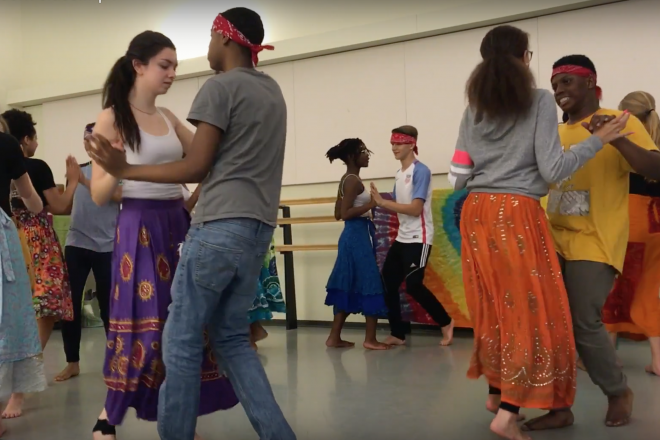 Students enjoying one of Maria's dance classes.
For over a month, public schools have been closed and after what was considered Spring Break, it was decided that we teachers should explore 'Distance Learning' during the pandemic. This meant navigating a school-wide internet program that would allow us to connect with all of our students on their computers or phones. To me, this seemed a little daunting. But the head of my department reached out to me and requested specifically that I consider offering my class, complete with Homa fire, to not only my dance and storytelling students, but to all the students in the department.
And so, I fumbled my way through all the technical instructions and invited 140 students, one by one, to attend my online classes. I set up the pyramid for the fire, cued the music and at the appointed time clicked on the camera and microphone and greeted all the young people. I lit the fire and even without me being able to hear them, they all chanted the mantra, sitting in their homes in front of their computers and phones.
I led them through a gently guided meditation so they could release some of their worries and anxiety, and open their hearts to send out love to help the planet, the animals, their families and people around the world.
It was a success, both the morning and the afternoon classes. And the students were so grateful. Even the head of the department joined in saying how much she needed the calming vibration. Unexpectedly, she gave me a shout out in one of her posts on FaceBook, which in turn inspired other teachers to ask if this class could be offered to the entire school.
That evening, sitting alone, resting and quiet during evening Agnihotra, the two classes replayed in my mind and I burst into tears, a bit overwhelmed. I became so aware of how Shree, how the Divine, can use us in the most unusual ways when we least expect it. All we have to do is be willing. Blessings for all 'Keepers of the Fire.'