Healing with Homa Therapy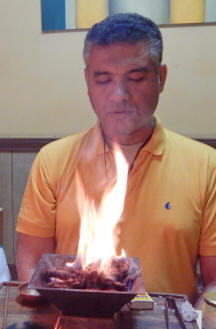 Eng. David Borjas Alcántara practicing Agnihotra in the restaurant 'Sabor y Vida' in Miraflores, Lima
Eng. David Borjas Alcántara
Lima, Peru, South America

I am 51 years old. I am a chemist. I have been practicing Agnihotra for more than 6 years and it has made a remarkable change in my life, starting with my health. I would like to highlight:
1. I suffered from an irritable colon for almost 20 years, but with the intake of Agnihotra ash, Agnihotra ash water and changes in my diet, I no longer have this problem.
2. A friend told me that she was very worried because her father needed to have his leg amputated, due to infected wounds and that he suffered from advanced diabetes. The doctors had tried all the antibiotics they knew at the moment.
Since I had Agnihotra ash, I gave it to her in a glass jar, telling her that her father should take the ash orally and also put it in water, let it rest overnight and then he should drink all day long from that water only. Two weeks later, after she had visited her father in Lima (we were at that time in Cajamarca), I asked her about him and she said, "First of all, the infection has stopped,  and secondly, the wounds are closed."
The doctor had asked him what he was taking and told him to continue taking it. At the end, there was no need for the amputation. Besides, this man improved his depressed mood, got a job and turned his life around. After a while, he did not need the Agnihotra ash any longer; he was doing very well, also at work.
This for me was the key experience. How is it possible that a person, who had no idea how the Agnihotra ash is obtained, and then takes it and it provides his body with the possibility to heal, could recover and stabilize his advanced diabetes?
3. Another unusual coincidence that I observed in my family circle was with a doctor who is my cousin and is always interested in alternative medicines. I provided him with the knowledge about Agnihotra indirectly by giving Agnihotra ash to his father, who had problems with his knee and he got healed. His father then told him about Agnihotra. This happened a few years ago and it turns out that my cousin is now a Homa Therapy practitioner, benefiting a lot of people. His name is Jesús Borjas and he is the Chief Doctor of Complementary Medicine in EsSalud in Puente Piedra.
I am very grateful that I have been able to learn Homa Therapy. I have received many benefits and there is still so much to discover with Agnihotra. It has many factors that we still do not understand. I say that as a scientific chemist. There is really a path in front of us to learn and re-learn.