Atiratra Somayag 2015
Satsang Jan/Feb 2015 | Vol. 42 #6 | New Era 72
Atiratra Somayag 2015
Background
In 1999 a plot of land was acquired by Fivefold Path Mission on the north bank of the Narmada River about 4 kilometers east of Maheshwar. This is the site of the Homa Therapy Goshala (goshala means cow refuge). At the instigation of Shree Vasant Paranjpe, preparations were begun in 2007 for conducting a series of seven Maha Somayags at the Goshala. The seven Somayags are:
AGNISHTOMA–for the atmosphere
ATYAGNISHTOMA–for water
JYOTI RUKTHA–for food
SHODASHI–for health
ATIRATRA–longevity of life
APTORYAM–well-being, prosperity of the whole society
VAJAPAYEE–peace of mind
The first of the seven took place at the end of December, 2007. Since then 5 more have been performed there. The sixth Somayag in the series took place from February 3rd-8th, 2015.
What is Somayag?
The ancient science of bio-energy given through Vedas describes certain energy processes which have the power to effect a change in the functioning of PRANA (life-force which pulsates through us and connects us with the cosmos). These energy processes come under the category of YAJNYA. Somayag is one such Yajnya.
AGNIHOTRA, tuned to the biorhythm of sunrise/sunset is the basic YAJNYA which any person can perform with only a little effort. There are Yajnyas to be done at the juncture of two seasons when there is a climate change. There are medicinal Yajnyas (HOMAS).
There are some special Yajnyas to be performed based on astronomic conditions. Somayag (Soma Yajnya) is one such special Yajnya. This lasts for six days. An intelligent young person would take about twelve years to learn this technique with proper Mantra chanting. The person has to follow strict disciplines. This Yajnya is called Somayag because Soma juice is used as the main oblation. Soma is called the king of medicinal herbs. This special Yajnya provides an extra powerful boost of healing energy for the whole world.
The beneficial effect of each of these HOMAS lasts for several decades. The atmosphere becomes medicinal, nutritious and disease-free. Somayags yield a qualitative and quantitative improvement in the psyche.
Following is a brief sketch of each day's events at the 2015 Somayag. Somayag is a complex ritual, involving a team of 16 Rutviks. Each has his own responsibilities and will chant from one of the four Vedas. Together, all four Vedas will be represented. A number of different processes and tasks are often going on simultaneously. These notes will highlight some of them.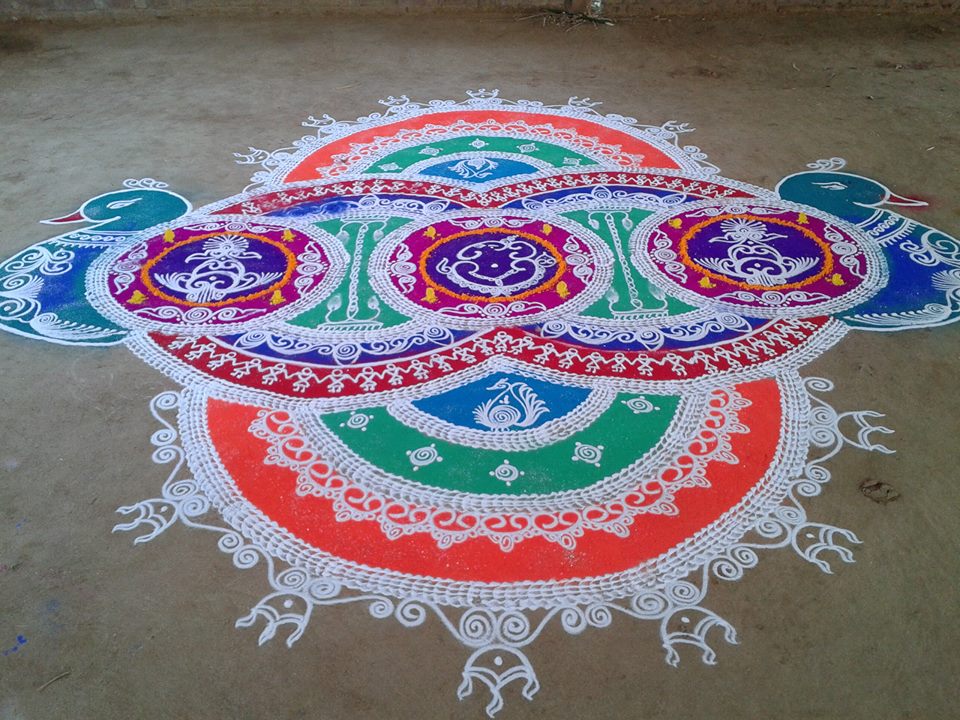 Day 1
The Somayag opens with a ceremony in which Abhay Paranjpe of Fivefold Path Mission, on behalf of everyone from East and West, asks Dikshit Achal Apte to perform the Somayag. This is also about affirmation and intention. Achal agrees, and then there is an energetic clearing of the space in the Somayag shala by the placing of coconuts at the 12 directions (north, northeast, northwest, etc.)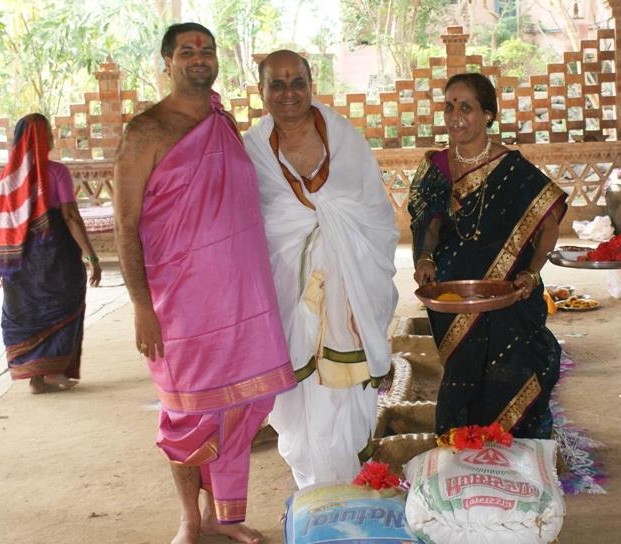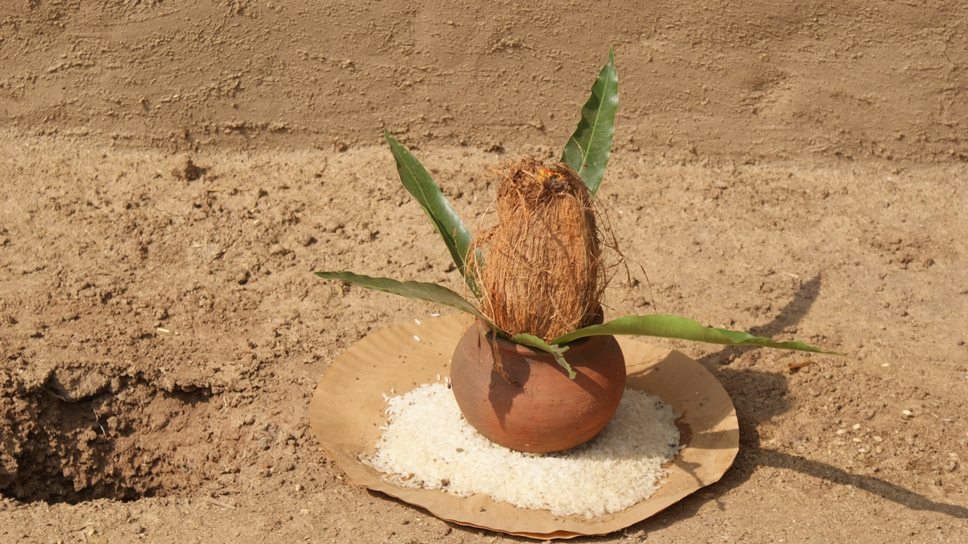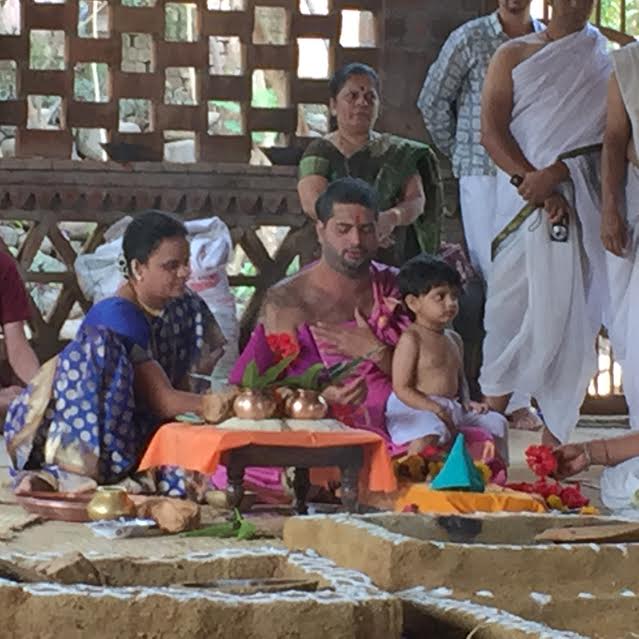 Next comes a bit of play-acting, in which Achal assigns a family member to go "house to house" to find the proper persons to perform the Somayag. In old days, someone would actually have done this; during this Somayag, it was symbolically recreated as one pundit went to all the different Rutviks while they were already sitting in the Somayag Shala next to the Tretagni fire.
Once the team is assembled, fire must be churned, using special wooden instruments, before offerings to fire can begin. Whatever is offered has to be prepared in the Somayag shala, and must be purified by mantras before being offered to fire.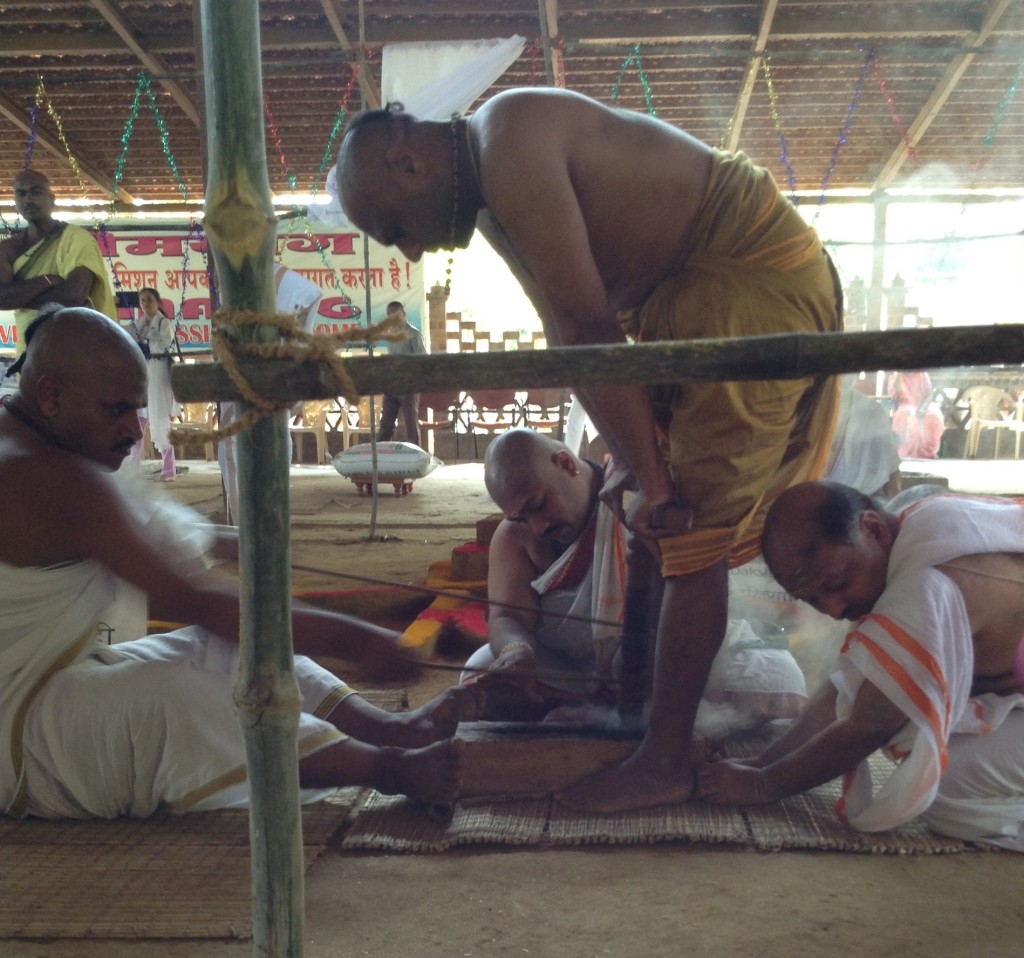 Day 2
On the second day, rice cooked with milk is offered to fire.
Another little theatrical scene is played on this day, in which the Yajaman tries to buy Soma from a seller. The seller asks for more and more money until finally the Yajaman takes the Soma and "beats" the seller for asking money for something that is to benefit the whole world. Then the audience joins in a procession around the shala to welcome the Soma. An Ishti (type of fire ceremony) is done to invite the honored Soma guest into the house. Then fire has to be churned again.
 After another Ishti, all 16 Rutviks dip their ring finger in ghee and pledge to complete the Somayag peacefully and with cooperation.
To keep the Soma fresh and full of energy, at intervals each of the 16 Rutviks will, one by one, stand by the Soma while holding a piece of gold in his hand and will pour water over it, with Mantra, watering the Soma.
Pravargyas also begin on this day. First, the implements for Pravargya must be purified. An earthen pot designed with three steps is filled with ghee and is brought to a boil. Then Mantras from all four Vedas are chanted, then a mixture of cow's milk and goat's milk is offered, poured onto the boiling ghee. This causes a flame to shoot up, sometimes as high as 30 feet in the air.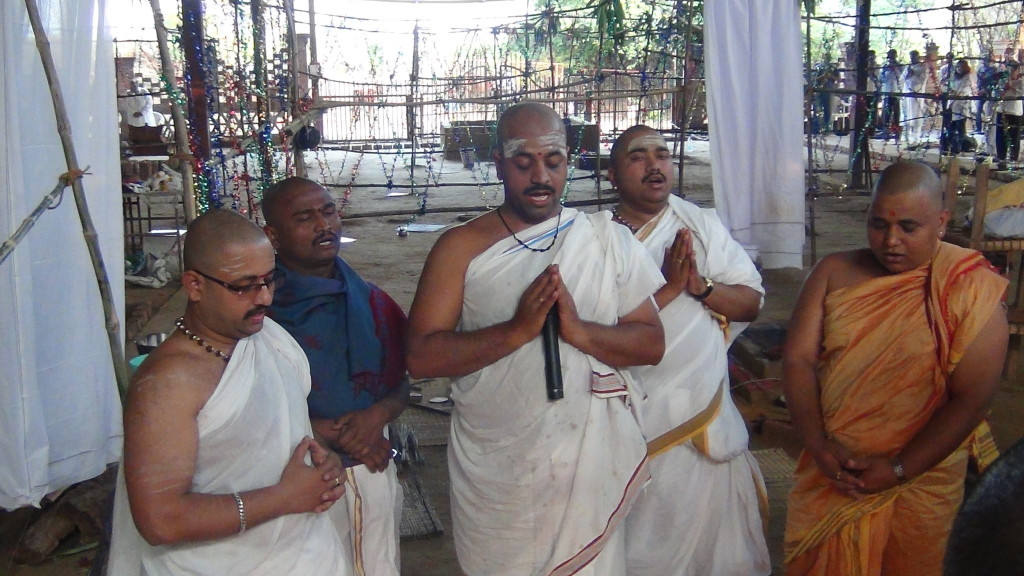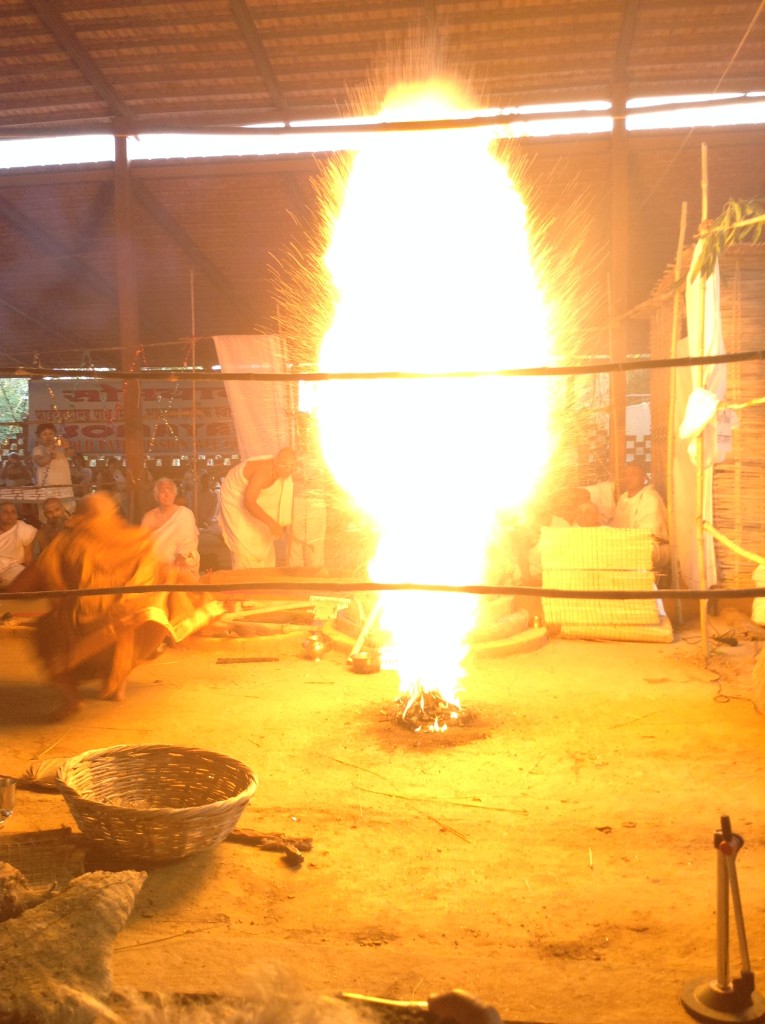 Day 3
Pravargyas continue on this day, along with quiet Mantas and the freshening of the Soma twice daily.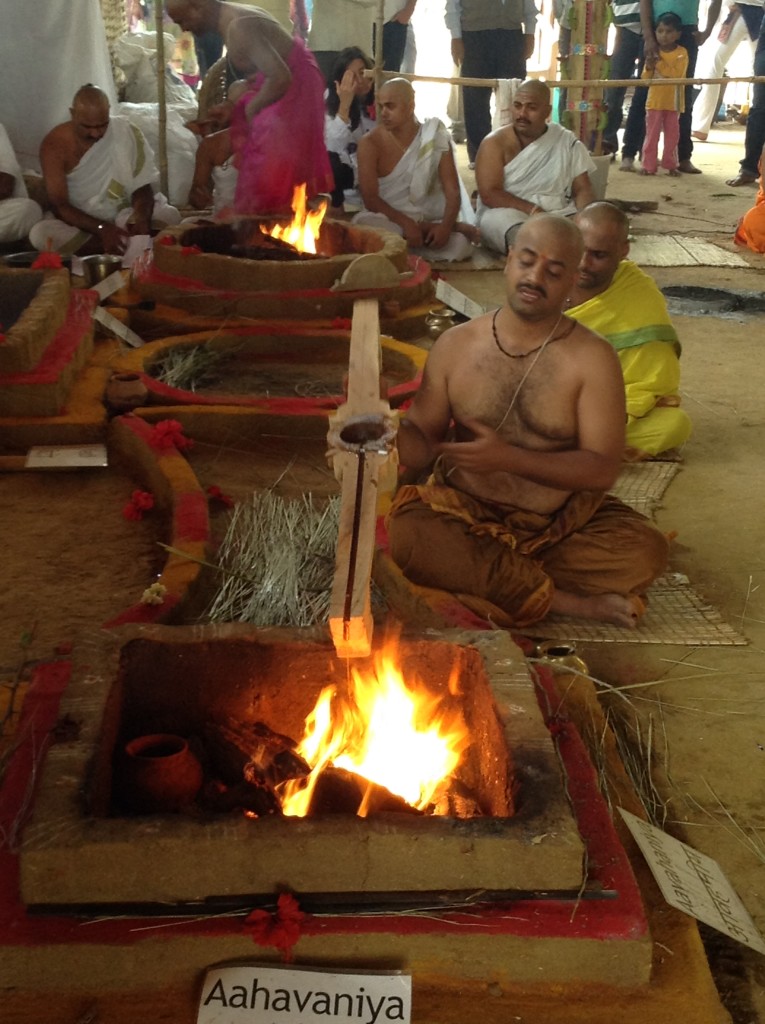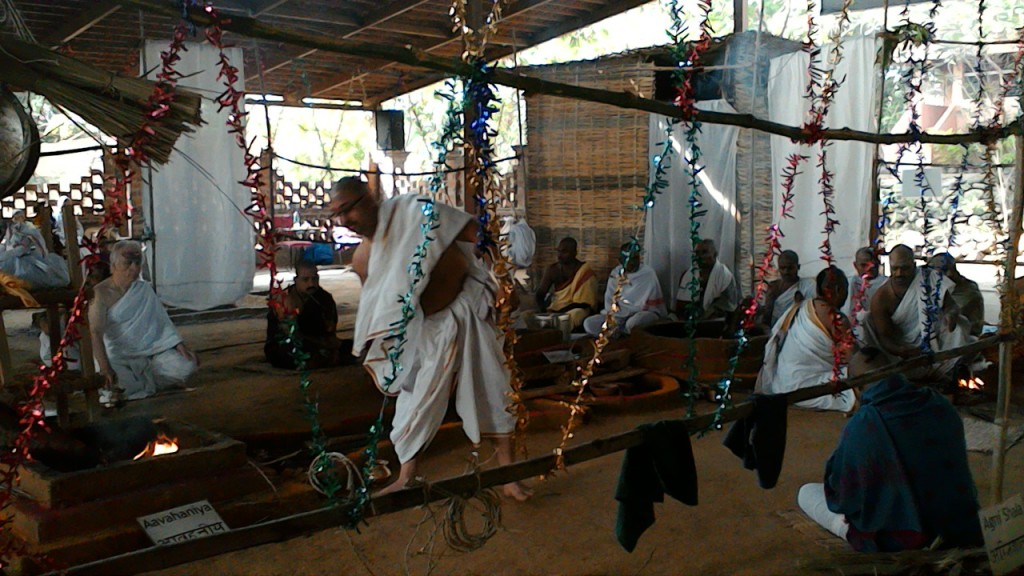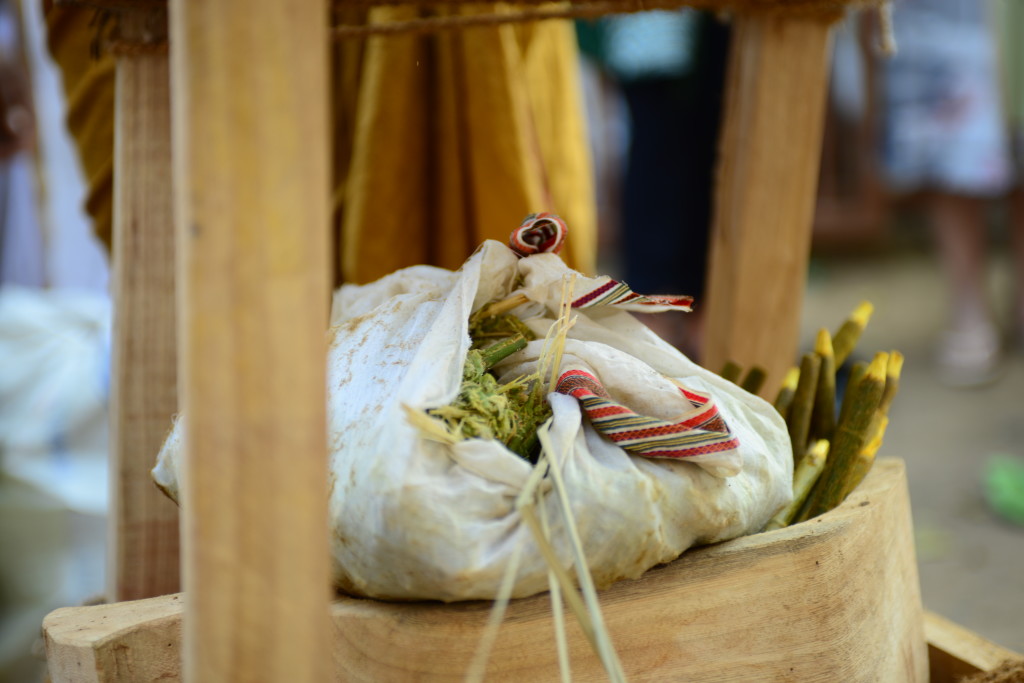 During the Somayag, the group moves through various parts of the Somayag site. On this day, using wooden tools, the Rutviks symbolically clean and prepare the space for Mahavedi, to make the land suitable for Somayag. A column, made from the trunk of an audumbar tree, will be prepared today, for installation in front of the Uttarvedi tomorrow.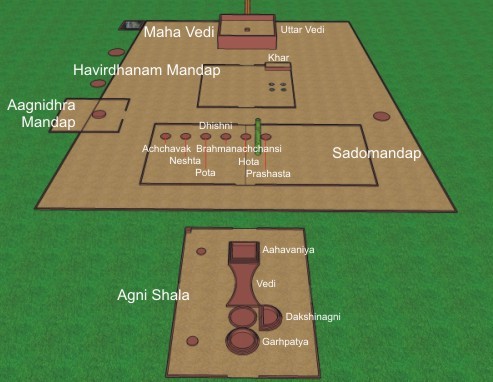 In old days, the Rutviks had to prepare everything—build the hut, clear the forest, make clay pots etc. Due to time constraints, a few shortcuts are taken (such as using prepared clay pots), but every step, even symbolically enacted, must be done with Mantra.
Apart from the Somayag, an international music program was held in the evening, featuring performers from a variety of countries.
Day 4
Pravargyas continue. Everything used for Pravargya has power, and should not fall into bad hands. Therefore, afterwards all is offered into Uttarvedi.
Throughout the Somayag, many people gather in the Somayag shala at sunrise and sunset for group Agnihotra. To do Agnihotra with people from all over the world, with so many pyramids ablaze, is a joyous and sacred experience.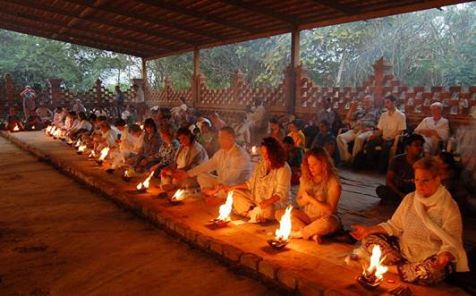 The afternoon session begins with a procession, moving into the Mahavedi, under a cloth canopy. They also call it "going from Earth to Heaven". Then the audumbar post is installed, and again fire has to be churned. Many offerings are made into the Uttarvedi.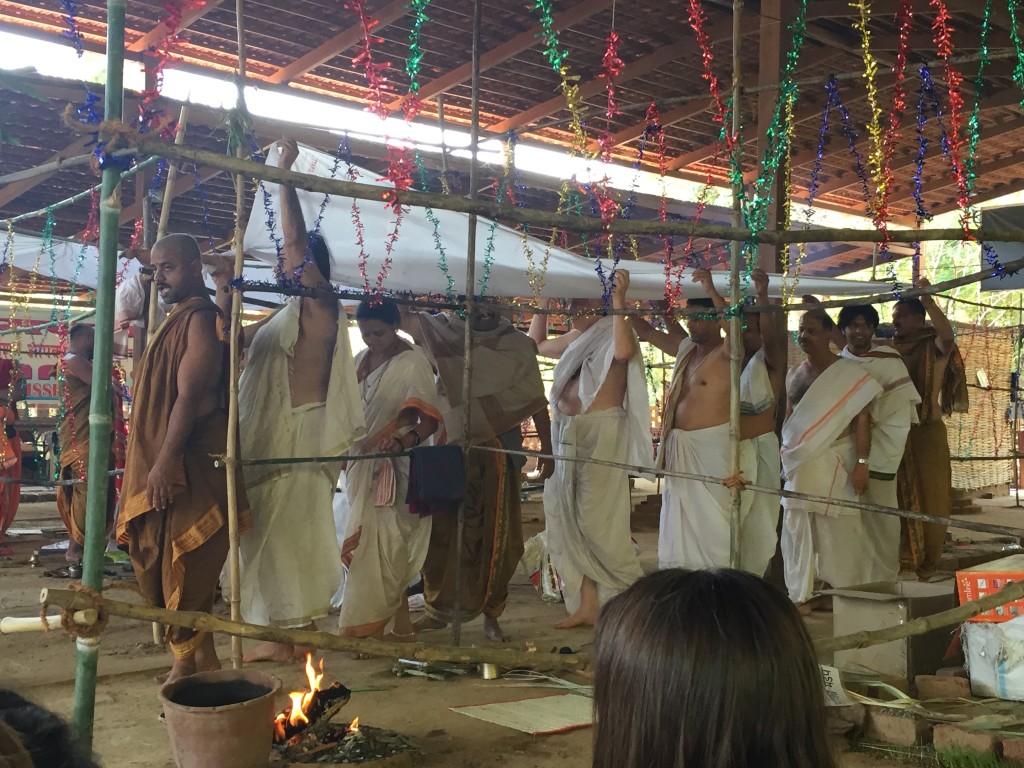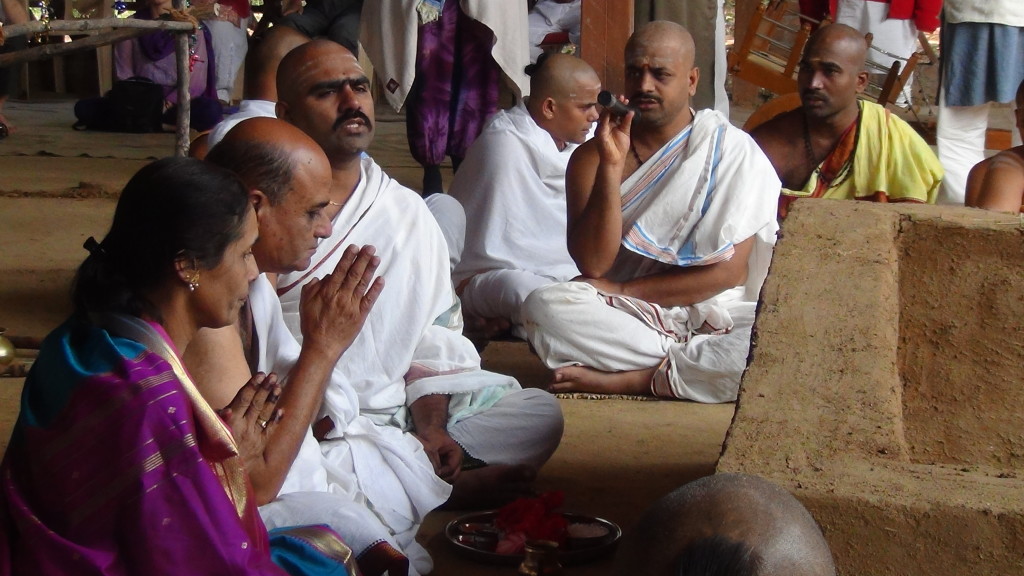 Day 5
The program began at 6 A.M., with offerings into the Uttarvedi. At one point in the morning session, the Rutviks formed a line and, reaching to connect to each other, did a little "snake dance." Later in the morning fire again was churned, and more offerings were made into the Uttarvedi.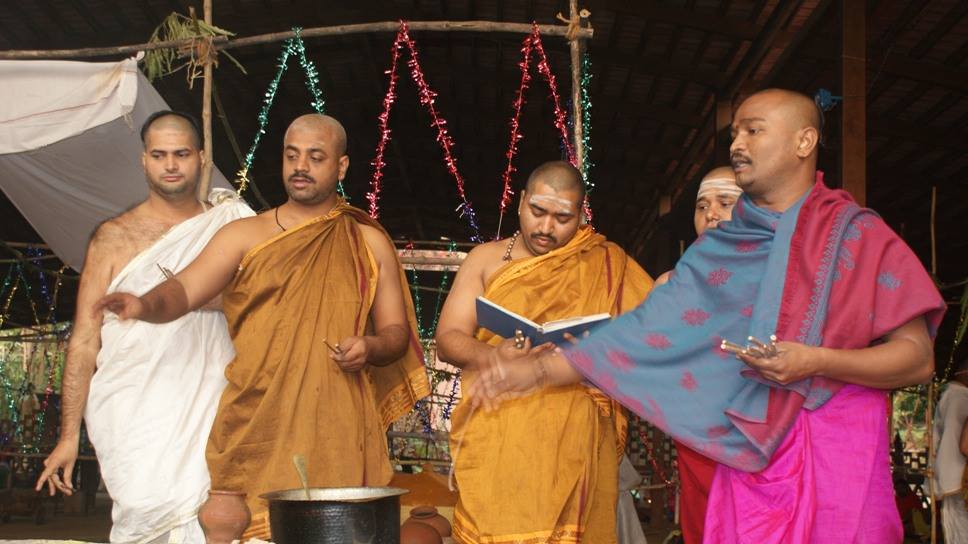 On this day, one by one, everyone has the opportunity to help pound the Soma, using a mortar and pestle. Later in the day, offerings of Soma begin. At one point in the evening, a horse is brought into the shala.
The sessions go on until about 1:30 A.M. One has to marvel at the endurance of the Rutviks, chanting for so many hours in a day.
Day 6
This session starts at 4 A.M., just a short time after the last one ended, in which the Rutviks chant, without break, 1,000 Mantras. Quite a feat!
This day is a sort of "wrapping up" of the proceedings. The Rutviks make offerings to atone for any mistakes they may have made in carrying out their duties in the Somayag. After that, the final offerings are made.
In late morning, a procession forms, heading down to the river. This is a joyous occasion, celebrating the successful completion of the Somayag. The procession halts for a while at the amphitheater, for drumming and dancing.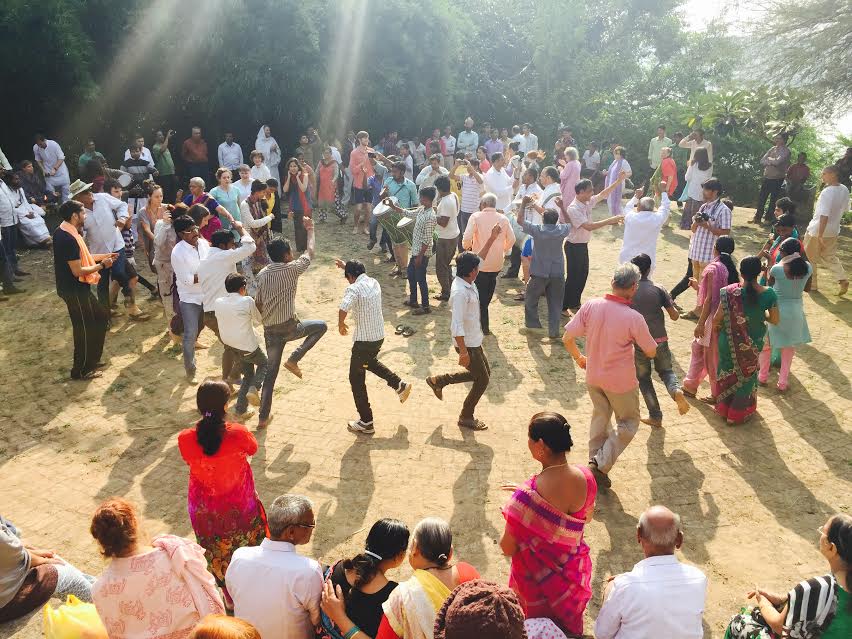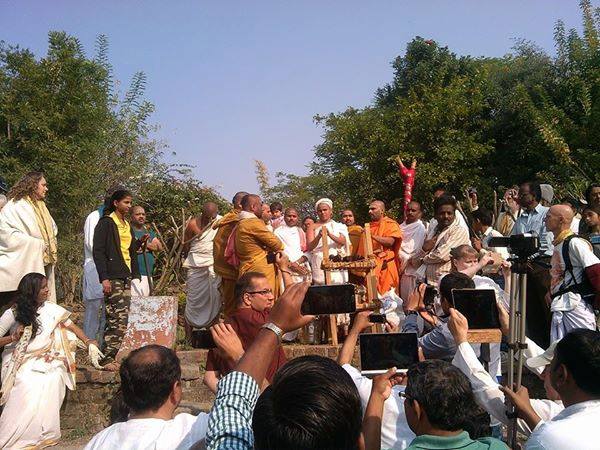 Then the group continues on to the Narmada. The Rutviks chant some mantras, and various implements used in the Somayag are thrown into the river. After submersion, those materials used for Somayag, such as cups, bowls etc., might be kept as souvenirs, but must never be used in any ritual. When the items are submerged, the power they carry goes into the river. Then we all wade into the Narmada for bath, splashing, laughing and shivering, as the energy of the Narmada lifts our spirits and calls us HOME.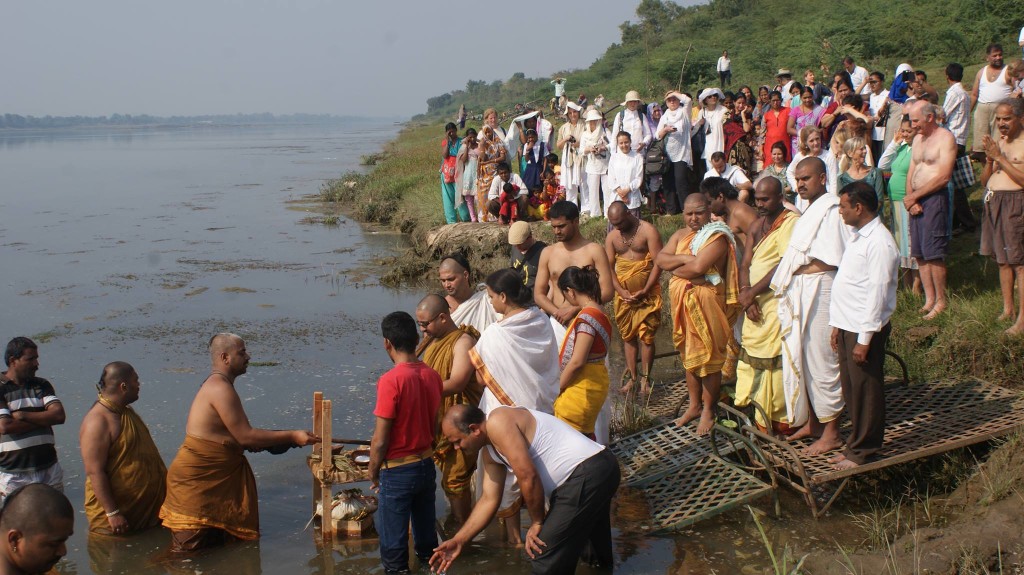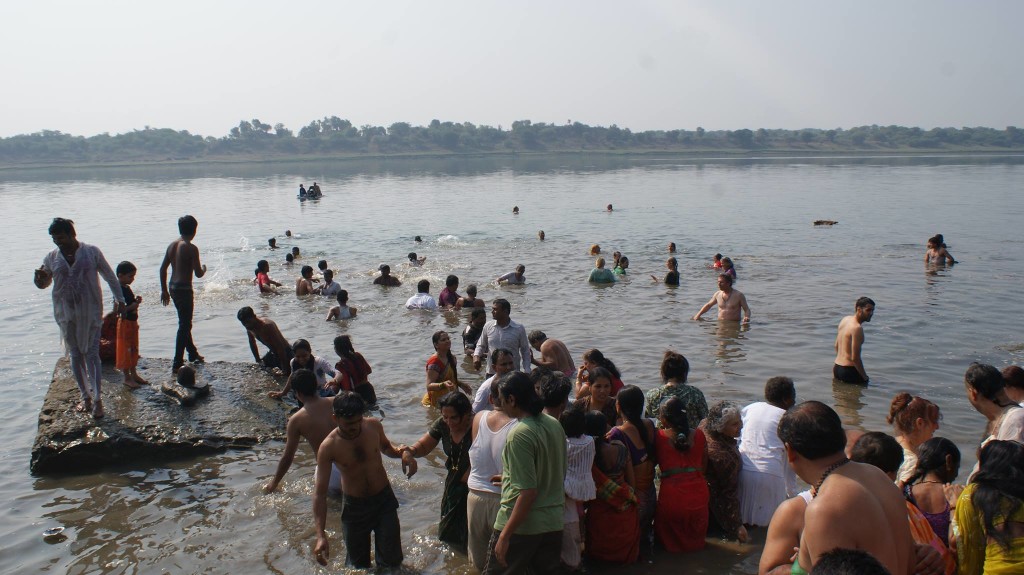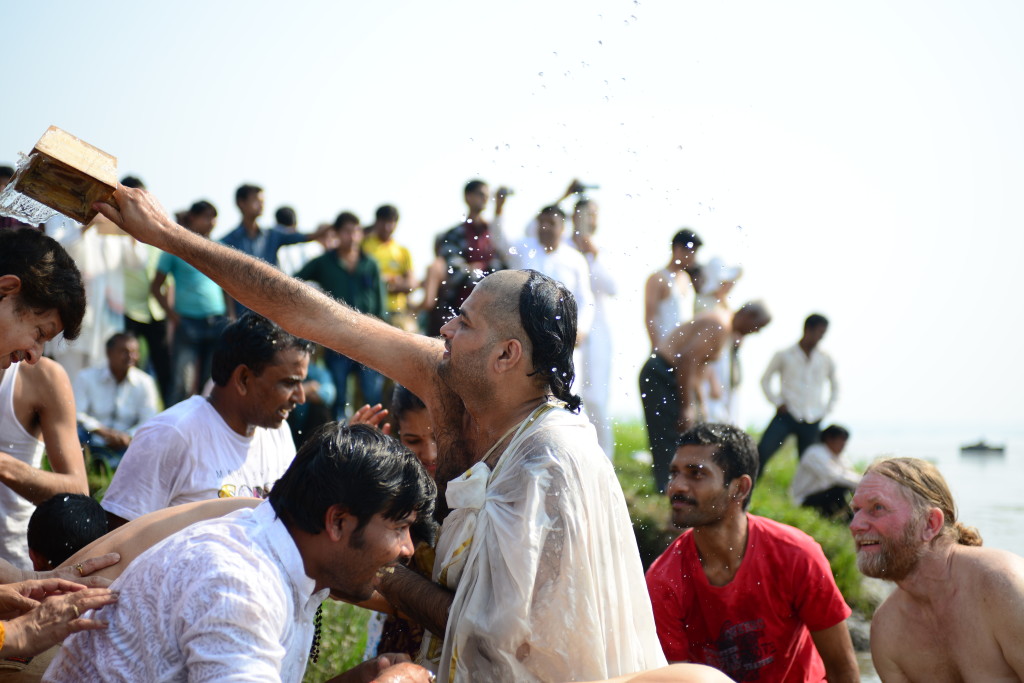 To see video clips of the Somayag, visit somayag.org. Below the video screen, click on "watch the video archive on Ustream." To the right of the screen, use the slider bar to select the video clip you want to view.
Thanks to the following people for their photo contributions:,Shreedhar Thanedar for #s 1, 2, 3, 16, 17, 19, 20 and 21; Patricia Norton for #s 4, 14 and 18; David Fields for #s 5, 7 and 8; Thomas Hirt for #s 10, 13 and 21; and Luz Vargas for #12.
---
Supporting Fivefold Path, Inc. through AmazonSmile
Great news! If you shop at Amazon.com, you can support Fivefold Path, Inc. through the AmazonSmile program. AmazonSmile is a simple, automatic way to support Fivefold Path, Inc., at no cost to you. When you shop at smile.amazon.com, Amazon will donate a portion of the purchase price to Fivefold Path, Inc.

To shop at AmazonSmile simply go to smile.amazon.com from the web browser on your computer or mobile device. You may also want to add a bookmark to smile.amazon.com to make it even easier to return and start shopping at AmazonSmile.
Millions of products on AmazonSmile are eligible for donations. Eligible products are marked "Eligible for AmazonSmile donation" on their product detail pages. You use the same account on Amazon.com and AmazonSmile. Your shopping cart, Wish List, wedding or baby registry, and other account settings remain the same.
How to Begin
On your first visit to AmazonSmile (smile.amazon.com), you need to select Fivefold Path, Inc. to receive donations from eligible purchases before you begin shopping. Amazon will remember your selection, and then every eligible purchase you make at smile.amazon.com will result in a donation.
The AmazonSmile Foundation will donate 0.5% of the purchase price from your eligible AmazonSmile purchases. The purchase price is the amount paid for the item minus any rebates and excluding shipping & handling, gift-wrapping fees, taxes, or service charges. From time to time, Amazon may offer special, limited time promotions that increase the donation amount. It all adds up!
For more information, please go to smile.amazon.com/about. Thank you!
---
Loving Communication: Sending & Receiving Messages
Henry Gregory, Jr. Ph.D, Woodstock, Maryland, U.S.A.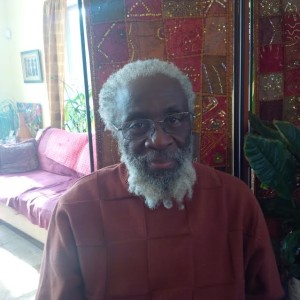 Communication (from Latin commūnicāre, meaning "to share") is the activity of conveying information through the exchange of thoughts, messages, or information, as by speech, visuals, signals, writing, or behavior. It is the meaningful exchange of information between two or more living creatures.
Communication requires a sender, a message, and a recipient, and can occur across vast distances in time and space. Communication requires that the communicating parties share an area of communicative commonality. The communication process is complete once the receiver understands the sender's message.
Communications is a process of sending and receiving messages. At an essential level all messages can be broken down to what the speaker wants. We are always communicating our wants and needs. For instance, when we say hello, we are sending the message that we want attention, acknowledgement or connection.
Communication messages are easier to understand if we start with the assumption that everyone has good intentions. What we mean is that everyone is continually trying to meet his/her needs, and that those needs are both positive and universal by nature. We all have the same basic needs. Abraham Maslow, the humanist psychologist, developed a framework that says each of us has a hierarchy of needs that include physiological (food, water, air, etc.), safety, love and belonging, esteem, and self-actualization needs. We are always trying, consciously and unconsciously, from differing levels of consciousness, to meet those needs. However, our efforts to meet those needs may include behaviors that are healthy or unhealthy, enhancing or destructive, intelligent or unintelligent, at times, depending on where we are in our personal development. The point is that behavior, no matter how reprehensible or meritorious, is based in a person's positive intent to meet his/her needs.   So even though these efforts are sometimes misinformed, we start with the assumption that all people are trying to meet their own legitimate needs and that all behavior is grounded in good intentions.
When we listen to others with the framework of good intentions, we begin to hear the needs, longings, aspirations of the other. We begin to hear what they need. We begin to know their hearts.
All communications are ultimately negotiations.   They are negotiations in that the speaker is sending a message about what s/he wants and the recipient of the message will either accept the request and/or make a counter offer.
Each of us has negotiables (issues that we are willing to compromise) and non-negotiables (issues that we are not willing to compromise). The non-negotiables may represent values and principles that we consider essential for our well-being. While it is appropriate and necessary to have some non-negotiables, the more non-negotiables we have, the more rigid we are and less open to true communication we are.   It is easy from this position to talk at people rather than communicate with them out of love.   True communication, loving communication, is a two-way process that requires input from both parties.
Loving communication is respectful and responsive. Too often, communication is damaged because we don't respond to the speaker's expressed needs. The negotiation process starts with an acknowledgement of the request or stated need.
Listen without interrupting
Pay attention (eye contact and body posture should reflect your attention)
Listen reflectively/actively (repeat to the speaker the message as you understand it). Listen for an opportunity to promote understanding and to connect.
Respond to the speaker, acknowledging what he wants/needs.
Use "I" statements (to accept responsibility and demonstrate ownership of your response)
Make statements, rather than ask questions, to express your viewpoint. (Questions can encourage defensiveness.)
Identify and directly express feelings (facilitating an open flow of energy)
Be Gentle
By Henry and Jannette Gregory
Be gentle with me
I want to be your friend
Be gentle with me
I mean you no harm.
Yes, I know I have disappointed and betrayed you before
I was scared and afraid
Accept that it was not my intention to hurt you
I was trying vainly to care for me
Be gentle with me
Give me benefit of the doubt
Be gentle with me
We are no different
Be gentle with us
We are evolving and growing
Be gentle with us
We are on a journey to wholeness
Be gentle with us
We are connected souls
Be gentle with us
Your Light illumines my path
Be gentle with yourself
Be courageous, compassionate and forgiving
Be gentle with yourself
Acknowledge your efforts and learn from your mistakes
Be gentle with yourself
Act as if you are a representative of the Most High
And so am I.
Henry Gregory, Jr. Ph.D. is a clinical psychologist with extensive experience and expertise as a clinician, educator, trainer, consultant and researcher in a number of service areas including substance abuse, HIV/AIDS, criminal justice, juvenile justice, child welfare, school-based mental health, and behavioral health. Currently, Dr. Gregory is an assistant professor at the University of Maryland, School of Nursing, teaching individual and family therapy. He also provides consultation and training to public and private agencies and direct services to individuals and families through his own organization, the Rafiki Consortium, LLC. www.rafikiconsortium.com. Dr. Gregory and his wife Jannette have practiced Agnihotra and the Fivefold Path for the past 35 years.
---
From Shree Vasant's Teachings
The Holy Science (Science of the Soul)
 Man is made "in the image of thy Father."
It is our free will that makes the difference.
It is YAJNYA fire which cleanses the mind. Agnihotra is the basic Yajnya tuned to the biorhythm of sunrise/sunset. Yajnya is the science of purification of the atmosphere through the agency of fire.
It is a clear mind that gives us the ability to distinguish the difference between right and wrong.
It is the disciplines which give us the will to exercise our free will properly.
Then it is only do the healing pyramid fire; do the disciplines; do the Mantra. Follow the Fivefold Path. Then joy is your constant companion.
When you look at the composition of matter, when you reduce anything down to its basic form, everything is the same. It is ONE. The only thing that makes things appear differently, manifest differently is the Law of Karma. Humans are the only manifestations of ONE—humans meaning that existence, that higher intelligence which is SOUL—which can transcend the Law of Karma. This means that man is "made in the image of thy Father." "I and my Father are ONE."
(Human form is a means of liberation. Devas, for example, have to take human form and continue Sadhana [spiritual practice] when the good Karma is exhausted. They take birth in special circumstances conducive to practice of TAPA. That is why it is said, "Thou art made in the image of thy Father." This applies only to humans.)
Walking on the spiritual path means you begin to attack the mind first. You have to sublimate and purify the mind. Thus the quarrel begins with the mind which is in the grips of various attitudes. Here Agnihotra is the biggest material aid.
When you progress in meditation, what happens? Mind is the nexus which appears to bind the soul to what we call pleasure or pain, happiness or misery. It is the very nature of mind to bind you to something. Progress on the spiritual path means reducing this body connection and turning it towards Almighty Father.
By practice of meditation you loosen for awhile the nexus connecting the mind towards the worldly and thus you go beyond the duality of happiness and misery, pleasure or pain. They cease to trouble you. Thus, to immerse the mind in the name of God or personal mantra coming from a proper instrument is of immense help, as the previous bindings are loosened and now the mind begins to take joy in the binding to the mantra or name.
By directing thoughts towards fulfillment of desires, you strengthen the desire. Then you begin to work towards gratification of those desires. That means it leads to hunger or desire. An unfulfilled desire leads to anger. Thus you find yourself between the devil and the deep blue sea. Here Homa Therapy is the biggest aid.
Habits of body and mind try to pull the intellect in their direction. When action is done based on this, the intellect gets soiled. Then the soiled intellect sets up values in life based on what is pleasant to the body and mind. Then our free will begins to harmonize with this value setup. Free will is the means granted by Almighty Father to man who is born "in His image" to reach the stage, "Be thou perfect as thy Father in Heaven is perfect." How we use our free will decides our destiny; hence we have to take care that the value setup in life strengthens the will to be good. Agnihotra is the biggest material aid to strengthen the "will to be good," because from a normal state of matter an ideal state of matter is created in Agnihotra atmosphere; thus, much of our effort is reduced.
By practice of Daan, Tapa, Karma and Swadhyaya every moment of life you come to know your weaknesses and find means to overcome them with a smile.
Interplay of emotions and inhibitions leads to what is called "value formation" in life. Then you have to learn to give proper stimuli to strengthen these values. Places like Parama Dham Fire Temple in Madison, Virginia automatically help you in this effort, whether one is conscious of it or not.
We carry the seeds of past impressions of karma. When they fructify, sometimes the yearning towards the spiritual path increases and again several times the hankering after worldly pleasures increases, depending on the type of previous karma. Constantly the attitudes of CHITTA rise and fall. Normally the mind is volatile and cannot hold onto a single attitude for a long time. Then the capering frolic of the mind continues. The mind tries to seek something which makes it happy. This sense of happiness withers away soon after the desire is gratified. Then the search for a new source of pleasure begins and we get entrapped in an unending circle. To get away from this vicious circle, Yajnya is the biggest material aid. Agnihotra, tuned to the biorhythm of sunrise/sunset, is the basic Yajnya.
---
From The Orion Transmissions
Received by Parvati Rosen-Bizberg
Wysoka, Poland
December 1, 2014 On Fortifying Body, Mind and Spirit
Yes, yes. Do enjoy this quiet time, dear vehicle. See it as a strengthening, centering period during which transmissions will certainly increase and interplanetary communications will be at a zenith.
Present day circumstances on the planet are being intensified, in part by the powers that be, to cause fear to manifest in the minds of the unsuspecting public! However, those of you schooled in Grace and Light will see beyond the ruse.
Fortify yourselves with organic foods, healing herbs, alternative treatments for ailments. Fortify your spirits with gatherings of like-minded beings, with projects which benefit and uplift those less fortunate than yourselves. Seek ways to serve.
Begin to create and adhere to a culture within the culture in which you find yourselves living. That is, create an alternative culture upon which you will be better able to subsist once the outer ramifications occur in the world that surrounds you. Create a healthy bubble around your families and those near, to strengthen and shield yourselves for times to come. Extend your arms to hold each other. Extend your hearts to welcome others who will find themselves drawn to the love with which you live your lives.
This is the time to realize that you will never be able to get what you need in this life from the outside. Once you fortify yourselves and become strong, inwardly and outwardly, no fear can assail you. In this way, the planet will survive and change will manifest all that is positive, life-sustaining and evolving.
Yes, yes. Let us continue our thread and encourage all who have been tapped for Light Work on this planet to be aware that the methods employed by forces of darkness—and there are more dark forces, not one mass conglomerate dark force—are cunning, divisive, invasive.
Those of you whose faith is strong and who know and honour the value of loving kindness and possess forgiving hearts, shall repel darkness with an ease to which you may be as yet unaccustomed.
Though the trials of darkness may be convincing to some, your minds will easily recognize no seed of Light in their premise. Thus you will know it is not of the Light, of the good.
Dear ones, dear ones. These times are wrought with humans' imperfections and penchant for mass hysteria. We know those of you who walk in Light, and you will always be guided and directed out of harm's way.
Do not allow for forces which would divide you in any way—by political means, by racial or religious strife, by the injustice which runs rampant in your great societies. Steer clear of the sharp edge of divisive politics.
Remain one-pointed. Champion the spirit and the true word of Divine as it resonates in your heart of hearts.
Refuse to be divided, no matter how clear the evidence appears otherwise.
Oneness is the answer.
Be aware.
Divine calling is for all.
Blessings do abound.
In Love,
We are always. Orion.
December 2, 2014 On Answering Your Calling
Yes, yes. One's calling is an intensely personal, sacred moment with Divine. One can no more explain it than one can attempt to reason and define that which is at once ethereal and profoundly real.
If one receives a calling in life, it resonates with the deepest place within one's soul. It is as if one's entire organism is being shocked into awakening. It is the fulfilling of one's calling that is most vital.
If one ignores it or postpones it, Divine will wait patiently until such time as a gentle nudge, then a distinctive tap, and finally an unmistakable call will follow. Any event can be utilized to call the being home to achieve one's highest purpose in life.
Each nudge, each tap, each loud call—all are blessings being bestowed upon one to reel one's attention toward the inside.
One need not change the color of one's clothes or don sacred robes. One need not speak in ancient tongue, nor walk a step above the rest. Live the life given you, but with a new sight, a vision all-encompassing.
Come from the heart.
Speak from the heart, the soul's mouthpiece.
This is truly the calling and the voice is undeniable.
Blessings, blessings, blessings dear sweet vehicle.
Be at one.
OM.
December 20, 2014 On Mind-Altering Substances
Yes, yes. The forces of darkness know no boundaries, but Light forces them to retreat. Thus, if your concentration is one-pointed on the Light, no negative energies can enter your auras.
We shall discuss the use of mind-altering substances, no matter how seemingly innocuous they may be. When one alters the mind through stimulants, depressants or hallucinogens, one leaves the mind in an unguarded state, thus open to outside influences. One has less control over one's perceptions and thus puts one in a state which negative energies can permeate. What is amazing is that human beings will likely not perceive the inherent danger, due to a sense of fearlessness artificially created by the drugs.
By the way, the recent use of Ayahuasca falls directly into this category. Indeed, there is a sinister reason behind why it has become so widespread.
Those of you Light Workers who continue to use alternate substances to increase your mental capacities or instill states of consciousness which you perceive as 'higher,' beware! This substance, Ayahuasca, is particularly dangerous for those who have affiliated themselves with pure spiritual pathways. Your sensitivity levels are higher than the normal beings. Drugs are the opposite. You thus become more susceptible to negative influences on the mind.
Yes, yes. More crucial information on the substance Ayahuasca. While certainly mind-altering and mind refining in some cases where use of this substance was more carefully supervised—the effects of it are far more deleterious than one would think. Energetically, this substance can wreak havoc with one's entire system. It most certainly leaves one more open and vulnerable to dark energies. In some cases, permanent damage has resulted; in others, even possession has been recorded. It is not safe to experiment with it, especially in times such as these.
One needs one's wits about one. It is not 'of the Light.'
Be aware.
On Levels of Meditation
What you perceive are the various levels of awareness, as you go deeper into the realms of consciousness via meditation. You come to experience these states in rapid succession whilst sitting in still repose. The mind initially quickens and is in a more pointed state of sensitivity where outside noises maintain one's conscious awareness.
This is swiftly followed by the next phase during which sounds fade away and thoughts are more profound, more expansive. The next stage is where the very thoughts begin to disappear, as that literal state of awareness gives way to a wordless sense of peace. Go beyond this, where higher vibratory sound begins to carry you further into stillness. High-pitched sounds of bells or ringing fill the ears and vibrate through the body. Breath is attuned to these sounds.
It can be said that in this higher realm, one no longer perceives what is outer, what is inner. A subtle sense of Oneness pervades. A wordless sense of peace is experienced.
At this stage, the new energies coming into the planet find no resistance. At this stage one is vibrating with the universe.
It is carrying this awakened state into everyday life that requires balance in material and spiritual reality. One's every movement becomes an act of meditation. One, at this point, to bring it into the vernacular, begins to 'walk the talk.' One's vibratory level remains intact. One no longer experiences such great highs followed by devastating lows.
To reach this state—
More meditation.
More conscious creating of still, peaceful spaces in which to feel that peace.
More fires.
More prayer.
More music—from the heart.
This is the time for rising.
THIS IS THE TIME.
Blessings abound.
OM TAT SAT.
On Arks of Fire, Centre of Light
By creating these 'Arks of Fire' as the Master suggested, safe havens are forming which can house Light Workers who are prepared to live in harmonious interchange with the elements and elementals, with themselves and with others of like mind and heart.
To this end, the Centre of Light is being developed at Bhrugu Aranya. This is its purpose and its aim—to create a safe haven for times which are coming swiftly and to bear witness to a new world where Light shelters, protects and creates—a place of healing, a place where the miraculous power of these great fires can manifest.
For further information:
www.oriontransmissions.com
---
Healing with Homa Therapy
Compiled by Abel Hernandez and Aleta Macan
Christian Alvaro Vasquez Soto
Carabayllo, Lima, Peru
I am working in a Social Security (EsSalud) hospital in emergency services. I learned about Homa Therapy 10 years ago, but I started with its daily practice only two years ago. I remember, six years ago, when I did the Homa Fires for a while. I experienced two significant changes in my life.
When I started practicing these Fires, I suddenly got a visa for Australia. It seemed that someone knocked on the door and gave me the visa, money, ticket, everything.
 Another interesting thing is that my partner was sterile and could not have children. Now, we have a daughter and she is a Homa child.
Then I distanced myself from a lot of people who did not allow my personal evolution and I became a vegetarian.Abroad, I saw many things that happened with these Fires. They generate a tremendous vibration, not only for health; this is just one of many fields where it manifests.
I returned to Peru and entered a job contest, which Dr. Jesus Borja was judging. He is the director of the Hospital EsSalud Paul Nogier and he asked me, "Well my friend, why did you go abroad, leaving everything here and what did you do there?" I said that I went to study and learn some things about a bio-energetic therapy. Then he told me that just recently he had met a person who has healed his father with a pyramid fire and he asked me to explain and he said, "I'll give you a 19. If you win, please come to my hospital; we need your support. I have a specialty in Complementary Medicine." (In Peru the evaluations are from 1 to 20.)
And I won the contest and entered EsSalud again. But not only did I win this contest, I also won five others and I do not think that this happened because of my intelligence. The practice of Homa Therapy gives you an optimism at all levels and gets the best out the person. Then I went and introduced myself to Dr. Borja and he said, "That is good." We quickly started with Homa Therapy in the hospital together with Dr. Torres.
 We have seen many dozens of cases of healing. We can explain some, but many are beyond our intellect and are inexplicable–for example, the case of a girl of 4 years of age with diabetes. The doctors could not resolve her problem.
I invited the father to bring his child to Homa Therapy. He was coming with his daughter for two months and then said that his daughter's diabetes has disappeared.   The doctors could not explain that!I also saw how three dry trees in front of the hospital that never had bloomed, suddenly were filled with flowers and hummingbirds and people gathered around them. I could see how the Homa fires generate purity and healed some women with cancer. Also, one begins to meet beautiful people and to bring out the best we are. I think this is the best job I ever had in so many lives – the power to bestow and teach the Agnihotra Fire. I do not see it as an expense or loss of time, but as a gift to the world, a service. We invite you to our medical center and to join us.
More from Shree Vasant's Teachings
The planet has been seeded. Our work has been complete. Now see the fruits of your actions. All that began will now fructify—positive as well as negative. It is a cleansing of Karmic debts owed. It is a process of surrender now with all these past actions. Take what comes as it comes. It is like a new wave of Grace being bestowed now.
The Karmic debts of the past have been and are being erased. Leave it all in Our Hands.
---
If someone blames another person for failures in his life, he is missing his lesson. If someone has led you in wrong direction and willingly you have followed that, the blame cannot be placed on him. Place it at Our Feet and be done with it.
Best is to cast no blame and seek for the answers why within. To blame another for a fate which has befallen you is to refuse to look within. Then how can you learn your lessons? You look from a higher perspective and you will realize there is no need to blame anyone. If it is too much to bear, lay it at Our Feet and it will be lifted from you.
---
The mind pulls in many different directions, all the time. Do not fight that pull. Fill the mind with loving thoughts, positive impressions, images that heal. Let go of all the negative thoughts as soon as you become aware of them. All wrong, all pain, let it go.
---
Message is simple. Love thy neighbor as thyself. Truly love. Then life is complete. Be constantly acting in the spirit of service. Then other thoughts are irrelevant. In marriage, think always of the other person's needs, whatever they are.
---
Blessings to those who continue to walk in Light even during periods when the Light cannot be seen. The clouds will move and Light will again be bright. Brighter. Brighter.
---
Have compassion for those who stand alone. Have compassion for those who have left their HOME. Have compassion for those who believe no more, for all are Our children, children of the Lord. No one is better. No one is higher. No one is favored. No one is discarded. All are in Our Heart forever. OM TAT SAT

Fivefold Path for Happy Living
1. Perform AGNIHOTRA for purification of the atmosphere which leads to automatic purification of mind.
2. Practice DAAN (sharing of assets in a spirit of humility to reduce attachment to worldly possessions).
3. Practice TAPA (becoming better managers of our energy expenditure by training the body and mind to react to all circumstances in life with Total Love).
4. Perform KARMA (every action for self purification only and thus no expectations which bind us to the material world).
5. Practice SWADHYAYA (Self-study) for liberation. Who am I? Why am I here? My work on this planet is to learn to react with total LOVE with each opportunity given to me.
This is the Fivefold Path for happy living on the planet. By practicing the Fivefold Path you become better members of your society, group, religion, community, etc.