Agnihotra-Homa Therapy International Online Seminar
Ed.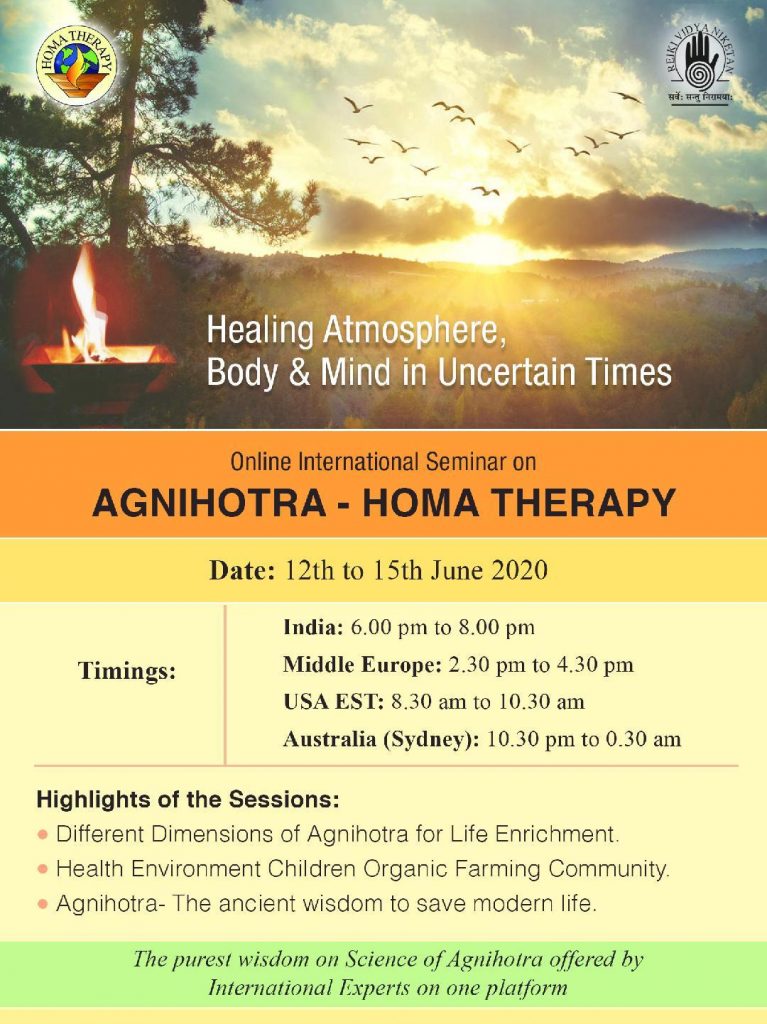 At the initiative of Reiki Vidya Niketan, in conjunction with Deutsche Gesellschaft für Homa Therapie (German Association of Homa Therapy) and Fundacja Terapia Homa (Homa Therapy Foundation, Poland)  a 4-day online seminar was held from June 12-15th, 2020. An international group of Certified Homa Therapy Teachers spoke on a wide range of Agnihotra and Homa Therapy aspects. Presentations were scheduled for 2 hours per day. Attendance ranged from 200-340 persons daily.
The program was as follows:
Friday, June 12th
Program 1–Basic Class on Agnihotra by Thomas Couto and Lisa Powers, USA
Program 2–Effects of Agnihotra on our Environment, Scientific Aspects of Agnihotra by Dr. Ulrich Berk, Germany
Saturday, June 13th
Program 3–Healing with Agnihotra and Agnihotra Ash by Monica Koch, Germany and Abel Hernandez, Peru
Program 4–Homa Organic Farming: Total Eradication of Poverty by Bruce Johnson, Australia and India
Saturday, June 14th
Program 5–Children, Our Hope for the Future: How Agnihotra and Fivefold Path Help Children Cope with the World of Today by Parvati Rosen-Bizberg, USA and Poland
Program 6–Creating Homa  Communities and Spiritual Ecology by Jaroslaw Bizberg and Parvati Rosen-Bizberg, Poland
Sunday, June 15th
Homa Psychotherapy and Homa Therapy Mind Training Program: Train the Mind to React with Love by Dr. Barry Rathner, USA and Poland
Environmental Protection and Enhancement in a Compromised World, Question and Answer Session by Lee Ringma, Australia
Deepest thanks to Ajit Telang (Ajit Sir), Reiki Master, founder and facilitator of Reiki Vidya Niketan, for giving our Homa Therapy teachers this wonderful opportunity to share the Vedic knowledge of Agnihotra and Homa Therapy with a wider audience. Thanks also to Ajit Sir's technical team who managed the online platform of the program, and to Krupa Choksi for her excellent job as moderator.