Parama Dham Visitors Policy
The Parama Dham Fire Temple in Madison, Virginia, U.S.A. was inaugurated by Shree Vasant in 1973. It was the first Fire Temple in the world established under Parama Sadguru Shree Gajanan Maharaj's dispensation of resuscitation of the ancient science of atmospheric purification for the New Age. The name Parama Dham, which means House of Almighty Father, was chosen by Maharaj Shree.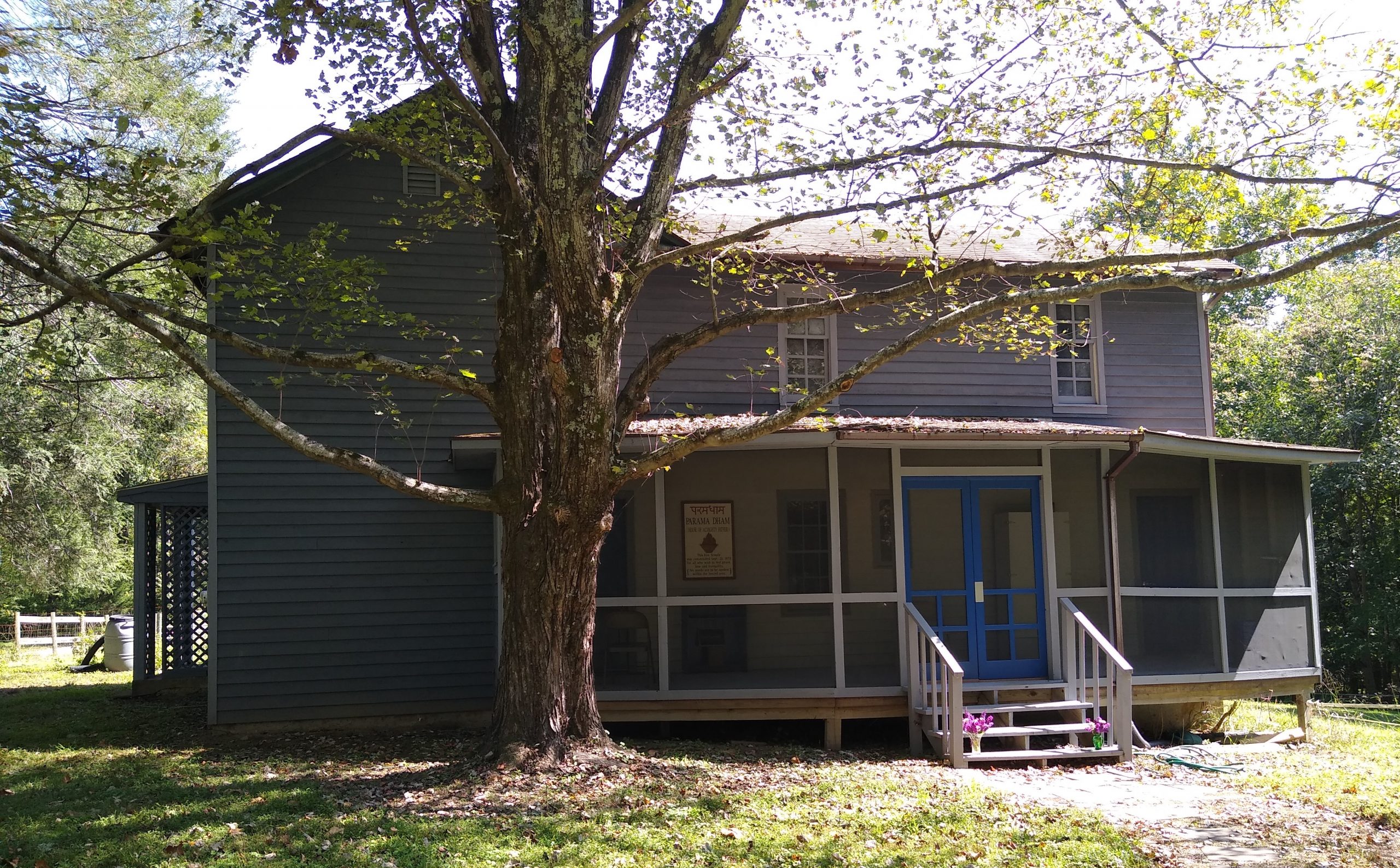 The Parama Dham Fire Temple
In a Fire Temple, there is no priest and nothing is worshipped. Agnihotra atmospheric purification technique is performed there twice daily at sunrise and sunset. A fixed set of mantras is chanted after Agnihotra. With the exception of the mantras, silence is observed in the Fire Temple at all times. The atmosphere becomes supercharged with healing energies.
In a separate room from the main temple room, 4 hours of Om Tryambakam Homa are performed daily. On no moon and full moon days, more hours of Om Tryambakam Homa are done there.
Due to COVID-19, Parama Dham was closed to visitors for nearly a year. However, as some public restrictions have been lifted, we have begun receiving visitors on a limited basis. To ensure the safety of visitors and those who maintain the temple, the following policy is now in effect:
—ADVANCE NOTICE is required for all visits. The building is kept locked, to ensure that visitors give advance notice and are informed of the temple's policies. Please call Richard Powers at 540-407-0273 or Lisa Powers at 540-948-4945 for more information or to plan a visit.
There is no accommodation at Parama Dham. A variety of motels, bed and breakfast and Airbnb options can be found within 30 minutes of the temple.
—VISITORS MUST BATHE AND WEAR CLEAN CLOTHES to sit in Parama Dham. If someone comes who hasn't bathed, they may sit on the porch and we will leave the door open at Agnihotra time. Bathing arrangements off the property can be made for visitors coming from a distance, with advance notice. There are no restroom facilities at Parama Dham.
–Due to COVID-19, we will observe the local regulations regarding wearing masks inside the building. These regulations may change.  Masks and hand sanitizer are available on the porch.
—Visitors should social distance inside the building. Please do not move the cushions and chairs.
—SILENCE is to be kept at all times inside Parama Dham and on the property (except for specific Mantras and Sanskrit verses.)
—If you wish to perform fires in Parama Dham, prior permission is required. Certain disciplines must be observed.
–Please NO CELL PHONES in the building or on the property.
–Please REMOVE YOUR SHOES and leave them on the porch before entering the building.
–In Temple Room, please do not touch the cushion directly in front of the pyramid, or anyone who is performing the fires.
—WOMEN IN MONTHLY PERIOD ARE NOT PERMITTED IN PARAMA DHAM OR ON THE PROPERTY, due to the effects of subtle energies. (For more information on this, please see the article When Not to Perform Agnihotra.)
Thank you.