Robert Bagnall
Bali is a place where much of the ancient ways are still honored and practiced, yet much has also been forgotten, and the westernization of the culture seems to be gaining momentum among the youth here. As Smart Phones and the internet are having a major impact on the culture, the ancient knowledge of the Vedas has also returned and today we are blissfully witnessing a resurgence of interest in Agnihotra by locals and foreign visitors who come to Bali to partake of the beauty and reconnect with nature.
Thanks to the growing body of evidence that Agnihotra and Homa Therapy offer an effective way to mitigate the effects of pollution and harmful radiation, many are taking a closer look and beginning to see past their cultural prejudices to discover their innate affinity for this science based ancient knowledge that we all enjoy and benefit from as we share it throughout our world.
Today, as a result of the many seeds that have been sown, many are coming to embrace the practice of daily Agnihotra and, in particular, the people associated with the NewEarth Nation here on Bali and elsewhere around the world. The NewEarth Nation is actively sharing this knowledge with their community members through http://ArksofFire.com as well as http://NewEarthNation.org. Dr. Nancy Ash, Global Director of the NewEarth Nation, recently emphasized the importance of Agnihotra in a letter she sent to me describing it as seminal to the work of the NewEarth Nation community and, as such, it is now being implemented here on Bali as a part of our organic farming practices. It is also performed daily here at the NewEarth Haven and ClearCafe. Both are highly frequented locations which are very public venues where many are being introduced to Agnihotra for the first time.
The Homa Organic Farm we are creating here on Bali will supply food for the Akasha Restaurant. Other goals and objectives include making available to interested local farmers an example of alternatives to the chemical farming methods currently employed here on the majority of farms. We plan to illustrate and feature the benefits and improved profitability of Homa Organic Farming methods.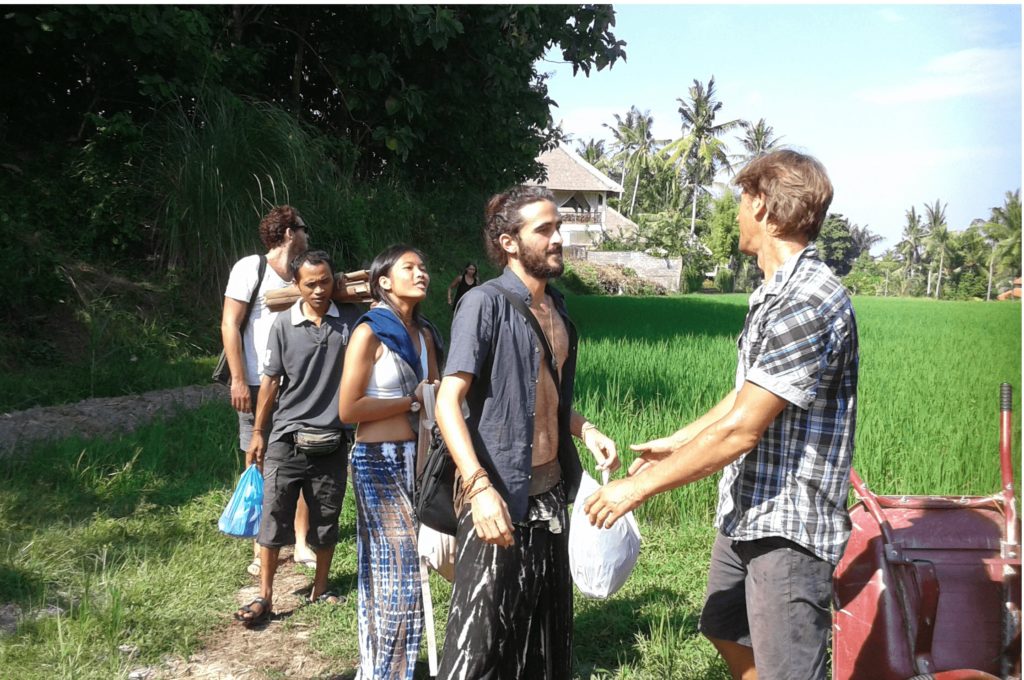 Akasha Restaurant is where Agnihotra will be performed daily in addition to the farm. Homa Therapy information will be shared and Agnihotra will be taught each week in our common area Super Dome currently under construction. In Bali's largest natural swimming pool Agnihotra ash will be used to restore balance as well as provide mineral nutrition and ph buffering for the plant life that will maintain the purity of the water without the need for chemicals.
Akasha is on target to open in the month of June 2016. Another location, in Ubud, named Nectar will also highlight Homa Grown juices and vegi-wraps (which are similar to Spring Rolls) and serve as a conduit and invitation for visiting travelers to further explore the NewEarth Haven home stay options, including a visit  to Akasha Restaurant to experience Agnihotra and Homa Therapy. It is our hope that many will be able to assist us with the many tasks and responsibilities on the farm, including Agnihotra and Om Tryambakam Homa schedules.
As the Director of Business Planning and Development for BioArc I would also like to extend an invitation to individuals who are interested in learning how to build using bamboo and also how we use bamboo to design and build bio-energetic structures that create a perfect complimentary space for living a healthy holistic lifestyle.
It truly is a time of great transformation and, as such, it is a time when all things are now possible that only a few years ago were difficult to envision. Our hearts are open and our minds are fertile for Homa Therapy, this ancient solution to modern pollution, to take root and be recognized as the powerful energetic force for restoration of our environment and our health that it truly is.