Healing Experiences at Om Shree Dham, Australia
Hayley
London, U.K.
Having previously never heard of Agnihotra, Tom and I had no expectations when we both arrived at Om Shree Dham, but we were both open to learning and broadening our horizons.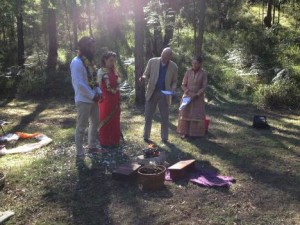 From the first moment that we arrived at the farm we felt an instant calm within ourselves; the energy that radiates from the land and atmosphere is transformative. We have been at Om Shree Dham for nearing 8 months now and we can honestly say that Agnihotra has changed our lives. We feel more awake, healthy and have experienced changes to both mind and body.
Having suffered from precancerous cells on my cervix for several years, I have  continuously had negative results which led me to undergo surgery to remove the cells. Unfortunately, this still did not clear my precancerous cells. Lee suggested that I apply Agnihotra ash and ghee internally along with drinking Agnihotra ash water. I did this every day for 2 weeks before my cervical screening, along with positive thoughts and prayers whilst conducting Homa fires. To my amazement, for the first time in 3 years my results stated that I was completely free of HPV and harmful cells. I continue to take Agnihotra ash water daily and frequently use Agnihotrta ash and ghee to maintain good health.
Staying at Om Shree Dham has honestly been way and above anything we could have ever imagined; we have met so many wonderful people throughout our journey here, people who will remain in our lives and hearts forever.
We feel more awake, healthy and have experienced changes to both mind and body.…We are so excited to return to the UK and implement everything that we have learnt. Thank you!"