Sound and Fire for Baltimore City
by Patricia Norton
Westminster, Maryland, U.S.A.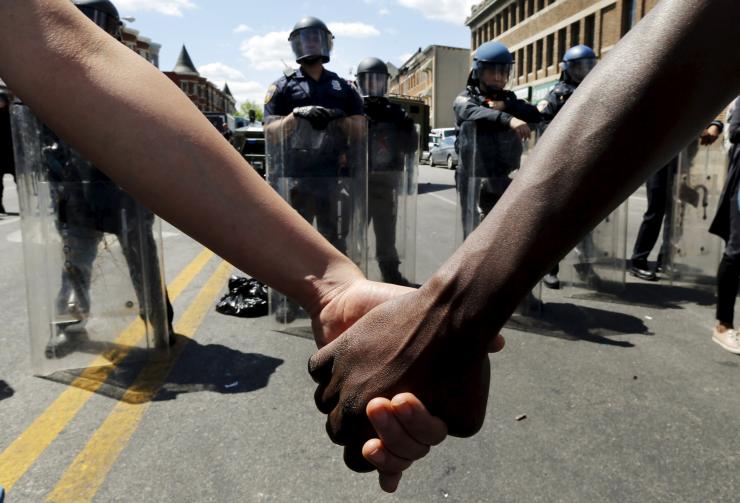 Back in April, the death of Freddie Gray, who was injured in police custody, brought national attention to Baltimore City, with riots and protests ensuing for weeks to follow. Nearly twenty people circled up and performed sunset Agnihotra for several days in Druid Hill Park, close to where the rioting occurred. They held the vision for bringing peace to the city and safety to the children.
To borrow the words of Baltimore Homa Therapist Maria Broom, "Every spiritual teaching of love, compassion and forgiveness can be used right now. Every conversation, group and organization that's about healing the root cause of our discontent… is on point. THERE IS NO THEM AND US. Out of brutality and destruction it is possible to create plans and actions to eliminate poverty, restore channels of justice… and wipe out racial inequities."
I was feeling the need to contribute in some way to the healing of our city. As the community heals, I felt called to offer the police who work in our community a peaceful and relaxing environment to help clear their minds, strengthen their inner calm and perhaps share tools with them that could open up a door to better ways of dealing with their stress. After three weeks of a bit of a runaround, I finally got approved by the Baltimore City Police to offer two Sound Healing sessions at The Living Well on Charles Street as a heart donation. The announcement went out to nine precincts in the city, including headquarters, a total of 3,000 employees.
Two sessions were offered in July. Petro Bass, from Florida, who plays the handpan drum and didgeridoo, and Reiki Master Elizabeth Scala, joined me. Both sound and Reiki sessions started with an explanation of Agnihotra and a Yajnya fire. Even though only six police officers took part in the sessions, including a lieutenant, I held the vision throughout that all officers were present and receiving waves of nurturing love.
When the sessions were completed every one of them shared that they journeyed into deep rest, except for the lieutenant. Although his wife is a Reiki Master and he is aware of its positive effect, he stated that it is the nature of police officers to always be aware of all sounds around them, and that his mind had difficulty letting go of what the noise was outside the front door.
A donation was also made of Rose Quartz crystals for love and harmony, and an Angelite stone for peace for each of the officers, to carry in their pockets while patrolling the streets of the city. They took more sets to give to fellow officers. One officer wanted to continue attending my sound sessions. I hope that each one of them walked away feeling a little more peaceful, with a new awareness, and perhaps a softer heart.